News18.com Daybreak | Dinakaran Wins in RK Nagar, India Beat SL and Other Stories You May Have Missed
Get a fresh dose of the news that matters, delivered directly to your inbox, every morning. The perfect way, to get you started and informed, for the day ahead.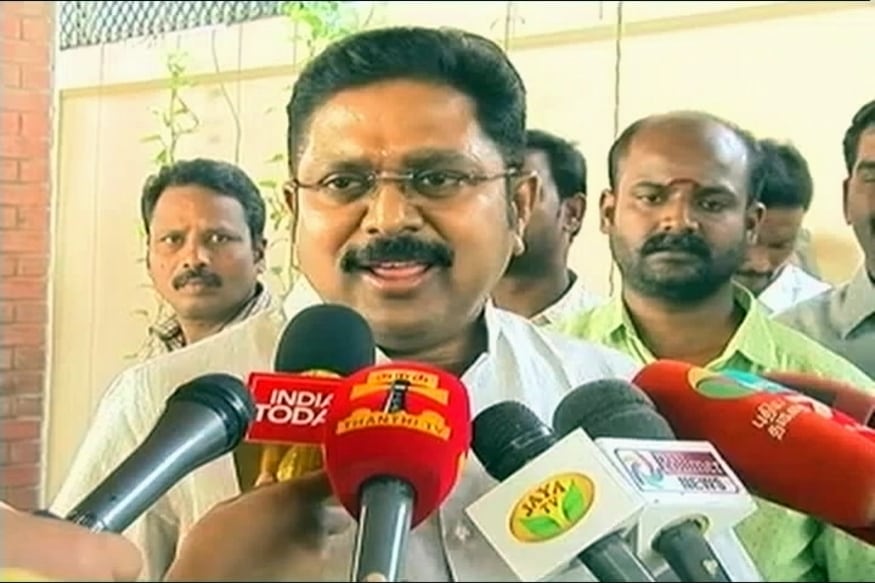 File photo of TTV Dinakaran
In case you missed it
Sidelined AIADMK leader TTV Dinakaran declared himself as the "true political heir" of late J Jayalalithaa after winning her old assembly seat RK Nagar by trouncing his nearest AIADMK rival E Madhusudhanan by a margin of 40,707 votes. The bypoll was an acid test for all the three sides, and especially the EPS-OPS faction, whose government is on shaky ground in the state. Speculation is rife that Dinakaran is planning a coup and has the support of many MLAs.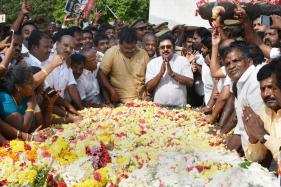 Considered a consensus builder in faction-ridden Himachal unit of the BJP, Jairam Thakur is said to be a favourite among local BJP workers in the Himalayan state. Like many of India's politicians, Thakur also hails from a humble background. He was born into a farming family in Mandi district in 1965. His father was poor and it was tough for him to feed the family of three sons and two daughters. Here's what you need to know about the next Chief Minister of Himachal Pradesh.
Backing the protest by doctors in Rajasthan for higher pay and promotions, resident doctors of AIIMS asked Prime Minister Narendra Modi to "live" their life for a day to understand their stress.
What goes inside Delhi's government hospitals? Well, it's not easy to be a doctor and the key is to do 'what the netas say'. Here's a look at what Delhi's doctors face every day.
India managed to inflict a 3-0 series whitewash on Sri Lanka with a tense five-wicket win in the third Twenty20 in Mumbai. Sri Lankan hopes to end the miserable tour on a high were raised when India struggled in a 136-run chase but eventually the hosts crossed the finish line with four balls to spare. Sri Lanka will go home with just one ODI win from this tour while India would head to South Africa with convincing victories in all three formats.
The number of young Kashmiris joining militant groups has witnessed a sharp spike and crossed 100 for the first time since such data started being collated in 2010. By the end of November this year, 117 youths had joined militancy as compared to 88 in the whole of 2016. Is this the Burhan Want factor?
After the conviction of former Bihar Chief Minister and RJD supremo Lalu Prasad Yadav, the spotlight will now shift to the rest of his family. On the same day that Yadav was convicted in a fodder scam case, his daughter Misa Bharti, along with her husband, was chargesheeted by the Enforcement Directorate in a money laundering case. Here's a look at all the cases against Lalu Yadav and his family. Here's all you need to know about the fodder scam.
A Bengaluru-based tech entrepreneurs asked the guests at their wedding to gift them Bitcoins. Yep, that's a first.
Agree or disagree?
There are many castes among marginalised communities whose traditional skills have no place in the new system. They do not want to work as labourers because they are skilled. When, after 1990, the era of liberalisation came and the market was freed of socialist compulsions, some of us welcomed it and others opposed it. We are approaching 30 years of completion of neo-liberal economy in India. The relationship of state and market was to increase equality and produce less discrimination in society. This idea is yet to be fulfilled. Badri Narayan, a social scientist at GB Pant Social Science Institute in Allahabad, analyses the relationship of Dalit groups of India with newly emerged market in a special context.
It took 2G special court judge OP Saini about seven years and more than 1,500 pages to conclude that there was not a single piece of "legally admissible evidence" against any of the 17 accused in what was touted as one of India's biggest scams. The entire case should have collapsed on that very day when the order on the charges was to be pronounced, with a direction to exonerate all accused, if what the 2G verdict now holds is the correct view – subject to its fate in appeal. Here are answers to the questions that the 1,500-page 2G Scam verdict didn't give.
Gujarat elections. The 2G scam verdict. After years of bad news for the party under his informal stewardship, the last one week has brought some cheer for newly-anointed Congress president Rahul Gandhi. But the big question is— will this luck will hold out?
On reel
What were the rhymes you grew up reciting? As a part of CNN-News18's initiative - India Positive - here's introducing you to Kamla Bhasin who is breaking gender stereotypes through nursery rhymes- inculcating the values of gender equality right from a young age.
Get a fresh dose of the news that matters, delivered directly to your inbox, every morning. The perfect way, to get you started and informed, for the day ahead. Subscribe to News18 Daybreak here.
Get the best of News18 delivered to your inbox - subscribe to News18 Daybreak. Follow News18.com on Twitter, Instagram, Facebook, Telegram, TikTok and on YouTube, and stay in the know with what's happening in the world around you – in real time.
| Edited by: Huma Tabassum
Read full article