nda:
Needmore seats to Win

Needmore seats to Win
upa:
News18.com Daybreak | Dust Storm Kills 109, Campaigning Blitz in Karnataka and Other Stories You May Have Missed
Get a fresh dose of the news that matters, delivered directly to your inbox, every morning. The perfect way, to get you started and informed, for the day ahead.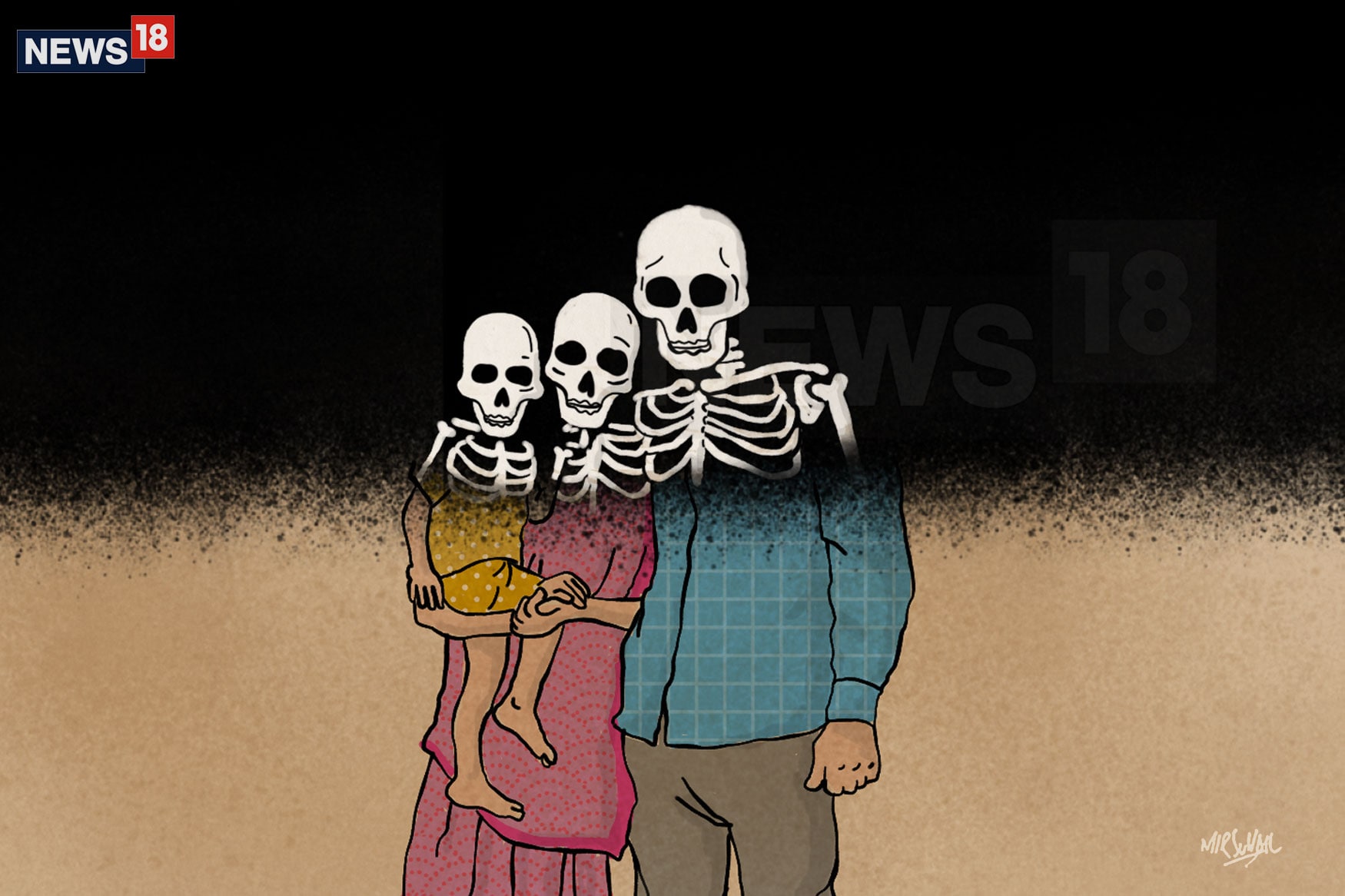 (Illustration by Mir Suhail/News18.com)
In case you missed it
At least 
109 people have been killed since Wednesday evening in parts of Rajasthan and Uttar Pradesh after a high-intensity dust-storm 
damaged buildings and brought down trees and electric poles. Meanwhile, another dust storm may hit parts of UP and Rajasthan in the next 48 hours due to cyclonic circulation formation in the region, a MeT official said on Thursday. Thirty-three deaths were reported from Rajasthan, while 73 deaths have been reported from Uttar Pradesh so far, including 36 in Agra district alone. 
A cyclonic circulation over Haryana was the trigger for the deadly dust storm.
 The UP government has reportedly sounded an alert for the next 48 hours. The Meteorological department has also 
issued a squall warning for hailstorm and rainfall in the next 24 hours
 in North India.
[caption id="attachment_1737335" align="alignnone" width="875"]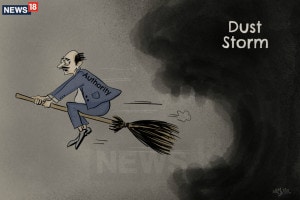 (Illustration by Mir Suhail/News18.com)[/caption]
In the run-up to the Karnataka polls on Saturday, PM Modi has taken the charge in Karnataka as he kicked off the third round of campaigning for BJP in Karnataka today. He 
invoked nationalism by bringing up surgical strikes on Pakistan
 and how Congress had insulted India's jawaans by asking questions against the strikes. Doing an about turn from two just days ago when he had been praising HD Deve Gowda, the PM today dismissed his part JD(S) as the third contender on the throne. UP CM Yogi Adityanath also reached Karnataka to add heft to BJP's campaign but faced slack for leaving behind his own state where over 107 people had died in the last 24 hours due to intense storms, in order top campaign for BJP. Meanwhile, Congress President Rahul Gandi toured Bidar Gandhi levelled corruption charges against the BJP and 
gave Modi Sarkar an 'F' for agriculture
 in Karnataka. 
Read for live coverage of the Karnataka election 2018 here.
[caption id="attachment_1737263" align="alignnone" width="875"]
Chief Minister Siddaramaiah of the Congress put out a series of tweets on corruption charges linked to the BJP's presumptive chief minister BS Yeddyurappa. Siddaramaiah is seen to have worked out his own counter-strategy to every move of the BJP in the run-up to the state elections. (Cartoon by Mir Suhail)[/caption]
At least 
20 people lost their lives in Bihar's East Champaran district after a bus they were travelling in fell into a pit and burst into flames
. The bus was headed for Delhi from Bihar's Muzaffarpur when the incident took place near Motihari on National Highway 28 near Belwa village. Bihar Disaster Management Department minister Dinesh Chandra Yadav confirmed the incident on Thursday evening. Charred remains of the body were found at the site.
A day after clashes broke out at the AMU campus over a portrait of Mohammad Ali Jinnah, an eerie silence has descended over the AMU campus today even as thousands of student protesters gathered at the Baab-e-Syed gate, the scene of yesterday's violent incident in which around 20 students were injured after police started lathicharging the protesting students. Violence broke out at the Aligarh Muslim University yesterday after the right-wing protesters barged into the varsity demanding removal of the portrait of Muhammad Ali Jinnah displayed on the campus. 
Read here for detailed coverage.

While the recent World Health Organisation (WHO) report and its findings on air pollution in India are a cause of worry for the people living in the country, the pollution levels in India and its possible effects on people have already become public knowledge.
 Yet, hardly any measures have been taken to tackle the problem.

The Nitish Kumar government in Bihar would oppose any changes in terms of reference of the 15th finance commission and support the 2011 census as the benchmark for revenue sharing among the states. A senior BJP leader said that the demands of southern states to stick with 1971 census will adversely affect Bihar whose population has increased by almost 25 percent between 1991 and 2011.
Aadhaar card will not be a prerequisite for getting a sim card.
 Telecom operators can issue new SIM cards without Aadhaar on the basis of alternate identity documents like election voter ID or driving license and the government will await Supreme Court's order on re-verification of mobile subscribers using Aadhaar at a later date.
A Bhiwandi court has 
asked Congress President Rahul Gandhi to appear before it on June 12 to record his plea in a defamation case filed against him by an RSS functionary
. In 2014, an RSS member had filed a defamation case against Gandhi after he accused the RSS of being responsible for Mahatma Gandhi's killing during a speech in Thane in Bhiwandi in the same year.
Iowa's Republican-controlled legislature 
passed the most restrictive abortion ban in the United States 
on Wednesday, outlawing the procedure after a fetal heartbeat is detected, often at six weeks and before a woman realises she is pregnant.
Agree or disagree?
While the BJP would love the Karnataka campaign to be a Modi vs Rahul campaign, its relevance for a state election needs to be assessed.
 The recent Jain University-Lokniti poll also indicated that in terms of leadership reference, Modi was fifteen percentage points ahead of Rahul. Yet, there is an important difference. While Modi is clearly the nucleus of the BJP campaign in the state, Rahul is not the central focus for the Congress.
DaasDev, inspired by Devdas, a 19th Century Bengali classic that somehow fascinates Bollywood
, is hardly the story of a narcissistic, confused young man torn between two women as it shifts to 21st Century Uttar Pradesh in the times of Sex, Lies and Live Television. If you are looking for a love triangle, drop the idea. It is more a polygonal tale woven in a colourful web of intrigues, involving the proverbial 50 shades of grey.
On reel
Pakistan Media Black Out: The Pashtun Long March to protest the extra-judicial killing of 27-year-old model Naqeebullah Mehsud has received a lot of international attention because of the lack of attention it was afforded by the Pakistani media.
(Get a fresh dose of the news that matters, delivered directly to your inbox, every morning. The perfect way, to get you started and informed, for the day ahead. Subscribe to News18 Daybreak here.)(Get detailed and live results of each and every seat in the Lok Sabha elections and state Assembly elections in Andhra Pradesh, Odisha, Arunachal Pradesh and Sikkim to know which candidate/party is leading or trailing and to know who has won and who has lost and by what margin. Our one-of-its-kind Election Analytics Centre lets you don a psephologist's hat and turn into an election expert. Know interesting facts and trivia about the elections and see our informative graphics. Elections = News18)
Read full article
Countdown To
Elections Results
To Assembly Elections 2018 Results