News18.com Daybreak |Govt to File Review Petition Today Over SC/ST Act and Other Stories You May Have Missed
The CBSE issued a statement saying the Board is postponing the April 2 Board examinations in Punjab after a request by the Punjab government voicing apprehension over a bandh call given by Dalit outfits in the state.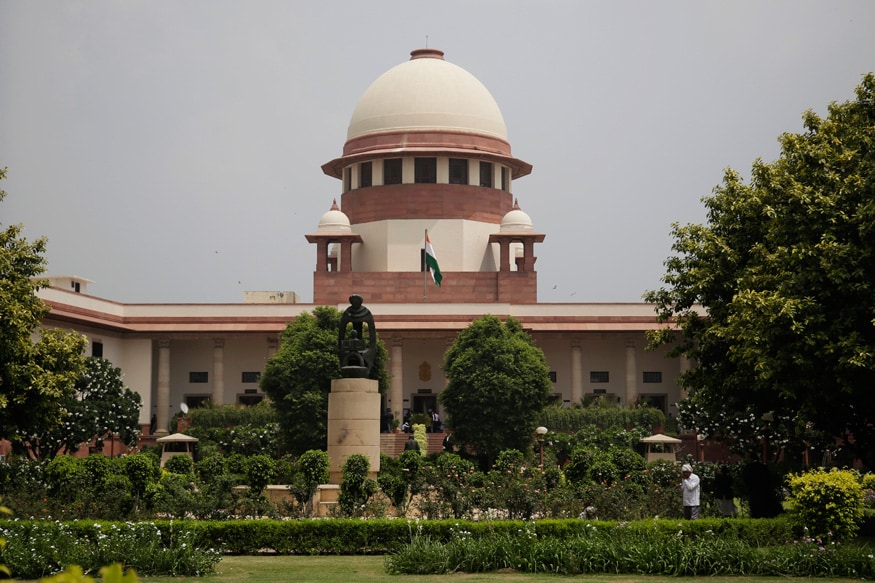 A file photo of the Supreme Court. (PTI)
The government will file a review petition before the Supreme Court, challenging its order banning automatic arrest and registration of cases for alleged harassment of SCs and STs.
Fifteen oil workers, seven of them Indians and most from the subcontinent, were killed in a head-on collision between two buses in southern Kuwait.
Authorities in Iraq have handed over the bodies of the 39 Indians killed in Mosul by Islamic State terrorists to Indian authorities who are in Iraq to bring back the remains. Closer home, their families are still grappling with the grief as their endless wait for the bodies are about to come to a close.
The CBSE issued a statement saying the Board is postponing the April 2 Board examinations in Punjab after a request by the Punjab government voicing apprehension over a bandh call given by Dalit outfits in the state. The Board has also clarified that examinations will go as per schedule in Chandigarh. ordered a security clampdown as a precautionary measure in the state with schools to remain shut and buses off the road. The action came after a bandh call for Monday by Dalit organisations against the Supreme Court's amendment of the SC/ST Atrocities Act.
About 50 farmers were detained by police as thousands of cultivators protested the move of a Gujarat government company to take possession of land at a village in Bhavnagar district for a proposed lignite plant. However, the local head of a farmers' group alleged that the police manhandled the protesters, including women and children, and in the process at least five people were injured.
Turning its newfound nonchalant humour into a political campaign, the Congress launched a Twitter battle against the BJP and PM Modi with tweets celebrating 'Jumla Divas', in reference to the Fool's Day. BJP retaliated with tweets calling it 'Pappu Diwas' — a nickname some had coined to refer to Rahul Gandhi.
At least 10 people were killed and three seriously injured when a four-storey building, which also houses a hotel, collapsed near Indore's Sarvate Bus Stand in Indore.
Even as the producers denied the allegation of Nigerian actor Samuel Abiola Robinson that he was underpaid due to racial discrimination, the actor came out with an appeal to the Kerala government and film fraternity to help him to receive at least a decent pay for the Malayalam film 'Sudani From Nigeria' where he plays the lead role.
Stepping up its agitation on the demand for Special Category Status (SCS) YSR Congress President YS Jagan Mohan Reddy said that his party MPs would not only quit on the last day of the Parliament Session, but also sit on an indefinite hunger strike at Andhra Bhavan in Delhi.
Andhra Pradesh's East Godavari police arrested two former students of the Hyderabad Central University for allegedly planning to kill Vice-Chancellor Appa Rao Podile.
Three Army jawans died and twelve militants, including 'top commanders' of militant outfits, were killed in encounters across south Kashmir on Sunday. This was one of the biggest offensives on militancy in recent times in the trouble-torn state while police said the forces had avenged the killing of Lieutenant Umar Fayaz.
The Indian Space Research Organisation (ISRO) has lost contact with GSAT-6A, one of India's biggest communication satellites with military applications. Around 48 hours after it was launched on Thursday, ISRO on its official website said that the agency lost contact with the satellite during the third and final firing of its LAM engine.
Agree or Disagree?
Senior BJP leader and Bihar's Deputy chief minister Sushil Kumar Modi tried to trump state unit President Nityanand Rai and union minister Giriraj Singh when he said beheading incident in Darbhanga was fall out of a land dispute and had nothing to do with naming an intersection as 'Modi Chawk.' The recent communal strife in Bihar and Nitish Kumar's criticism of alliance partner has also exposed fissures within Bharatiya Janata Party (BJP) state unit as leaders sharing the government openly contradicted those running the party's organisation.
The names of perpetrators and victims keep changing, but the situation remains the same as we continue to regress from one communal riot to another: from Muzaffarnagar (2013) to Asansol (2018). In times of Muslims fearing Hindus and Hindus fearing Muslims, Pippa Virdee's latest offering "From The Ashes of 1947 – Reimagining Punjab" discloses the 'details of the blessing of Guru Gobind Singh' that kept the princely state of Malerkotla safe even at the peak of communal violence witnessed during partition.
Due to recent 'Samajwadi party-Bahujan Samaj Party Pact' and its success in bypolls, a social alliance between OBCs and SCs has started to evolve. This pact is slowly moving towards a long term alliance. Even after defeat of Bahujan Samaj Party candidate in Rajya Sabha, Mayawati strongly showed her commitment towards her stand by making a public statement that BSP's relation with Samajwadi Party will not be affected.
On Reel
When Dantal village was rocked by the murder of singer Amad Khan of the Manganiyar caste because the village exorcist doesn't like his performance, all the 109 members of the caste leave the village in protest, swearing never to return.
Watch our documentary 'The Revenge Of Caste' here.
(Get a fresh dose of the news that matters, delivered directly to your inbox, every morning. The perfect way, to get you started and informed, for the day ahead. Subscribe to News18 Daybreak here.)
Get the best of News18 delivered to your inbox - subscribe to News18 Daybreak. Follow News18.com on Twitter, Instagram, Facebook, Telegram, TikTok and on YouTube, and stay in the know with what's happening in the world around you – in real time.
Read full article