News18.com Daybreak | Jharkhand Starvation Deaths, Rahul's New CWC and Other Stories You May Have Missed
Get a fresh dose of the news that matters, delivered directly to your inbox, every morning. The perfect way, to get you started and informed, for the day ahead.
File photo of a woman Woman suffering from malnutrition.
In case you missed it
Hunger games: Lemon peels in warm water pass for finger bowls in your local restaurant. But for Sitala and her three children, it's dinner. On a good day, they can relish some salt with it. The family in Sevatand village of Jharkhand's Giridih district is on the brink of starvation. But, god forbid, if any of them does succumb to acute hunger, the death would be marked down to malnutrition, tuberculosis or stomach disorder. Because, as far as the state government is concerned, no one dies of starvation in Jharkhand. Here's the first part from our series on Jharkhand starvation deaths.
Illustration by Mir Suhail/News18.com
Violent intolerance: Social activist Swami Agnivesh was allegedly attacked by members of the Bharatiya Janata Yuva Morcha (BJYM) and the Akhil Bharatiya Vidyarthi Parishad (ABVP) in Jharkhand's Pakur district on Tuesday for his "anti-Hindu" stance. Police said the 78-year-old was attacked when he was going to participate in the 195th Damin Mahotsav at Littpara. "I am alive. I don't know why they beat me. I think it was some conspiracy…They alleged that I was speaking against Hindus," Swami Agnivesh told CNN-News18.
Congress shake-up: Rahul Gandhi constituted the new Congress Working Committee and dropped veterans Digvijaya Singh, Janardan Dwivedi, Kamal Nath, Sushilkumar Shinde and Karan Singh from the party's highest decision-making body. In the working committee named a few months after he took over as Congress chief, Gandhi, however, included other veterans like AK Antony, Ahmed Patel, Ambika Soni, Motilal Vora, Ghulam Nabi Azad, Mallikarjun Kharge, Anand Sharma and Kumari Selja.
No vigilantism: Lynching and mob violence are creeping threats that may gradually take the shape of a Typhon-like monster, said the Supreme Court as it called vigilantism a "perverse notion" and asked the citizens to reflect upon if India has lost the values of tolerance to sustain a diverse culture. The apex court, while issuing a slew of directives, expressed serious concerns over the rising incidents of lynching and mob violence, stating "when any core group with some kind of idea take the law into their own hands, it ushers in anarchy, chaos, disorder and, eventually, there is an emergence of a violent society."
Anguished Parliamentarians: Parliamentarians from seven opposition parties have written to Sumitra Mahajan, Speaker of Lok Sabha, expressing "deep anguish" over the manner in which BJP allegedly circumvented constitutional norms during the last Parliamentary session. Speaker Sumitra Mahajan had last week written to opposition parties expressing concern over the frequent disruptions in Parliament and asked them to introspect while ensuring that the dignity of Parliament was not undermined. The opposition's letter, on the other hand, claims that BJP bulldozed through the previous Lok Sabha session by not allowing debate on several important bills.
Ghastly act: For over seven months, a 12-year-old girl was allegedly raped by as many as 20 men at an apartment complex at Ayanavaram in Chennai. The police have arrested 17 people, including the society's security guard, and produced them before a magistrate. When they were brought to court, they were thrashed allegedly by some lawyers. The Madras high court lawyers association has decided not to represent any accused in the case.
Silent plea: "Our father is an auto driver. We are rank students with 38 gold medals in sports. Please sponsor us," reads an appeal in an auto-rickshaw in Bengaluru. The vehicle belongs to Sharieff, who has been working as an auto-rickshaw driver for the last 26 years in Bengaluru. Driving the rickshaw, he has been toiling hard to pay for his children's education.
Auto-rickshaw driver Sharrief with his sons.
Rejected IphoneX: BJP MP Rajeev Chandrashekar has "returned" an iPhone X that was allegedly gifted to him by Karnataka chief minister HD Kumaraswamy. Chandrashekar, in a tweet, criticised HD Kumaraswamy and questioned the state government for sending expensive phones amid its calls for austerity. He further asked why public money was used to send expensive gifts at a time when civic workers were being denied salaries.
Down to earth: Some members of the Maharashtra Navnirman Sena (MNS) dug up a pavement outside the Mantralaya, the state secretariat in Mumbai as a mark of protest against potholes on roads. At least eight MNS workers were arrested in this connection.
News18 Special: Beyond the puddles of water and the multicolored web of alleys, at the Bosco Centre by UNHCR, a group of women who fled war and instability at home—Iraq, Afghanistan, Congo, Nepal, Somalia-- have gathered. They have set up food-stalls in this 'pop-up' kitchen, a kind of a temporary arrangement. These monthly pop-ups is a result of an organic process of discovery and rediscovery that happens during impromptu culinary jams at the "Living Lab", a veritable one-bedroom apartment in Khirki. Take a peek inside the world of a pop-up kitchen in Delhi where women from war-torn countries serve 'magic'.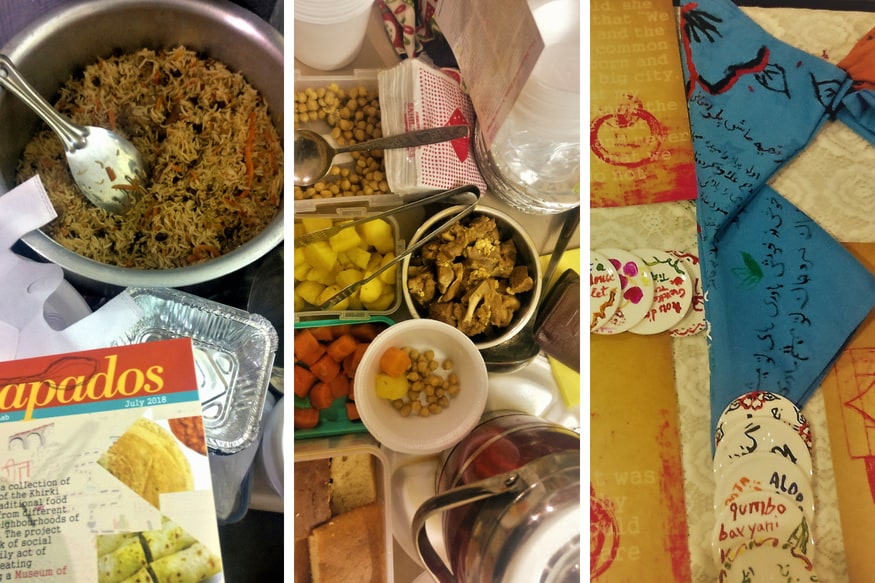 Agree or disagree?
The South Asian region is heavily impacted by terror. The worst sufferers are the civilians, and while there is still no clarity on the number of civilian deaths, directly or indirectly caused by the war on terror, the figures could be as high as one million. Over 10 million civilians have been displaced as a result of the fighting. Why are we not winning this global war? Lt Gen (Retd) DS Hooda writes that the battle of the narratives is a key tool in fighting terrorism. However, a global narrative can be too simplistic and even misleading. "Today, an impression has been created that there is a contest between Islam and the rest of the world," he writes.
Much time and energy has been expended in moral outrage over Prime Minister Narendra Modi's "Congress is a party of Muslims" remark. Some see it as a cheap shot, others as a dangerous attempt to polarise the electorate and still others as a clever barb aimed at the biggest chink in the Congress armour. The allegation has a strategic value, otherwise the PM would not have wasted his breath. The Congress' vulnerability to such propaganda is a function of its never-ending identity crisis. Here is Bhavdeep Kang's opinion.
On reel
News18 travelled across Jharkhand to uncover cases of hunger being a silent killer in the state. Although 12 deaths in the past one year has rocked the state either due to non existence of ration cards, biometric authentication failure or deletion of names under ration list, the government maintains that not only can they not cover the 20% of rural population under PDS but that the only way to help them would be freebies. Watch our video here.
(Get a fresh dose of the news that matters, delivered directly to your inbox, every morning. The perfect way, to get you started and informed, for the day ahead. Subscribe to News18 Daybreak here.)
| Edited by: Huma Tabassum
Read full article
Countdown To
Elections Results
To Assembly Elections 2018 Results