News18.com Daybreak | Karnataka Poll Dates Out, Cambridge Analytica Whistleblower Names Congress and Other Stories You May Have Missed
Get a fresh dose of the news that matters, delivered directly to your inbox, every morning. The perfect way, to get you started and informed, for the day ahead.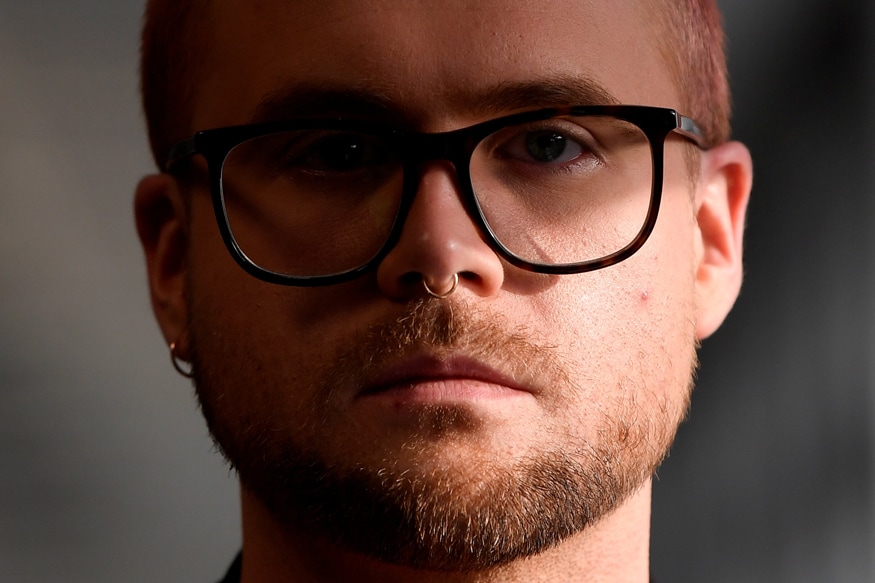 Cambridge Analytica whistleblower Christopher Wylie at a news conference in central London, Britain. (Reuters)
In case you missed it
Christopher Wylie, the whistleblower who kicked up a massive storm across the world over 'data theft' carried out by his former employers Cambridge Analytica, said that the Congress party was one of the political parties in India that had used the services of the tainted company. Wylie also said that the company had large-scale operations in India and even had an office here. A political slugfest has broken out over it.
Shambhulal Regar, the man accused of hacking a Muslim man to death and burning his body on camera, was honoured during Ram Navami in Rajasthan. A tableau honouring Regar was taken out in Jodhpur on March 25.
The Opposition parties found a novel method to convey that they have enough numbers to initiate the no-confidence motion against the Narendra Modi government as both houses of Parliament were once again adjourned amid noisy protests by AIADMK and TRS. Members of the Congress, Left and some other parties displayed blue-coloured placards, each with a circled number - from 1 to 80 - along with the words 'For no-confidence' written on them.
West Bengal Chief Minister Mamata Banerjee mooted a coalition of sorts led by "strongest regional party" in each state in a bid to build a credible challenge to the BJP in the run-up to the next general elections. The Trinamool Leader, who is on a three-day visit to Delhi, told reporters that "the strongest regional parties should be supported by others (minor players) so that there is a one-on-one contest against the BJP everywhere".
​
The dates for Karnataka Assembly polls have just been announced. Votes will be polled on May 12 and counting will be held on May 15 in what is arguably the most politically significant state south of Vindhyas. While the Congress, led by Chief Minister Siddaramaiah, is looking to buck the almost three decade old cyclical power trend (no political party has held power after one term since 1989), the BJP is looking to grab power in the last big state under Congress' control. But both parties know that the way to securing Karnataka is a long-winded one that passes through six separate regions within the state. All have their own caste combinations, political advantages and disadvantages for BJP and Congress.
Meanwhile, BJP national president Amit Shah made a major gaffe by saying that if there was a competition for the most corrupt government, 'Yeddyurappa government would be number one'. Uh oh. It was all on camera.
Former Union minister and Congress leader Kapil Sibal's assertions before the court as the counsel for AIMPLB have been taken as official stand of the political party he represents in Parliament. Sibal has reportedly been told by the party leadership to give up this one case whose political overtones in the run-up to the 2019 general elections may give a handle to the opposition to attack the Congress. But, long back, there was a neta who donned both khadi and black gown with ease. Here's more on him.
Agree or disagree?
Stung by incessant criticism over its flexi-fare scheme in premium trains, the Indian Railways is looking to effectively lower fares in Rajdhanis, Shatabdis and Durontos by tweaking this fare structure. There is a popular misconception that this scheme is like the surge pricing in airlines. This is not true. The railways does not increase fares based on how many people are trying to book a ticket, it does not increase fares in most cases during festivals and seasonal rush, there is a ceiling up to which it will raise fares even on the premium trains where flexi system is being implemented. The flexi fare system should get all the support of our MPs and the travelling public, if they want to see railways' finances improve.
On reel
Mary Kom, the Indian boxing legend is making her debut in the Commonwealth Games. Here's what she had to say on it.
https://www.youtube.com/watch?v=ob6td4i3fkE
Get the best of News18 delivered to your inbox - subscribe to News18 Daybreak. Follow News18.com on Twitter, Instagram, Facebook, Telegram, TikTok and on YouTube, and stay in the know with what's happening in the world around you – in real time.
| Edited by: Ahona Sengupta
Read full article