News18.com Daybreak | Kumaraswamy at 'Mercy of Congress'; Kairna Bypoll & Other Stories You May Have Missed
Get a fresh dose of the news that matters, delivered directly to your inbox, every morning. The perfect way, to get you started and informed, for the day ahead.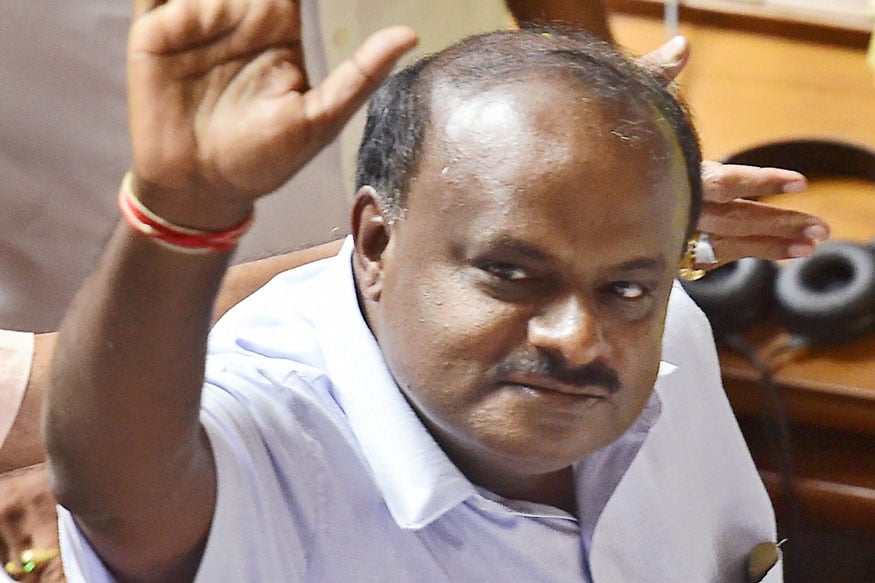 File photo of Karnataka chief minister HD Kumaraswamy. (PTI)
In case you missed it
Polling booths have opened for voting in by-elections to four Lok Sabha seats, including the politically-crucial Kairana in Uttar Pradesh, and 10 Assembly constituencies across 10 states. Besides Kairana in western Uttar Pradesh, by-election will be held in Bhandara-Gondiya and Palghar parliamentary constituencies in Maharashtra, and Nagaland Lok Sabha seat. Follow our live updates here
Tension over portfolio allocation in Karnataka government refused to die down as Congress President Rahul Gandhi is headed abroad along with mother Sonia Gandhi and has put the entire process on hold. Chief Minister Kumaraswamy, on the other hand, shot back saying he is at the mercy of Congress because the people of Karnataka failed to give him the mandate he had sought. Meanwhile, former CM Siddaramaiah clarified that the matter will be finalised within three to four days. The meeting to decide on the portfolio allocation has been postponed for a week as the Gandhis will be away for Sonia's health check-up.
An RTI activist has found that 21 public sector banks have incurred losses totalling Rs 25,775 crore due to banking frauds in the financial year 2017-18.
Pakistan has claimed it was forced to test nuclear weapons two decades ago due to hostile posturing by India. Foreign Office spokesman Mohammad Faisal issued a statement on the eve of the 20th anniversary of the 1998 nuclear tests, while insisting that the testing of atomic bombs by India eliminated chances of a  nuclear weapons-free South Asia.
BJP Rajya Sabha MP Amar Sable has said that Prime Minister Narendra Modi never said Rs 15 lakh would be deposited into the accounts of every citizen of the country. He accused the opposition parties of creating "misunderstanding" and "confusion" in the minds of the people by spreading "disinformation" about this issue.
Another senior BJP leader and Maharashtra minister on Sunday warned that the Congress could come to power in Maharashtra if the BJP and the Shiv Sena fail to form an alliance in the next Assembly elections.
At least 21 people have died and two were missing due to to rain-related incidents and lightening strikes in Sri Lanka, as bad weather hit more than 150,000 across the country over a week. Most of the deaths were caused by lightning, while nine people had drowned, Disaster Relief Minister Duminda Dissanayake said, putting out the casualty figures.
The 24.82-km-long Janakpuri West-Kalkaji Mandir stretch of the Delhi Metro's Magenta Line is all set to be inaugurated today that will bring domestic terminal of the city airport on the DMRC network and cut travel travel time between Noida and Gurgaon by at least 30 minutes. Once the stretch is opened, it will take the total length of the Delhi Metro Rail Corporation (DMRC) network to 277 km, officials said.
Former Uttar Pradesh Chief Minister Akhilesh Yadav gave laptops to students of various boards who have topped the Class 10 and 12 examinations in the state, and criticised the ruling BJP for not felicitating them yet.
Domestic petrol prices increased for the 14th consecutive day on Sunday, with the key transportation fuel being sold at Rs 78.12 per litre in the national capital. The surge in petrol prices is largely attributed to the recent rise in crude oil cost and the high excise duty levied on the particular fuel type in the country. Diesel cost, which is already at record levels across the major cities, rose to Rs 69.06, Rs 71.61, Rs 73.53 and Rs 72.91 a litre on Sunday in Delhi, Kolkata, Mumbai and Chennai, respectively.
Simple good hygiene practices such as frequent hand washing and cooking food properly before consuming can help you avoid contracting the brain-damaging Nipah virus which has claimed 12 lives in Kerala till now and led to quarantining of at least 40 others, health experts suggest. Read to find out how to be safe from the deadly virus.
At least50 persons were injured during clashes between protestors and security forces in Srinagar. The clashes broke out after the Friday prayers near Jamia Masjid in the Nowhatta area of the city, a police official confirmed.
Agree or disagree?
Four years. 21 elections. 15 victories. 19 states. Electorally, NDA II has notched up outstanding numbers. On all other fronts, the picture appears dim as compared to 2014. In assessing four years of the Narendra Modi-led government, let's acknowledge that analysts and voters evaluate ruling parties differently. Analysts focus on specific policy issues with regard to the economy, health, education, diplomacy, legislation etc. Voters rely on a more general appraisal of government performance, that is, the value — both material and emotional — it brings to their lives.
The case of Vedanta-Sterlite Copper smelter in Thoothukudi, Tamil Nadu has once again brought to light the nexus between companies and government that disregards well-being of people and environment. The residents have been protesting for over 100 days demanding closure of the smelter and this week 13 people were killed in police firing. The contentious expansion of the smelter was stayed by the Madras High Court on May 23. The Tamil Nadu Pollution Control Board also sprang into action and ordered the closure of the plant, leading to disconnection of power supply.
On reel
What happened when John Abraham gave us to push up the challenge? Watch the latest episode of Space Out featuring John Abraham, Diana Penty and Director Abhishek Sharma.
| Edited by: Puja Menon
Read full article