In case you missed it
Arvind Kejriwal seemed to have softened his stand on Sunday night in the ongoing standoff with Lieutenant General (L-G) Anil Baijal and the IAS Association. As several IAS officers came together to level counter allegations against the Delhi government, saying they are afraid of a lack of security,
Kejriwal assured the bureaucrats
that they are his 'family'.
Delhi CM Arvind Kejriwal's dharna against L-G Anil Baijal has found much-needed
support in the chief ministers of the four non-BJP states
. In a major show of unity, West Bengal CM Mamata Banerjee joined hands with Left leader and Kerala CM Pinarayi Vijayan along with Andhra CM Chandrababu Naidu and Karnataka CM Kumaraswamy to back Kejriwal in his dharna.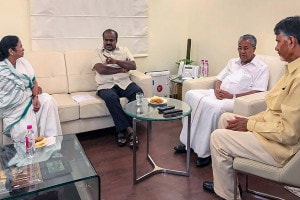 Amid the tussle with the L-G and the Centre,
Arvind Kejriwal has emerged as an unlikely linchpin for opposition unity
. This has come as a surprise because till a few months ago the Delhi CM was seen as a bit of a political pariah.
West Bengal CM Mamata Banerjee said on Sunday that Prime Minister Narendra Modi did not give any assurance when she, along with three other chief ministers, raised the political crisis in Delhi with him. Banerjee, Kerala's Pinarayi Vijayan, Andhra Pradesh's N Chandrababu Naidu and Karnataka's HD Kumaraswamy had a
meeting with PM Modi and Home Minister Rajnath Singh
on the sidelines of the NITI Aayog Governing Council meeting.
With the show of unity that the four non-BJP CMs showed for Arvind Kejriwal, the
Congress hitting out against the AAP stuck as a sore thumb
. If there is a message in the solidarity for the BJP, there is also one for the Congress. Together, these parties have 64 seats in the Lok Sabha. The Congress has 48.
Lt Gen. (Retd) DS Hooda writes for News18 on what journalist S
hujaat Bukhari and Indian Army soldier Aurangzeb's sacrifice
tells us.
The 135 km-long Eastern Peripheral Expressway, after being inaugurated by Prime Minister Narendra Modi in UP's Baghpat on 27 May, has fallen
prey to a series of thefts amounting to Rs 4 crore.
Solar panels, barbed wires, iron gates on either sides of the expressway, LED lights installed in underpasses and steel fences have been stolen within less than a month of the inauguration.
A month after it launched the ceasefire in Jammu & Kashmir, the BJP-led Union government has decided to not extend it any further. Taking to Twitter, Home Minister Rajnath Singh credited the armed forces for their restraint and asked them to
resume operations against terrorists like before.
The UK government has caused outrage with its
decision to exclude Indian students from a new list of countries considered low risk
in order to facilitate an easier visa application process to UK universities.
Shiv Sena has launched a scathing attack on the Centre's foreign policy
and said that the numerous international tours and politics of the BJP-led NDA's dispensation have proved to be inefficient and futile. "India's security is being bathed in blood every day in the Kashmir valley," said an editorial in the Sena mouthpiece Saamana.
Kerala ADGP
Sudesh Kumar has been removed as the head of the armed police battalion
for allegedly mistreating his junior colleagues and misusing official vehicle.
Football fever is at its peak as the World Cup matches are being played in Russia. In a major upset, world champions
Germany were defeated by Mexico 1-0
on Sunday night after a goal by Hirving Lozano.
Companies and trade groups in the US and China have expressed concern over how the
escalating trade spat between the world's two biggest economies
could affect operations. Beijing retaliated immediately to tariffs on tens of billions in Chinese imports imposed by US President Donald Trump, igniting a trade war that threatens to cut into the pair's massive bilateral trade.
On Reel
In Patparganj's main market stands Mandir-Masjid. Aptly called so as the two religious structures are right next to each other. Due to new houses and shops, the lanes have gotten narrow but the love, though, remains as wide as ever. Are they at loggerheads always? Can these two religions co-exist? What happens during namaz or aarti? News18 finds out.