GET Stock

Quotes


News18.com Daybreak | Modi's Campaign Blitz, Sonam Kapoor's Wedding & Other Stories You May Have Missed
Get a fresh dose of the news that matters, delivered directly to your inbox, every morning. The perfect way, to get you started and informed, for the day ahead.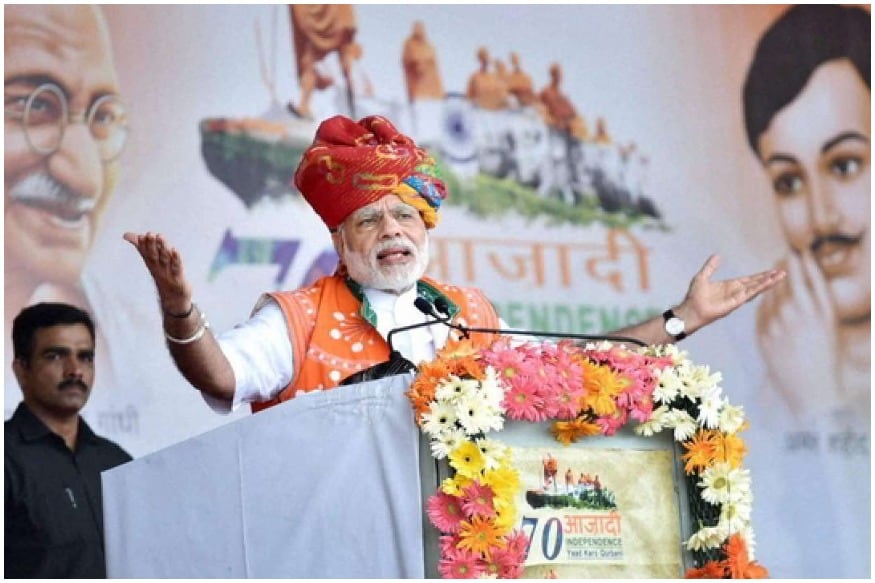 Get a fresh dose of the news that matters, delivered directly to your inbox, every morning. The perfect way, to get you started and informed, for the day ahead.
In case you missed it
Prime Minister Narendra Modi addressed three rallies in a day as he launched his campaign blitzkrieg for the Karnataka election. 
He attacked Congress chief Rahul Gandhi for disrespecting 'Vande Mataram' accused the Siddaramaiah government of initiating "ease of doing murders" and reached out to JD(S) supremo Deve Gowda by showering praise on him. With just 10 days left for campaigning to conclude in poll-bound Karnataka, the PM is in the state to add heft to the BJP's efforts to unseat the Congress from power and form its government in the southern state for the second time.
Janata Dal (Secular), the third cog in the wheel in the battle for Karnataka
, has been called many names during the heated poll campaign, including the 'B-team' of the BJP and the 'Kingmaker', but party leaders have maintained that once the results come out, they will emerge as the rightful 'King'.
A day after a couple was harassed on the Kolkata metro for standing "too close", people staged a protest outside Dum Dum Metro station
 demanding the arrest of people who had reportedly beaten up the couple
. The protesters carried banners with the message 'Stop moral policing'.
Days after the death of 13 schoolchildren in a road accident in Uttar Pradesh's Kushinagar, Chief Minister Yogi Adityanath directed the authorities to 
make the wearing of helmets compulsory in UP and ensure that drivers wear seat belts,
 never drive in an inebriated state or talk on the mobile phone or listen to music using headphones.
An 
assistant town and country planner was shot dead
 and a Public Works Department employee injured after a hotel owner allegedly opened fire at them on Tuesday while they were carrying out a Supreme Court mandated drive to demolish illegal structures in 13 hotels in Solan district in Himachal Pradesh.
Concerned over a proposed move to frame new rules for online news, 
more than 100 journalists and media professionals wrote to I&B Minister Smriti Irani
, saying additional regulations will open up the possibility of widespread abuse and attempts to suppress political dissent" by the government. The Information and Broadcasting (I&B) Ministry last month issued an order for constitution of a committee to frame rules to regulate online news portals and media websites.
The world-famous 
Gibson Brands Inc, the maker of guitars played by the likes of B.B. King and Elvis Presley, filed for Chapter 11 bankruptcy 
protection on Tuesday with a plan to reorganize its musical instrument business under the new ownership of its lenders. Nashville-based Gibson, whose iconic brands include Les Paul and SG, has been suffering under $500 million in debt linked to the acquisition of its consumer electronics business overseas, where sales have been in sharp decline.
Kamal Nath, now the unanimous face of Congress,
 rejuvenated party workers in Madhya Pradesh as the newly elected party President, landed in Bhopal on Tuesday and enthused throngs of supporters in an open truck procession with other senior party leaders.
Popular singer Sona Mohapatra posted a series of tweets to Mumbai Police regarding the 
threats she has received for her new song, Tori Surat,
 which was originally penned by poet Amir Khusrau for his beloved Nizamuddin Auliya. In her tweets, the singer alleges that Madariya Sufi Foundation had sent her a notice and threatened her to remove the song from her latest project, 'Lal Pari Mastani'.
After months of speculation, the Kapoor and Ahuja family finally dropped the wedding announcement of the much talked about couple, 
Sonam Kapoor and fashion and lifestyle entrepreneur, Anand Ahuja.
 In an official statement, the families revealed May 8 as the date of the wedding and confirmed that the rumours, which have been floating since last year, are indeed true.
Swedish DJ and producer Avicii, whose mysterious death in an Oman hotel caused a splash in the media,
 allegedly committed suicide with broken glass that he used to cut himself
. The DJ, who was 28, was found dead on April 20, was battling alcohol problems for years, those close the Avicii said.
Agree or disagree?
As the government and opposition trade charges over the pace of electrification in India's villages, they should worry about what this means in terms of providing an electrical connection to each rural household. 
The number of rural households without a connection is 17.4% at 3.14 crore.
On reel
How many of us have dreamed of living Harry Potter life, having our own wand, riding on our own broom and waiting for that day when you finally get a letter from Hogwarts? Now, a 21-year-old is making these dreams come true.
(Get a fresh dose of the news that matters, delivered directly to your inbox, every morning. The perfect way, to get you started and informed, for the day ahead. Subscribe to News18 Daybreak here.)
Read full article