INDIA
News18.com Daybreak | Rahul's Temple Run, Sachin's Jersey and Other Stories You May Have Missed
Get a fresh dose of the news that matters, delivered directly to your inbox, every morning. The perfect way, to get you started and informed, for the day ahead.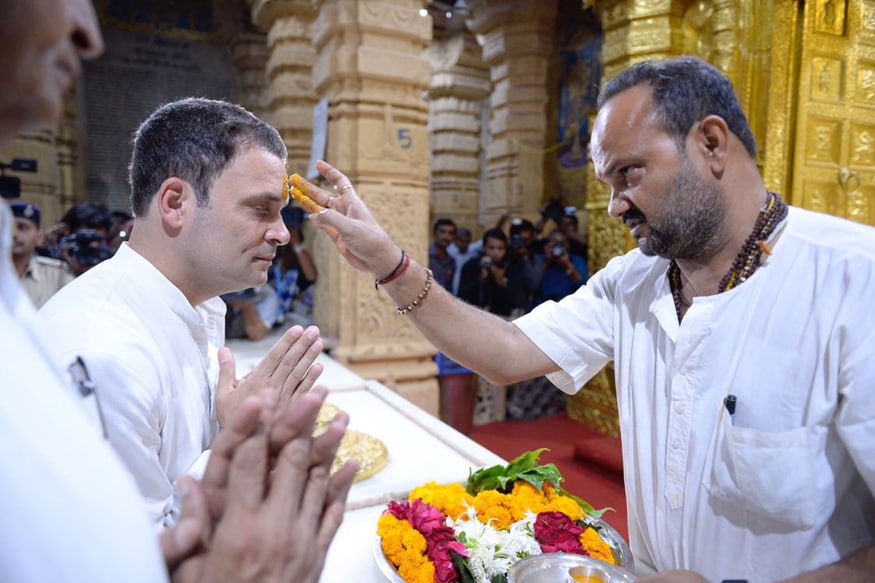 Rahul Gandhi at the Somnath Temple on November 29. (Image: INCIndia/Twitter)
In case you missed it
Rahul Gandhi's temple run in poll-bound Gujarat hit a landmine after his name was "entered" in a register for non-Hindus at the Somnath Temple, prompting the BJP to question his faith and the Congress to allege mischief.
Meanwhile, the Congress leader's visit to temples in Gujarat — he has prayed at as many as 12 temples over the last two months — has been mocked by the BJP with even Prime Minister Narendra Modi raising it in his election rally speeches. Check out Gandhi's 'Temple Run' in this infographic.
Ever since the maverick trio of Patidar leader Hardik Patel, OBC leader Alpesh Thakor and Dalit leader Jignesh Mewani began taking on the ruling Bharatiaya Janata Party (BJP) in Gujarat, Assembly polls have become exciting for the national audience. Will BJP win again? Here are the three factors that will determine the outcome, explained through some very cool infographics.
If you are a Sachin fan who was upset because Shardul Thakur was handed the No.10 jersey, you have a reason to cheer. The Board of Control for Cricket in India (BCCI) has decided to retire the jersey as a tribute to the God of Indian cricket.
In case you missed the first edition of News18.com Tech and Auto Awards, you can watch it here. Check it out for the best and affordable smartphones of the year, gadget of the year, luxury car of the year and more.
Pakistan's former president, General Pervez Musharraf, accepted that Lashkar-e-Taiba is active in the Kashmir valley and said he was always in favour of using the Pakistan-based terror outfit to "supress" the Indian Army. In an interview to Pakistani TV channel ARY News, Musharraf, who is currently in exile in Dubai, said he was the biggest supporter of LeT and its founder, 26/11 Mumbai attacks mastermind Hafiz Saeed.
Cow is an object of worship but not just in India. At a recent conclave of tribals from across the world, representatives from one particular tribe, the Maasai from East Africa, talked about cow being a symbol of reverence in their culture like a motherly figure. And well, they also relish their beef.
Yogendra Yadav says Rahul Gandhi has done as much to be Congress President as Prince Charles to be King of Britain. Ouch.
Electric vehicles are set to get a major push from the Narendra Modi government with Niti Aayog preparing a Cabinet note on ways to incentivise zero-emission transport. Union minister for road transport and highways Nitin Gadkari said electric vehicles are need of the hour but India doesn't need self-driving cars at this juncture when millions of Indians earn their livelihood through driving.
Here's an exclusive report on how reputed medical labs are fudging the medical test reports and thereby creating deliberate opportunites for referal to doctors on commission basis.
Agree or Disagree?
Ivanka Trump said the word 'women' 48 times in her speech at the Global Entrepreneurship Summit in Hyderabad on Tuesday. However, in her inspiring speech, what she conveniently forgot to mention was her business ventures that have been exploiting low-wage workers, mostly women. Unless she pushes back on the Trump administration's misogynist agenda, is it really 'working for women rights? Ivanka needs to fix the problem at home. Otherwise, a speech on "women empowerment" has no meaning.
On reel
Pakistan's blasphemy laws targetting the Ahmadiyya Muslim community have become central to keeping religion alive in Pakistani politics. Here's a look at how the discourse around blasphemy has not only shaped Pakistan's history but also continues to shape the context of its present politics and civil society.
(Get a fresh dose of the news that matters, delivered directly to your inbox, every morning. The perfect way, to get you started and informed, for the day ahead. Subscribe to News18 Daybreak here.)
Support the daily wage earners who have been hit the hardest by the COVID-19 crisis. Click here to contribute to the cause. #IndiaGives
The daily News18 Coronavirus COVID-19 newsletter - Get your copy here.
Subscribe to News18 Daybreak. Follow us on Twitter, Instagram, Facebook, Telegram, TikTok and on YouTube
| Edited by: Ananya Chakraborty
Read full article