News18 Daybreak | Article 35A, Tharoor Targets PM and Other Stories You May Have Missed
Get a fresh dose of the news that matters, delivered directly to your inbox, every morning. The perfect way, to get you started and informed, for the day ahead.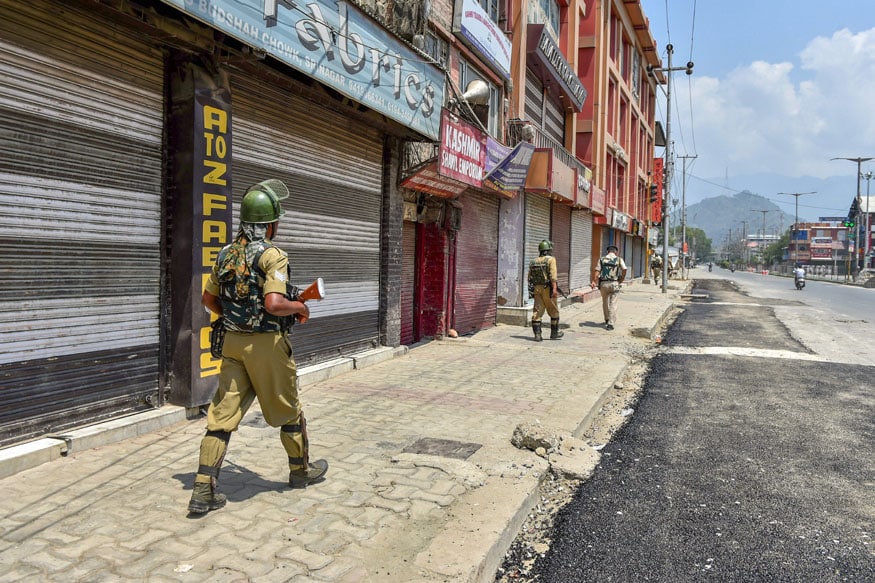 File photo of security personnel patrolling a street during a strike called by the separatist leaders. (PTI)
In case you missed it
Boiling pot:
Protests were held across Kashmir on Sunday as tension simmered ahead of Monday's hearing in the Supreme Court on a batch of petitions challenging the validity of Article 35A. Article 35A, which was added to the Constitution by a 1954 Presidential Order,
accords special rights and privileges to the permanent residents
of Jammu and Kashmir and denies property rights to a native woman who marries a person from outside the state.
Tough questions:
Senior Congress leader Shashi Tharoor on Sunday questioned why Prime Minister Narendra Modi readily wore "outlandish" headgears during his trips across the country and abroad but
shunned the Muslim skull cap.
Tharoor, who was addressing a seminar with the theme 'Standing up to hatred: Violence and intolerance in contemporary India', said, "You have seen him [Modi] in various kinds of hilarious extraordinary outfits. But still he always says no to one, why doesn't he wear the colour green?"
Clearing the air:
Days after a helpline number of UIDAI mysteriously started showing on smartphones of hundreds of users, the UIDAI on Sunday said people with "
vested interests" are trying to tarnish the image
of Aadhaar by taking advantage of Google's admission of its "mistake". The UIDAI on Sunday said vested interests used Google's "inadvertent" act on its helpline number to create fear and tarnish the image of Aadhaar.
Noble cause:
Away from the glitz and glamour of Tinseltown, filmmaker Sriram
Dalton is on a 'padayatra'
for the last three months to spread awareness on 'dying' rivers of India. Dalton embarked on the journey from Mumbai on May 15 with scores of supporters. Braving blistering heat for 82 days, the group reached Bhopal on Saturday to highlight the issue of commercialisation of water and people's rights on land, water, and forest.
Up in arms:
A year after the citizens of Bengaluru opposed to the construction of a steel flyover, protests are brewing against the ambitious elevated corridor that plans to connect four corners of Bengaluru. While the project promises to save more than Rs 9000 crore by cutting congestion, the flip side of it — the felling of scores of trees — has left activists fuming.
Pressure tactics:
A day after a Trinamool Congress (TMC) delegation was allegedly manhandled at the Silchar Airport, the party decided to keep up the pressure on the government over the exclusion of 40 lakh people from the final draft of the National Register of Citizens (NRC) in Assam. The
TMC on Friday decided that it would send another team
of senior leaders to assess the ground reality in the state after the publication of the NRC draft.
Agree or disagree?
India, with its billions of consumers, is a massive market for streaming services like Netflix, Amazon Prime and others, all of which rely on their subscription packages to fund their content and maintain their profits. Thus, they concentrate on producing quality fare to consolidate as well as expand their client base; yet India seems to be getting short-changed in this exchange. Shantanu David writes about
how streaming is the future of entertainment
On Reel

Friendship in Bollywood has been one of the most popular and common emotion. The sacred bond has been made legendary by characters, be it the Jai-Veeru of Sholay or the trio in Dil Chahta Hai. While most of the known friendship in Hindi cinema has been about supporting each other and being each other's back from the start to the end, there are few films where friendships teach us some valuable lessons. On this Friendship Day, we bring to you a trip down the memory lane.
(Get a fresh dose of the news that matters, delivered directly to your inbox, every morning. The perfect way, to get you started and informed, for the day ahead. Subscribe to Daybreak here.)
Read full article
Countdown To
Elections Results
To Assembly Elections 2018 Results