House of horror:
Hours after 11 members of a family, including two minor boys, were found dead at their home in north Delhi's Burari, the discovery of a handwritten note has deepened the mystery. Police suspect the family followed some religious practice to "attain salvation". According to latest reports,
eight out of the eleven family members
including the
two minors did not show any sign of struggle
. Investigators also
came across 11 pipes
jutting out of a wall, but leading nowhere.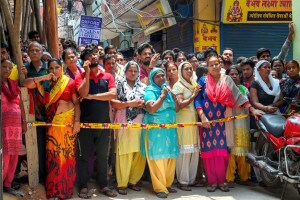 Politicians vs trolls:
Congress spokesperson Priyanka Chaturvedi has been
threatened on Twitter
with the rape of her 10-year-old daughter, prompting a verbal duel between the Bharatiya Janata Party (BJP) and the Congress on trolling. The issue comes close on the heels of external affairs minister Sushma Swaraj being trolled for helping an inter-faith couple get their passport.
Legally bound:
Should
long sexual relationships be treated as good as marriages?
If so, what should be the length of such a relationship? The Supreme Court has sought the views of the central government in deciding if a prolonged sexual relationship should be considered as 'de facto marriage', fastening legal liabilities on the male partner.
Guilty fathers:
Four of the five priests who allegedly sexually exploited a woman after threatening to make her confession public have been charged with rape and outraging the modesty of a woman. According to sources,
the four accused priests
of the Kottayam-headquartered Malankara Orthodox Church are planning to apply for anticipatory bail to avoid arrest.
Serious charges:
A woman has filed a r
ape complaint against veteran actor Mithun Chakraborty's son
Mahaakshay and wife Yogita Bali at the Rohini court. The court has ordered an FIR against actor Yogita Bali and Mahaakshay, who is also an actor, on charges of rape, cheating and causing miscarriage without consent.
J&K shake-up:
The BJP may
make a major political announcement in Jammu and Kashmir
after the Amarnath Yatra wraps up, sources close to the party leadership told News18, adding that a big breakaway faction of the PDP is ready to join the saffron party. If and when the switch happens, the BJP may stake claim to form the government in the state, with similar breakaway MLAs from the Congress and the National Conference providing the remaining numbers.
Going back:
When Aam Aadmi Party's (AAP) senior leader and member of Parliament from Punjab Bhagwant Mann was asked about who is selling chitta (heroin) in Punjab, pat came the reply – senior SAD leader Bikramjit Singh Majithia. However, while AAP is once again trying to bring up the Punjab drug menace, party chief Arvind
Kejriwal took a different stand a few months ago
when he apologised to Majithia for accusing him of his involvement in the drug trade.
Shirking responsibility:
After as many as 31 people were killed following illicit messages circulated on WhatsApp, I&B Minister Rajyavardhan Rathore has said that the
messaging portal
was beyond the government's control.
Rain-coming:
Heavy to very heavy rainfall is expected in large parts of India, including several places in Jammu and Kashmir, Tamil Nadu, Assam and Gujarat, over the next few days till Friday, the
India Meteorological Department
said on Monday.
Afghanistan attack:
A
suicide bomber attacked a group
on their way to meet Afghanistan's president in Jalalabad on Sunday, killing at least 19 people. An Afghan Sikh Parliamentary candidate
Avtar Sigh Khalsa is one of the deceased.
Yechury speaks:
In the run up to the 2019 Lok Sabha elections, opposition parties are busy trying to cobble up a third front to defeat the BJP, which stormed to power after a landslide victory in 2014. Among those at the forefront of the Opposition is CPI(M)'s General Secretary Sitaram Yechury, who wants to save the country from BJP's 'serious assault'. Read excerpts from an
exclusive interview with News18
.
Brief relief:
The
National Green Tribunal
has put on hold till July 19 the proposed felling of more than 16,000 trees for re-development of seven south Delhi colonies by the National Buildings Construction Corporation (NBCC) and the Central Public Works Department (CPWD).
News18 Timeline:
At least 31 people were murdered across more than 10 states after rumours of child-lifting spread on WhatsApp, driving people into a mad mob lynching spree.
Follow the timeline here.
Agree or disagree?
The proposed Higher Education Commission of India (Repeal of UGC) Act 2018 is an
attempt to scrap funding powers of University Grants Commission (UGC)
, which has already been manipulated since 2014. Is the proposal to scrap UGC's funding powers a cover-up? MM Ansari, former member of the University Grants Commission and CIC, explains how the UGC's role of funding educational institutions and quality assurance has gradually been eroded by the central government, without necessary approval of Parliament.
Sanju portrays Dutt as the ultimate bechara, the poor misunderstood hero straight out of Greek tragedy, whose life had been full of suffering. On one hand, Sanju tells you, that you must sympathize with Dutt for his ordeals in jail, his drug-addled youth, and his difficult relationship with his dad, as well as the sudden loss of his mother. While on the other, the film claims that media had been cruel and insensitive to his throughout his life and is largely responsible for his Khalnayak image.
Read Simantini Dey's take on how 'Sanju' takes media bashing to a whole new level
, which is utterly surprising, given how instrumental Indian media has actually been in propelling Dutt's image of a long-suffering hero.
On Reel
With the rising discussion about the state of women in India and the ongoing debate about women's safety in the country, Bollywood actor Mallika Sherawat shares her personal account of having faced harassment during her college days.
(Get a fresh dose of the news that matters, delivered directly to your inbox, every morning. The perfect way, to get you started and informed, for the day ahead.
Subscribe
to News18 Daybreak here.)