News18 Daybreak | Dalit Protests Turn Violent, VK Singh Courts Controversy and Other Stories You May Have Missed
Get a fresh dose of the news that matters, delivered directly to your inbox, every morning. The perfect way, to get you started and informed, for the day ahead.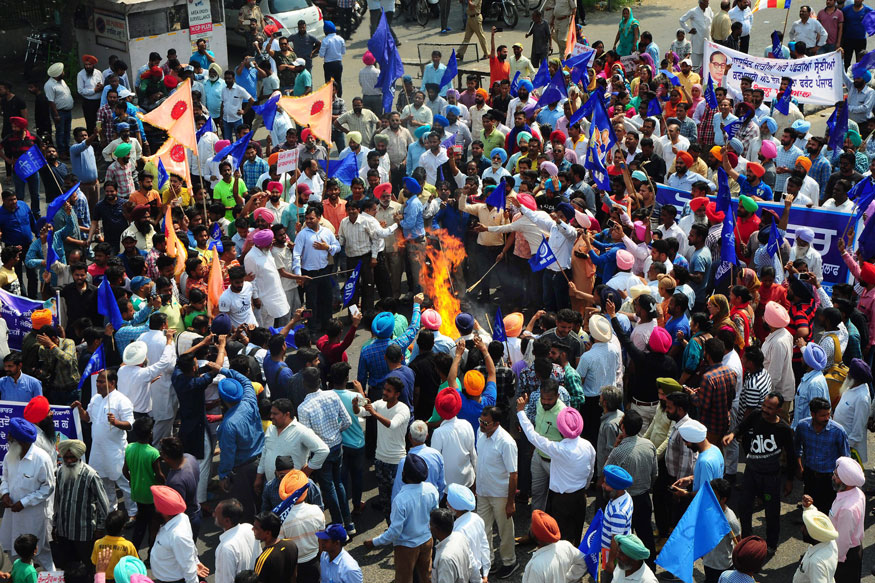 Image for representation only. (Photo: PTI)
In case you missed it
At least nine people were killed in Madhya Pradesh, Rajasthan and Uttar Pradesh on Monday while thousands were detained by the police and hundreds were left injured as the state and central governments struggled to control the massive protests that erupted across the north, west and east India over the Supreme Court's alleged dilution of the SC/ST Act. While six were killed in cross-firing in Madhya Pradesh alone, two in Uttar Pradesh and one Rajasthan. Curfew was imposed in several places and over 400 people were arrested in Uttar Pradesh alone.
In case you have missed it, track all the updates here.
This is why Dalits took to the streets to protest.
Winnie Madikizela-Mandela's marriage to Nelson Mandela and her anti-apartheid activism ensured many South Africans saw her as "the mother of the nation", but her past was littered with dark controversies. South Africa's 'flawed heroine' has died, she was 81.
While parts of Bihar continue to seethe after the communal tensions that ensued in the town of Silaoo on March 28 during the pulling of the Ram Navami rath, reports suggest that the violence ensued after some members of the procession started hurling abuses at Pakistan upon entering a Muslim dominated part of the town. The town was located 20 kms from Bihar Sharif. According to local shopkeepers, who are keeping their shutters pulled fearing further tensions, the sale of swords, sticks, and other traditional Indian weapons rose before Ram Navami.
With three days to go for the end of the second leg of the budget session, the Parliament is seemingly heading toward an unproductive run. The SC/ST verdict and ensuing Dalit agitations, communal violence in Bihar, and the CBSE paper leaks are expected to be the key agendas of the Opposition's onslaught on the Modi government.
Calling the BJP an 'expert in caste politics', Bahujan Samajwadi Party chief Mayawati has attacked the Modi government on Monday, claiming it is conspiring to deprive Dalits of promotions in jobs by privatization of government departments.
In the lead up to the Karnataka elections, it is CM Siddaramaiah calling the shots for the Congress party in the state with a strategy to attack or rebut. In a bid to keep his seat as CM, the Congress leader has turned to wooing regional voters, something the heavily centralized Bharatiya Janata Party is incompetent at. The Congress government's decision to grant minority religion status to Lingayats may also prove to be a difficult hurdle for the BJP to cross in Karnataka.
Anger was palpable on the streets of Kashmir a day after the 'bloody Sunday' in which 20 people, including 13 militants, four civilians and three armed forces men, were killed in different encounters in the southern part of the state. Sunday's three encounters was the first time in recent years that operations have been launched on such a huge scale against local militants in south Kashmir.
Despite new 'hi-tech, leak proof system' for delivering board examination papers, the CBSE examination failed to start on time as the board could not send encrypted question papers in time to schools on Monday.
VK Singh, the Minister of State for External Affairs, has said that all 39 Indians who were killed in Mosul went to Iraq illegally. The minister who was addressing the media lost his cool when asked if the kin of the deceased will be given jobs. "This is not a game of football…we will review," he said.
In what appears to be Punjab's answer to Madame Tussaud's Wax Museum, Prabhakar's Wax Museum in Ludhiana has Twitterati confused and tickled. Is it Michael Jackson or Mangal Pandey? See for yourself.
​​
Agree or Disagree?
The JDS is organising a mammoth public meeting in Gowda's family fiefdom Hassan this evening. The notable absentee would be his main partner in this election BSP supremo Mayawati. The party is mobilising at least 3-4 lakh people to this big event in response to Congress president Rahul Gandhi's last week public meeting in Hassan. Mayawati's absence has already led to a lot of speculation in political circles in Karnataka. Some political observers feel that Mayawati has gone quiet over Karnataka after the SP-BSP victory in Gorakhpur and Phulpur Lok Sabha seats in her home state UP. Is this a roadblock to the Gowda-Mayawti alliance?
On reel
Dalit agitations were reported from Punjab, Delhi, Uttar Pradesh, Madhya Pradesh, Bihar, Gujarat and other parts of India. But why are India's Dalits so angry? Here's an explainer.
https://www.youtube.com/watch?v=58NnDyQqhYk
Get the best of News18 delivered to your inbox - subscribe to News18 Daybreak. Follow News18.com on Twitter, Instagram, Facebook, Telegram, TikTok and on YouTube, and stay in the know with what's happening in the world around you – in real time.
| Edited by: Ahona Sengupta
Read full article