News18 Daybreak | India Ranks Up in Ease of Doing Business, TDP Likely to Ally With Congress, And Other Stories You May Have Missed
Get a fresh dose of the news that matters delivered directly to your inbox, every morning. The perfect way to get you started and informed for the day ahead.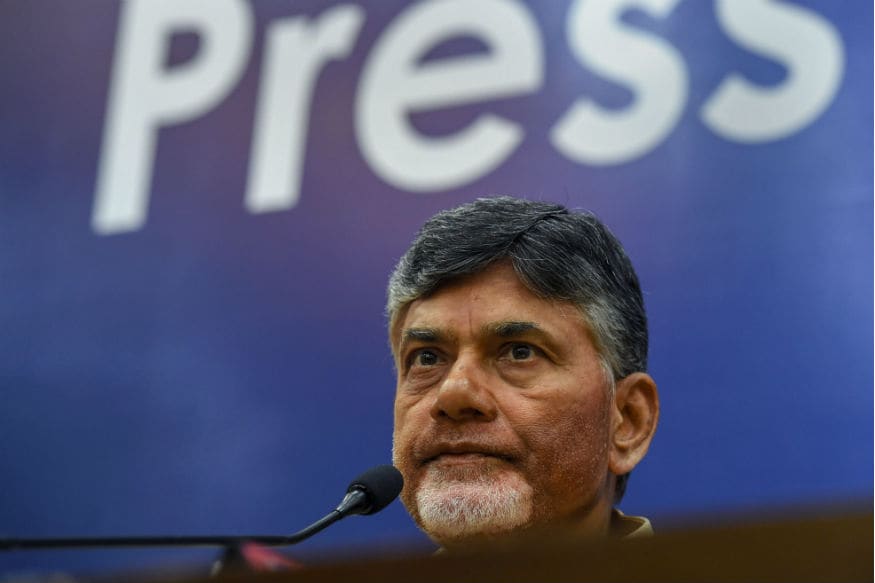 File photo of Andhra Pradesh CM Chandrababu Naidu.
In case you missed it
Melba Pria, Mexican Ambassador to India, travels around in a fairly unusual vehicle — a beautifully done up CNG-run auto rickshaw with a Mexican flag fluttering on one side. Pria, whose own country grappled with severe pollution decades ago, says this is her way of ensuring that she is doing her bit to curb toxic air. In an interview to News 18, she expressed concern about the dip in Delhi's air quality and shared how Mexico fought air pollution for 25 years. Maybe India can take a leaf out of Mexico's anti-pollution book?
In a big boost for the Narendra Modi government, India climbed another 23 places in the World Bank's ease of doing business list to rank at 77th spot for 2018. In the last two years the country has climbed 53 notches, and has become the top ranked country in South Asia for the first time and third among the BRICS nations.
The Section 7 of the RBI Act has been hogging the headlines following the reported differences between the central bank and the finance ministry. Being called an extreme step, it empowers the government to issue directions to the Reserve Bank in "public interest". Here's an explainer on what Section 7 of the RBI Act is and why this extreme step may see Urjit Patel call it quits.
Unveiling the 182-metre giant 'Statue of Unity' in Gujarat's Kevadiya, Prime Minister Narendra Modi said that had Sardar Vallabhbhai Patel not united the country, we would need visa to see lions at Gir and Hyderabad's Charminar. PM Modi said that the statue, believed to be the tallest in the world, would be a reminder about the courage of a man who thwarted efforts to disintegrate India. He added that it will remind those who question India's existence that this nation was, is and will remain eternal.
The railways ran a special "unity" train to ferry about 1,000 people from Varanasi in Uttar Pradesh to Narmada district in Gujarat where the statue of Patel was unveiled.
Ram Vanji Sutar, a Padma Bhushan and Padma Shri recipient, known for creating 50 monumental sculptures, has one more feather in his hat — the Statue of Unity. He is said to have taken special care to ensure that the statue's face resembles Patel's facial features by going through 2,000 photographs of the leader.
Andhra Pradesh chief minister N Chandrababu Naidu will meet Congress president Rahul Gandhi in Delhi on Wednesday. This is pretty much an indication that the Telugu Desam Party would join the national opposition front forming against the BJP.
Former Union minister MJ Akbar recorded his statement before a Delhi court in a criminal defamation case filed by him against journalist Priya Ramani who has accused the former journalist of sexual misconduct. "I was attacked in my personal capacity about alleged and fabricated non-events allegedly done two decades ago. I chose in that environment to seek justice in my personal capacity without the appurtenance of office. This is why I offered my resignation as Minister of State, Government of India," Akbar's statement said.
Agree or Disagree?
Indira Gandhi was bitterly opposed to the creation of Punjab on linguistic lines as she used to closely identify with her minority Hindu supporters in the state. Barely six months before her assassination, the prime minister sought to assure the majority community that "if there is injustice to them or if they did not get their rights, then it would be dangerous to the integrity of the country." Rasheed Kidwai writes on Indira Gandhi and her reluctance in carving out Punjabi-speaking Punjab.
Considering the crucial role that women play in a country's economic and social development, there needs to be a sustained effort from all stakeholders to work towards this goal. In this scenario, India's corporate sector can play an important role in empowering women by creating livelihood options for them, offering employment opportunities and designing women-friendly policies in the workforce that helps them thrive. Bhagyashri Dengle, Executive Director of Plan India, writes that the onus of gender equality is not just on the government but also on India Inc.
On Reel
From world's tallest statue to train to unity run: How PM Modi is taking forward Patel's legacy.
https://www.youtube.com/watch?v=KjwLAPXJxEc
Get the best of News18 delivered to your inbox - subscribe to News18 Daybreak. Follow News18.com on Twitter, Instagram, Facebook, Telegram, TikTok and on YouTube, and stay in the know with what's happening in the world around you – in real time.
| Edited by: Sana Fazili
Read full article