Today's Big Stories
KCR's federal front talks remain inconclusive due to DMK's 'strong alliance with Congress'
Telangana CM K Chandrashekhar Rao, who is trying to beat all odds and bring together a federal front, has been dealt a blow as
his meeting with DMK chief
MK Stalin remained inconclusive due to latter's "alliance with Congress". Sources said that in fact DMK asked KCR to "consider joining the Congress front to fight the BJP". The Telangana Rashtra Samithi supremo had stepped up efforts to forge a non-Congress, non-BJP federal front of regional parties and recently met his Kerala
counterpart Pinarayi Vijayan
in Thiruvananthapuram. He had also met Deve Gowda and Kumaraswamy.
Kamal Haasan's 'Nathuram Godse a terrorist' remark draws flak from BJP leaders
Makkal Needhi Maiyam Kamal Haasan has stoked controversy for saying that India's first "extremist was a Hindu" —
Nathuram Godse who killed Mahatma
Gandhi. The comments drew sharp reactions from the state BJP, which slammed him for indulging in "divisive politics". "The intention of Kamal Haasan is to create religious unrest in society and create communal tension in the Constituency and all over the state," the party said. The BJP also filed a complaint with the
EC against Haasan
for his remarks.
In Other News
Curfew imposed in Sri Lanka after anti-Muslim riots break out in backlash over Easter day attacks
The
curfew was imposed after anti-Muslim
riots spread to at least three districts just north of the capital in a violent new backlash. Initially, the districts of Puttalam, Kurunegala and Gampaha were told to stay indoors after Christian-led mobs attacked several Muslim-owned businesses and mosques on Sunday and Monday.
China says will never surrender to outside pressure as US trade row heats up
After Washington renewed its threat to impose tariffs on $ 200 billion worth Chinese imports in an escalating trade dispute, the
Xi Jingping government said
that it will impose hiked tariffs on $ 60 billion of US goods.
Nifty on its worst run in 8 years, Sensex crashes 372 points in ninth straight loss
The index widened its loss towards the fag-end on emergence of intense selling in heavyweights like ITC, RIL and ICICI Bank. Domestic investors kept weighing weak cues from global markets amid uncertainties around US-China trade tariff deal. Also, sustained f
oreign fund outflows kept investors edgy.
US Supreme Court gives go-ahead to lawsuit against Apple accusing it of monopolizing software market
The lawsuit by consumers said that the company has forced them to overpay for
putting apps on the iOS app store.
The plaintiffs said the Cupertino, California-based technology company required apps be sold through its App Store and extracted an excessive 30 percent commission on purchases.
News18 Election Tracker
Bahujan Samaj Party supremo Mayawati has kicked up a storm over her comments made in response to the prime minister's remarks
over the Alwar rape incident.
Accusing Modi of "dirty" politics she said that the PM doesn't have any right to speak about the rape of a Dalit woman.
"What will he know about respecting women when he left his own wife for politics," she said. The former CM's comments drew the ire of several BJP leaders including Arun Jaitley and Nirmala Sitharaman,
who called the attack
a low-blow.
Meanwhile, with
Prime Minister Narendra Modi
and the BJP continuing their
attack on the Congress
over Sam Pitroda's remarks on the 1984 riots, party chief
Rahul Gandhi
on Monday said the leader should be ashamed of himself and seek apology from the country. "Pitroda ji, what you had said was completely wrong and you should be ashamed of yourself. You should seek public apology," he said.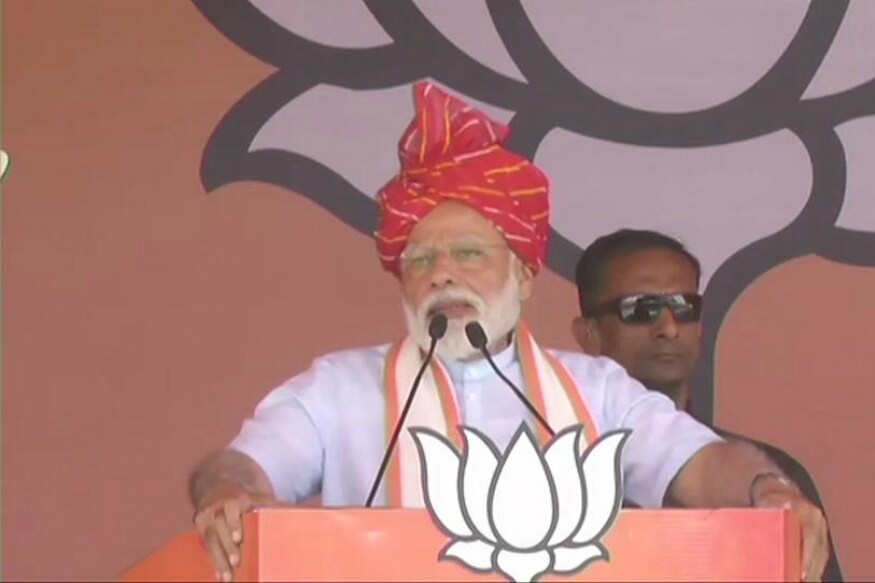 In West Bengal, the spotlight will be on the ongoing tussle between
Trinamool Congress and BJP
over a morphed picture of CM Mamata Banerjee tomorrow as the Supreme Court will hear the plea of BJP youth wing leader Priyanka Sharma against her arrest in the matter.
On Our Specials
On a musical ticket:
Suhas Munshi draws the journey of renowned Kabir singer and now Congress candidate from Dewas in Madhya Pradesh
Prahlad Tipaniya
. A school teacher, Tipaniya is a household name having performed in towns and villages for over four decades.
Freedom snubbed:
From Bengaluru, Stacy Pereira reports that at
least 15 journalists in Karnataka
have been either booked or arrested on charges of blackmail, forgery, extortion, fake news among others over the last two months.
Irony in tariffs:
Raka Mukherjee writes that even though Donald Trump may want to
increase China tariffs
, as Twitteratis have pointed out, several "Trump" products are actually 'Made in China'. And this includes products produced by Ivanka Trump's company.
On Reel
Popular household drink Rooh Afza has gone missing from store shelves just around the time when its demand usually peaks as millions of Muslims observe Ramzan. News18 hit the bazaars of old Delhi to understand the secret behind its popularity.