In case you missed it
Kerala Floods
: Monsoon rains that have battered Kerala claimed 13 more lives on Sunday raising the total death toll to 370. As rains subsided in most of the state after two weeks of non-stop downpour, the government will now shift their focus to providing help to the displaced population
Kerala has been pounded with
twice the amount of rainfall
this monsoon as compared to the rains that caused the 2013 Uttarakhand disaster, 2016 floods in Assam and 2017 floods in Bihar — and thrice the amount in the 2017 Gujarat floods.
At a time when
Kerala is in desperate need of help
, a local fisherman's humble act has won several hearts on social media. Jaisal KP, a 32-year-old Tanur resident, hunched on a flooded road to help elderly women step into an NDRF inflatable boat, winning applauds across the country. He stepped in to help the National Disaster Response Force (NDRF) team and rescued three stranded women — one with an infant — in Vengara's Muthalamad area on Saturday.
Chief Minister Pinarayi Vijayan praised the relentless efforts of numerous rescue teams, the central government and people who have sent donations to the Chief Minister's Relief Fund for Kerala flood relief. Both governments at the Centre and state said today that the focus will now shift to providing medicines, food and towards recovery as almost everyone has been rescued in the state.
Follow the live updates here.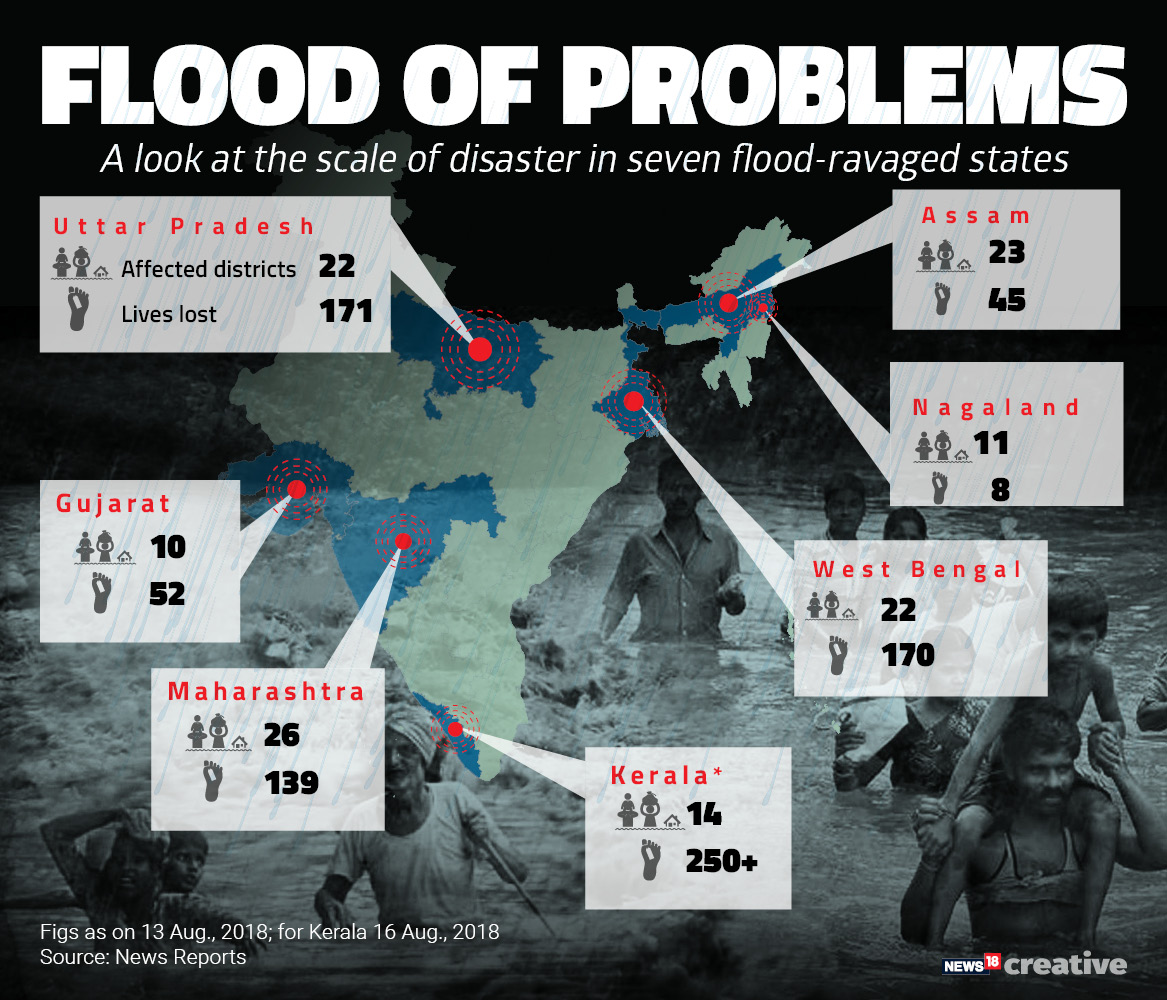 Here are some stories of the heroes in Kerala.
With over 6.33 lakh people taking shelter in 3,000 relief camps, several organisations and individuals have turned out to be angels in disguise when they undertook dramatic rescue missions to save lives. One such rescue operation was carried out by Wing Commander Prasanth of Air Force's Garud Special Force,
who rescued a toddler and his mother
from the rooftop of their flood-hit home in Alappuzha.
With rescue operations going on in full swing across Kerala, a Chennai-based group of boys got down to pull out several animals stranded in the floodwaters. Hundreds of cows, goats, chicken and a large number of dogs have been drowned in the floods, washed away in swirling currents or buried in landslides, said one of the rescuers. This is how they are trying to rescue the animals stranded in the Kerala floods.
While there is always the expectation that technology can aid in rescue and relief in such times, it is great to see technology companies coming together to help you extend your support to the people of Kerala. Here's how Google, Facebook, Truecaller and Qkopy pitched in with
new features during the Kerala floods.
News18 has launched a special initiative to help those in need. If you know anyone who needs help in Kerala,
you can fill this form.
Remembering Vajpayee:
As the nation mourns the demise of former prime minister Atal Bihari Vajpayee, one man who was close to the statesman is lost in his books. MM Ghatage, a regular visitor at Vajpayee home for the last four years, did not attend the state funeral.
The biggest political setback Vajpayee suffered
was losing the no-confidence motion by one vote. Recollecting an episode from that evening, Ghatage remembers Vajpayee's personal secretary chalking down a plan to vacate the 7, Race Course Road Bungalow.
Goof-Up
: Somebody in the West Bengal ministry of education and or school textbook publishers' is in trouble. A textbook in the state has used
a picture of Farhan Akhtar
as Milkha Singh's. Farhan had portrayed the iconic track athlete in Rakeysh Omprakash Mehra's critically-lauded film, Bhaag Milkha Bhaag, and the textbook used a picture of the actor, in character, from the film.
Gender Equality, Finally?
Former Prime Minister Atal Bihari Vajpayee's
foster daughter lighting his funeral pyre
has not only hit the headlines for sending a strong message to the gender biased society, but has given rise to several tea room debates. After all, women are also a "living body standing in emotional turmoil" like any aggrieved man.
Agree Or Disagree?
Amid all the destruction, loss and the mad rush to rescue people stuck on rooftops and even inside their flooded homes, some people claimed that the calamity was spurred on by 'Malayalis who ate beef'. According to them, 'God's Own Country' spurned the gods by eating beef. Some went as far as to say that Kerala deserved the disaster as it had not yet banned beef. The swelling waters will eventually subside. But the
wave of hate that is slowly soaking the country's
fabric may take forever to dry off.
Nick Jonas, the now confirmed would-be-husband of Priyanka Chopra, is known for a lot of things. Singer, songwriter, someone who started acting in theater at the age of seven; and now, perhaps,
a man with a fragile ego
. "First, are we sure PeeCee wants to change her last name? And say, if we were to assume that PeeCee has decided to become 'Jonas' after marriage, well, then, in that case, she should be the one making that announcement, and not Mr Jonas."
On Reel
Hundreds of people have been trapped in their house and awaiting rescue in Kerala.
(Get a fresh dose of the news that matters, delivered directly to your inbox, every morning. The perfect way, to get you started and informed, for the day ahead.Subscribe to News18 Daybreak here.)