News18 Daybreak| Mayawati to Go Solo in Assembly Polls, RSS U-turn on Sabarimala and Other Stories You May Have Missed
Get a fresh dose of the news that matters, delivered directly to your inbox, every morning. The perfect way, to get you started and informed, for the day ahead.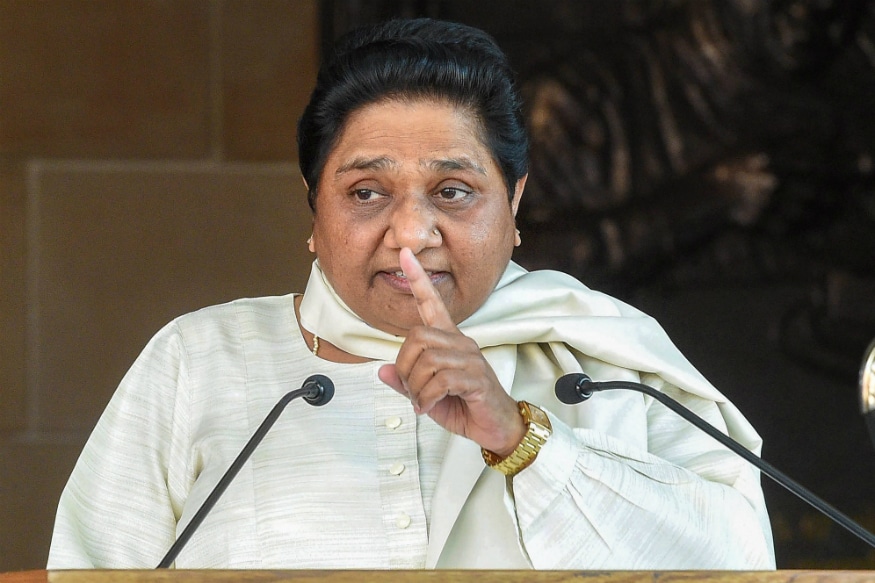 File photo of BSP chief Mayawati. (PTI)
In Case You Missed it
Silver Lining
Refusing to join issues with BSP chief Mayawati's trenchant criticism of senior party leader Digvijaya Singh, Congress has said it "respects" BSP chief Mayawati's opinion and expressed hope that the relationship between the two parties will be ironed out. The BSP chief, while announcing her party's decision to go solo in poll-bound Madhya Pradesh and Rajasthan, blamed Digvijaya Singh for the breakup, but spared Rahul and Sonia, saying that she feels their "intentions for Congress-BSP alliance are honest." By not going after the Gandhi family in her attack on the Congress, Mayawati has left the door ajar for a tie-up for the 2019 Lok Sabha elections. Here's the reason why the Congress is seeing a silver lining in Mayawati's decision.
#WhoCleansYourShit
Dilavar is a manual scavenger. He has been cleaning sewers, septic tanks and pits for almost 30 years now. He has also worked as a labourer but sewer cleaning is the only thing that has been sustainable. "People never run out of shit," he said. The recent death of 6 sewer workers in two separate incidents in Delhi has shaken the entire neighbourhood. And yet they continue with their daily jobs. Why? "No one becomes a sewer cleaner by choice. Sometimes, the job we do makes it hard for us to eat food later. But we had no education, no money. We were not considered worthy of job and so we have to risk our lives almost every day," said another manual scavenger in Delhi.
This is the first part of #WhoCleansYourShit - a series of in-depth reports by News18 on the practice of manual scavenging, the reasons why the practice still exists India despite being illegal.
Reformed Militant
In the restive Jammu and Kashmir, BJP is all set to field a former Pakistan-trained militant who has spent seven years in jail after the state was hit by widespread insurgency in the aftermath of the controversial 1987 elections when he crossed over to the neighbouring country. Mohammad Farooq Khan, a reformed militant, is one of the hundreds who'll be contesting the upcoming urban body elections, but his profile is one of the few that stands out.
U-Turn
In a departure from its previous stance on allowing women into Sabarimala temple, the Rashtriya Swayamsevak Sangh on Wednesday criticised the Kerala government for immediately taking steps to facilitate their entry "without taking the sentiments of the devotees into consideration".
Refugee Crisis
Seven Rohingya immigrants were taken from Assam to Manipur to be deported to their home country Myamnar on Thursday. This is for the first time that Rohingya Muslims would be sent back to Myanmar from India. They would be deported via Moreh border post in Tengnoupal district, which is just over a kilometre from the Indo-Myanmar border. The deportation exercise is being carried out by the government despite the United Nations Special Rapporteur on racism flagging concerns that their 'forcible return' could lead to 'refoulement' - the forcible return of refugees or asylum seekers to a country where they are liable to be subjected to persecution - which is in violation of international law.
Job Change?
Congress' social media in-charge Divya Spandana, aka Ramya, set aside rumours suggesting that she has either resigned or been sacked from her post when the description on her Twitter bio changed.
New CJI
In the coming few days, new Chief Justice of India Ranjan Gogoi shall test the waters of being at the helm. When it comes to allocation of cases and constituting benches, his predecessor, Justice Dipak Misra, faced a lot of criticism from across the quarters, including from his own colleagues that included Justice Gogoi. As the CJI now, Gogoi will be in the same shoes. He would be tested in the estimation of lawyers and public at large when he decides how the hearings in Ramjanmabhoomi-Babri Masjid land dispute and Bhima-Koregaon case shall proceed henceforth.
Trolled For Art
Aniket Mitra, a graphic designer who has created a poster depicting a sanitary napkin to represent a 'menstruating' Durga has landed him in trouble. With the poster, the artist wanted to start a conversation about the rights of menstruating women. But he has become the target of incessant trolling. Many on social media reacted with anger at the post, with some referring to him as 'anti-Hindu', other calling him 'anti-national' and some accusing him of insensitivity towards Indian religion and culture.
On Reel
Leaders of Bharatiya Kisan Union alongside a drove of farmers from Uttar Pradesh, Punjab, Haryana, Uttarakhand and Rajasthan, after marching for nine days, rallied at Delhi border, only to be halted by heavy police barricading, water cannons and tear gas. But the police relented and allowed them to enter the capital after midnight.
(Get a fresh dose of the news that matters, delivered directly to your inbox, every morning. The perfect way, to get you started and informed, for the day ahead. Subscribe to News18 Daybreak here.)
Get the best of News18 delivered to your inbox - subscribe to News18 Daybreak. Follow News18.com on Twitter, Instagram, Facebook, Telegram, TikTok and on YouTube, and stay in the know with what's happening in the world around you – in real time.
Read full article