News18 Daybreak| Nation Mourns Karunanidhi's Demise and Other Stories You May Have Missed
Get a fresh dose of the news that matters, delivered directly to your inbox, every morning. The perfect way, to get you started and informed, for the day ahead.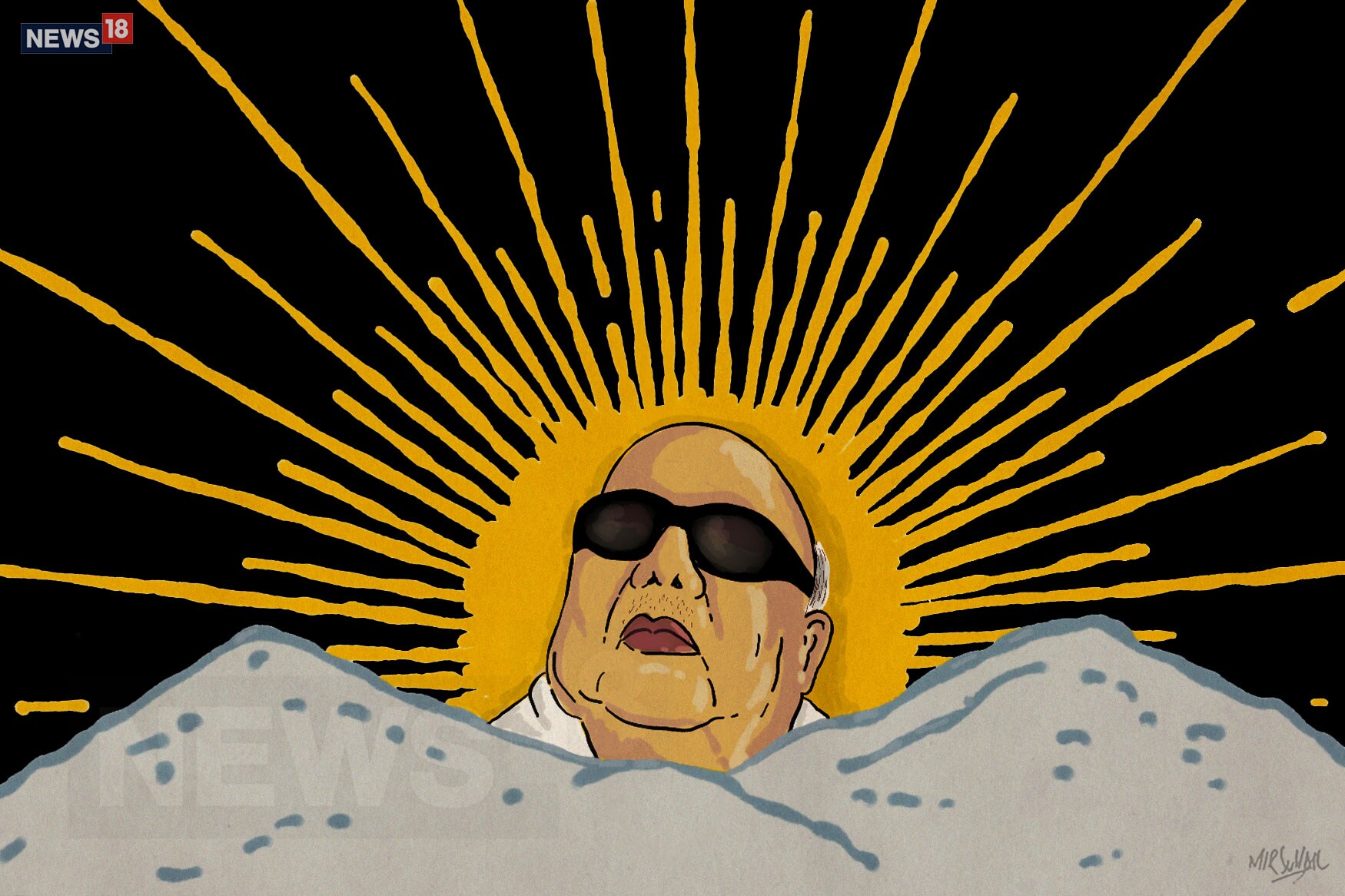 News18 Creative by Mir Suhail.
RIP, Kalaignar Karunanidhi: DMK patriarch and five-time Tamil Nadu chief minister M Karunanidhi breathed his last at the Kauvery hospital in Chennai on Tuesday after a 11-day health battle. He was 94. His health had seen a significant decline in the last 24 hours due to multi-organ failure. His death has led to an outpouring of grief in Tamil Nadu, with supporters coming out on the streets to pay their last respects to the Kalaignar.
Nation mourns: Condolences flooded in from across India as political leaders and citizens mourned the loss of the 'Kalaignar' – Tamil for 'the artiste'. Thousands gathered outside the hospital in Chennai to mourn the loss of Karunanidhi, who many looked up to as a father figure in Dravidian politics​. Actor Rajnikath could not make it through the crowd to pay his last respects to Karunanidhi at his Chennai residence, even as Bengal CM Mamata Banerjee got through to pay her last tributes. Party supporters thronged the residence to have a last glimpse of their favourite leader as the DMK patriarch's body, draped in a party flag, was brought from the Kauvery hospital where he was admitted on July 28 following a dip in blood pressure. Political leaders from the length and breadth of the country including Narendra Modi, Rahul Gandhi paid their respects on social media.
Last rites: Controversy over allocation of the final resting place of the DMK patriarch, however, started brewing soon after announcement of his demise. The DMK wanted to bury Karunanidhi at Marina Beach along with several icons of Dravidian movement, but was denied permission by the AIADMK government. The decision to deny the burial space led to clashes in several places and the party's cadre were also lathi-charged outside the Kauvery Hospital. DMK has accused the ruling party of playing 'petty politics' over the leader's death.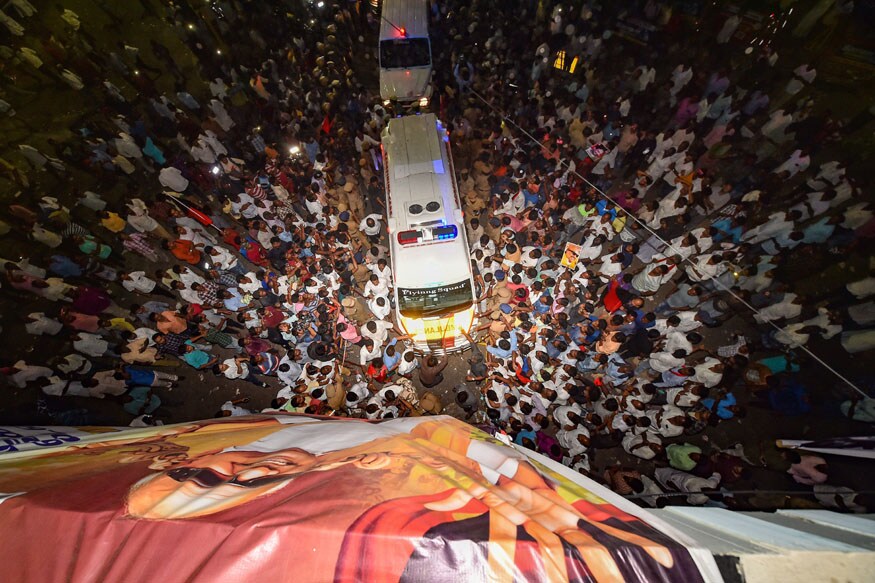 Political drama: The DMK moved the Madras High Court against the government's decision on Tuesday night and Acting Chief Justice Huluvadi G Ramesh held a special hearing at midnight in his residence. But there was no resolution at the special hearing as the case was adjourned till 8 am on Wednesday after the AIADMK government asked for more time to prepare its case. However, in a late-night twist in the ongoing legal battle four out of five PILs arguing against burial at the site have been withdrawn. The latest withdrawal of application was by Tamil Nadu-based advocate S Duraiswamy.
Remembering ties: The senior BJP MP and former union minister Dr Subramanian Swamy and the DMK patriarch M Karunanidhi had shared a stormy relationship. According to Dr Swamy, they had shared a healthy relationship till 1991 post which they fell apart. Speaking to News18 Dr Swamy said that Karunanidhi was a great organiser who spoke beautiful Tamil. But added that he was unscrupulous and terribly insecure.
The iconic Murasoli Tamil newspaper that was founded by 'Kalaignar' M Karunanidhi on August 10 1942 ,has as on its masthead the bull-taming sport Jallikattu. The inscription beneath says: "Even if we were to be vanquished; let Tamil live long". Karunanidhi was just eighteen years old at the time of its inception. While one can admire the tenacity of the teenaged Kalaignar, it is difficult not to be overawed by the length and breadth of his political journey. In the year 1969, he over the leadership of DMK and continued to be re-elected by the party's General Council for the next fifty years. DMK spokesperson Manuraj Sunmugasundaram writes about Karunanidhi's political journey which is inseparable from Tamil Nadu's political journey itself.
Even in his last fortnight on this planet, Karunanidhi did not give up easily. 'Poraali' (revolutionary) fought right back like he did after every setback in his political career. Poet Vairamuthu, who visited his friend and mentor summed it up just right – "Rebellion is in his every cell," said the poet. "He is continuing to fight off death." Sandhya Ravishankar writes on Karunanidhi and his legacy as an actor, writer, politician, leader, poet and lover of theatre and literature.
On reel
DMK President Kalaignar M Karunanidhi, passes away at the age of 94. Karunanidhi has left behind a family steeped in politics right through to the third generation- he's survived by his sons MK Stalin, Alagiri, MK Muthu and MK Thamizharasu, daughters Kanimozhi and Selvi. With Karunanidhi's death, the Dravidian era of politics in Tamil Nadu has come to a close. His bete noire in politics J Jayalalitha died on 5th December 2016. Watch the video to find out more about the stalwart of Tamil politics and the patriarch of Dravida Munnetra Kazhagam.
https://www.youtube.com/watch?v=Fnrye7Oddt8
Get the best of News18 delivered to your inbox - subscribe to News18 Daybreak. Follow News18.com on Twitter, Instagram, Facebook, Telegram, TikTok and on YouTube, and stay in the know with what's happening in the world around you – in real time.
Read full article