News18 Daybreak | 'PoK PM's' Chopper in Indian Airspace, Pak Targets CM Yogi at UN and Other Stories You May Have Missed
Get a fresh dose of the news that matters, delivered directly to your inbox, every morning. The perfect way, to get you started and informed, for the day ahead.
A Pakistani helicopter, allegedly carrying Pak-occupied Kashmir leader Raja Farooq Haider Khan, crossed the Line of Control and entered the Indian airspace in Poonch district (News18)
In case you missed it
A Pakistani helicopter, allegedly carrying Pak-occupied Kashmir leader Raja Farooq Haider Khan, crossed the Line of Control and entered the Indian airspace in Poonch district of Jammu and Kashmir on Sunday afternoon. According to sources, the chopper crossed the LoC at 12:13pm, following which the
Indian Army fired at it with small weapons
.
President Donald Trump said
India wanted to have a trade deal with the US because it did not want him to impose tariffs
on their products. Trump's remarks, for the second time in recent weeks, come days after Assistant US Trade Representative Mark Linscott returned from India where he had a detailed discussion with senior Indian officials on bilateral trade and a possible trade deal between the two countries.
Chastised by External Affairs Minister Sushma Swaraj for "glorifying" and harbouring terrorists, Pakistan targeted the RSS and Uttar Pradesh Chief Minister Yogi Adityanath at the United Nations. In his reply to Swaraj's speech at the General Assembly,
Pakistan's envoy to the world body Saad Warraich described the Rashtriya Swayamsevak Sangh as "Fascist"
and the "the breeding ground of terrorism". In a strongly worded message to the international community, Swaraj had laid bare Pakistan's inaction on terrorism, saying its commitment to terrorism as an instrument of official policy had not abated. Even as the perpetrators of the 9/11 terror attacks in New York met their fate, Swaraj said the mastermind of the 2008 Mumbai terror attack Hafiz Saeed still roams the streets of Pakistan with impunity.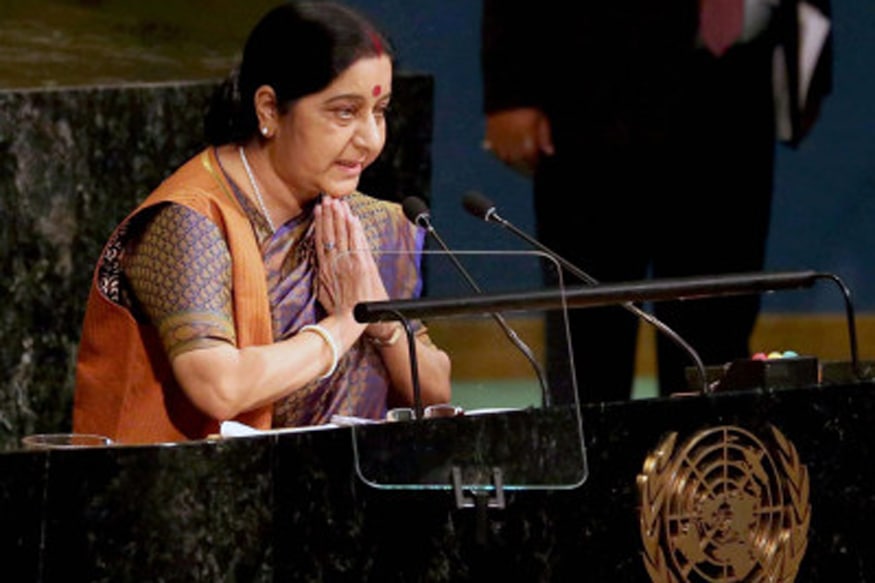 A day after Apple sales manager Vivek Tiwari was shot dead by a constable of the UP Police, Delhi chief minister Arvind Kejriwal raked up his religion while taking a dig at the BJP. Hitting back at Kejriwal, Tiwari's widow Kalpana said the Delhi CM should not have posted the tweet. "He does not know what I am going through. No politics should be played over my husband's death. Please do not connect everything to faith and religion," she said.
Tiwari was shot dead in the wee hours of Saturday by a constable when he allegedly refused to stop his car
in Lucknow's posh Gomti Nagar neighbourhood. Two constables were arrested on the basis of an FIR lodged by the deceased's colleague, who was travelling with him.
Agree or Disagree?
The Supreme Court judgment allowing women to enter and worship in the Lord Ayyappa temple in
Sabarimala is the first direct attack on Kerala's entrenched patriarchy
. It will give women the much-needed confidence to capture spaces which have been denied to them, question religious practices where they are permanently 'impure' and, in the long run, help Kerala economically, too, as women assert themselves and give themselves ambition. Binoo K John writes that Kerala has always taken two steps backward after taking one forward, and religion and the social ecosystem with its patriarchal rules is the main force holding Kerala back.
News18 Creative by Mir Suhail
A woman is sexually harassed by a famous man, forced to abandon her career, and returns years later to... well, if this were a Bollywood script, she would have returned to wreak bloody vengeance. But this is simply Bollywood in real life. Tanushree Dutta's story may one day inspire a screenplay but right now, the tide is nowhere close to turning along Juhu Beach. Forget solidarity, sensitivity, and plain common sense,
Bollywood is desperately trying to protect celebrity status in a world where heroes are zeros and heroines are victims
, writes Sayoni Aiyar.
On reel
The adultery law has been scrapped by the Supreme court. Chief Justice of India Dipak Misra said that adultery as an offence treats a woman as "chattel" and "dents" her individual dignity. Here's how Delhi reacted to the verdict.
(Get a fresh dose of the news that matters, delivered directly to your inbox, every morning. The perfect way, to get you started and informed, for the day ahead. Subscribe to News18 Daybreak here.)
Read full article
Countdown To
Elections Results
To Assembly Elections 2018 Results