GET Stock

Quotes


News18 Daybreak | PM Modi's Fast, Zuckerberg's Testimony and Other Stories You May Have Missed
Get a fresh dose of the news that matters, delivered directly to your inbox, every morning. The perfect way, to get you started and informed, for the day ahead.
New Delhi: Prime Minister Narendra Modi and BJP President Amit Shah at BJP Headquarters in New Delhi. (File Photo: PTI)
In case you missed it
In a surprising announcement, PM Narendra Modi has declared a day-long fast on April 12 to protest against the disruption of Parliamentary proceedings by the opposition party. All BJP leaders will also join the fast in what is being seen as an attempt to turn the tables on the Congress, a day after it held a symbolic fast at Rajghat in New Delhi. Amit Shah to sit in on protests too.
Read all the latest developments here
.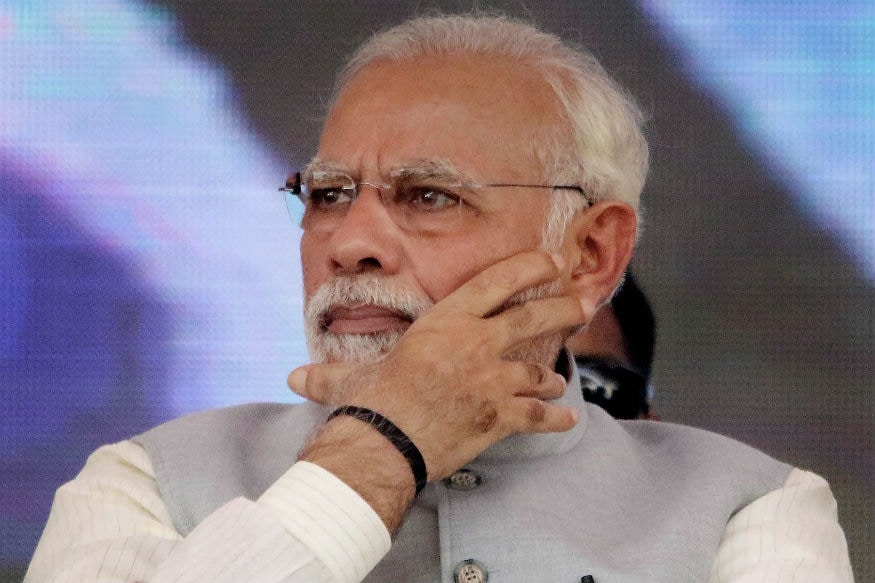 Activists threw shoes at the ground during the Chennai Super Kings-Kolkata Knight Riders IPL match as thousands of pro-Tamil activists hit the streets near Chennai's MA Chidambaram or Chepauk Stadium on Tuesday to call for a boycott of the IPL cricket match between the two teams. The activists alleged that the game was being organised to divert attention from the raging Cauvery protests across the state.
Read up on the complete incident here
.
In a shocking incident, BJP-ruled Haryana's Education Department has stirred a controversy by asking students in private schools to furnish personal and family data, including religion, caste, bank account number, Aadhaar details and if their parents are "engaged in (an) unclean occupation".
Read the full story
.
Facebook CEO
Mark Zuckerberg testified before a total of 44 senators on Tuesday in connection to the Cambridge Analytica data scandal.
Each senator had been allotted 4 minutes each to ask questions and get answers on how Facebook handles user data and how Cambridge Analytica was able to influence Facebook users.
The investigation, that could be pivotal for his massive company, is based on the accusations placed on the social media firm for misusing the data collected from its users in order to influence the US presidential elections which elected President Donald Trump.
Follow live updates here
.
Kathua lawyers, who had tried to stall Crime Branch from filing of chargesheet against accused in the Kathura rape-murder case on Monday have been booked after an FIR was filed against them by Jammu & Kashmir police today.
Read the full report
.
The drama with the saffron statue of BR Ambedkar in Uttar Pradesh's Unnao continues, only now the statue in question has been painted blue. The statue, which had been vandalised a day after its unveiling, has now been painted blue under a BJP leader's orders. Was it done to appease allegedly broiling Dalit sentiment over the saffronisation of BR Ambedkar? And why was the statue painted blue?
Read the full report to find out
.
The
Yogi Adityanath government is all set to withdraw rape and abduction charges against former Minister of State (Home) Swami Chinmayanand
, who had been booked for repeatedly raping a girl who had been held captive in his ashram in Haridwar for years. The decision comes in the middle of controversy after rape allegations against BJP's Unnao MP and subsequent 'custodial death' of the victim's father after the incident.
Read how a 10-year-old climbed a 50-foot gorge to alert the administration about his school bus crashing
into it in Nurpur city of Himachal Pradesh's Kangra district yesterday. At least 30 people died in the tragic incident, including 23 children.
In a victory for the LGBTQI community, the government has amended Income Tax rules that will now allow transgender persons to be recognised as an independent category of applicants for obtaining a Permanent Account Number (PAN) for their tax-related transactions.
Read full report here.
Watch all the proud athletes who made India proud this Commonwealth Games 2018.
Full photo-story here
.
Agree Or Disagree?
Tainted Congress leaders Jagdish Tytler and Sajjan Kumar are of little value to Congress today, which appears to be in 'Reinvention Mode'. In the wake of Tytler being asked to leave the stage during a recent Congress event for promoting communal harmony, it appears that to Congress leadership today, the veteran leaders are worth 'no more than scrap'.
Read the full piece here
.
'It is strange that an industry like Bollywood that is so obsessed with appearances doesn't care that by supporting Khan, they are appearing to be supporting a criminal.'
Read the full piece
to decode the mystery behind Bollywood's unwavering support for 'Macho Mard' Salman Khan.
On reel
When Dalit leader Pradeep Narwal joined student politics in JNU, he joined the ABVP. However events unfolded that took him to his present designation of a left-leaning Dalit rights activist and Convener of the Bhim Army Defence Committee. What prompted the change? He explains in this episode of Uncommon People Common Problems.
https://youtu.be/oP569pqJY9s
​
(Get a fresh dose of the news that matters, delivered directly to your inbox, every morning. The perfect way, to get you started and informed, for the day ahead. Subscribe to News18 Daybreak here.)
| Edited by: Ahona Sengupta
Read full article
Countdown To
Elections Results
To Assembly Elections 2018 Results