News18 Daybreak | India-Russia to Sign Air Defence Systems Deal, Gita Gopinath Becomes Chief Economist at IMF and Other Stories You May Have Missed
Get a fresh dose of the news that matters, delivered directly to your inbox, every morning. The perfect way, to get you started and informed, for the day ahead.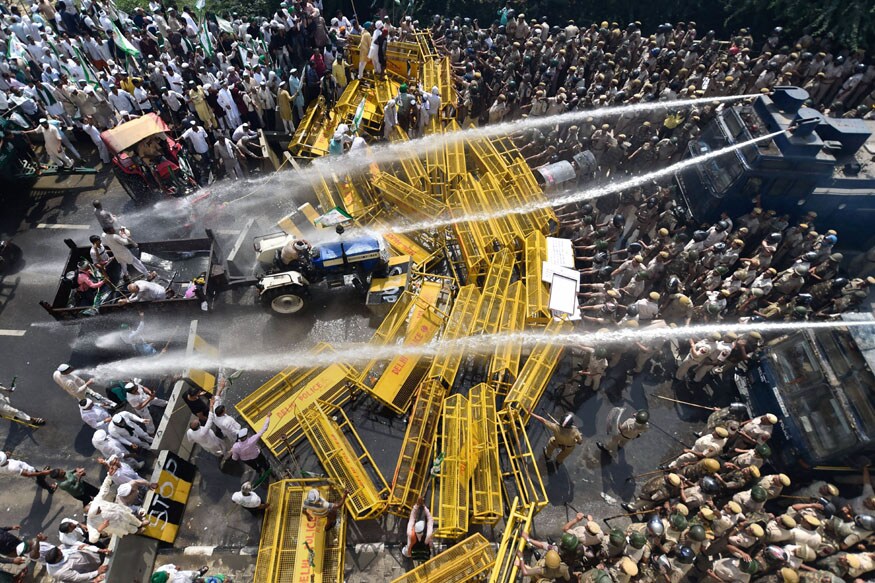 Police use water cannons to disperse farmers protesting at Delhi-UP border during 'Kisan Kranti Padyatra' in New Delhi on Tuesday. (PTI Photo)
In case you missed it
Thousands of protesting farmers, who were stopped from entering Delhi on Tuesday morning, rejected home minister Rajnath Singh's assurances that most of their demands will be met and said the stir won't stop. They said they will stay put at the Delhi-UP border all night and would again resume their march on Wednesday morning. The farmers said they were not satisfied with the government promise that a committee of chief ministers will be formed to look into their demands. As a preventive measure, the district magistrate of Ghaziabad has ordered all schools and colleges in the city to remain shut.
We are tracking the
live updates here
.
As the nation celebrated Gandhi Jayanti, leaders of Bharatiya Kisan Union alongside a drove of farmers from Uttar Pradesh, Punjab, Haryana, Uttarakhand and Rajasthan, after marching for nine days, rallied at Delhi border, only to be halted by heavy police barricading, water cannons and tear gas. The BKU was demanding that the recommendations of the National Commission on Farmers be implemented. Their demands 11 in all, included that farmer loans be waived, payments for sugarcane produce be released, electricity and fuel costs for farmers be reduced and agricultural implements be sold GST-free. With their march halted in a violent fashion and their demands still not met, their anger swelled against the BJP government.
"Since 2014, when Modi came to power, our condition has worsened. Never in history has our sugarcane payments been delayed for so long," a farmer from Muzzafarnagar in Uttar Pradesh told News18.com. Here's a
detailed report what happened at the Kisan Kranti Yatra
.
Russian President Vladimir
Putin will oversee the signing of a USD 5 billion deal this week
to supply Delhi with S-400 air defence systems. Moscow has been negotiating to sell the S-400 long-range surface-to-air missiles to India for months. The sale has irked India's defence partner Washington, which has wanted to wean the Centre off Russian technology, and a senior Pentagon official said in August that sanctions against India would come under consideration if its purchase goes through.
While appointing her as the new Chief Economist of International Monetary Fund (IMF) Christian Lagarde may have described Gita Gopinath as a 'class act', but her father,
Gopinath TV never doubted his daughter
. "I am very happy, happy beyond words. Now I can celebrate properly. I would have thrown a party, but I'm getting old," says Gopinath's 81-year-old proud father who lives in Mysuru.
And just so you know, with Gopinath's appointment, the chief economists at IMF, OECD and World Bank are
all women
.
An ugly spat broke out between Puducherry Lieutenant Governor Kiran Bedi and an AIADMK lawmaker when the former asked the MLA to leave the stage after he had surpassed his speech time. The government event to mark Puducherry's status as a Union Territory free of open defecation was marred by the on-stage altercation. Watch the video
here
.
On Gandhi Jayanti, the Bengaluru residents woke up to an unusual morning. Thousands of people could be seen running on roads and picking up garbage, in what they said was an effort to 'detox' the IT city. This was a 'Plog Run'. More on it,
here
.
Five [http://%20https:/www.news18.com/news/india/kerala-police-detain-rohingya-family-of-five-including-six-month-old-baby-1896231.html]members of a Rohingya refugee family, including a six-month-old baby, were detained by the police on Tuesday, soon after they arrived here from Hyderabad. The move comes after the Centre's recent caution to state governments that Rohingya refugees are trying to cross the territories. The detained family had come to India in 2012 and settled in Delhi and for the past three years were living in Hyderabad.
Do you know who are the most dangerous celebrities to be Googled?
Find out here
.
Agree or Disagree?
Unlike political jodis of Narendra Modi-Amit Shah or Atal-Bihari Vajpayee-Lal Krishna Advani, Mahatma Gandhi and Jawaharlal Nehru believed in writing and airing their differences out in open often in rather acrimonious way.
Rasheed Kidwai writes that at a time the nation is collectively celebrating 150 years of Mahatma Gandhi
, the political class needs to draw some lessons from Gandhi and Nehru in candidly articulating their differences.
The Supreme Court laid down clear directions allowing entry of women of all ages into the Sabarimala temple, a decision welcomed by political parties of all spectrum – from the Left to the Right. But in Kerala,
the decision hasn't gone down well with a significant section of Ayyappa devotees
. The state has witnessed sporadic protests since the SC order and the CPM-led state government's uncompromising stand on implementing the verdict has now opened the door for extreme Hindutva outfits to barge in, writes Achyuth Punnekat.
On Reel
Majority of the crime in Delhi and some part of Haryana are controlled by gangs whose members come from the same few villages on the outskirts of Delhi. About 80 per cent of the special cell of Delhi Police Force is committed to neutralize these gang members who commit crimes from extortion, murder to robbery. CNN-News18's Nitisha Kashyap visits these villages to find out why some commoners have turned into Delhi's most wanted criminals.
https://www.youtube.com/watch?v=IZwUEx8ldIE
(Get a fresh dose of the news that matters, delivered directly to your inbox, every morning. The perfect way, to get you started and informed, for the day ahead.
Subscribe
to News18 Daybreak here.)
| Edited by: Sana Fazili
Read full article
Countdown To
Elections Results
To Assembly Elections 2018 Results