News18 Daybreak | Salman Khan Convicted and Other Stories You May Have Missed
Get a fresh dose of the news that matters, delivered directly to your inbox, every morning. The perfect way, to get you started and informed, for the day ahead.
Salman Khan arrives to appear before a court in Jodhpur, Rajasthan. Salman was convicted of poaching rare deer in a wildlife preserve two years ago. (Image: AP)
In case you missed it
A Jodhpur court sentenced Bollywood superstar Salman Khan to a five-year jail term in the 1998 blackbuck poaching case, while other actors — Saif Ali Khan, Tabu, Sonali Bendre and Neelam Kothari — have been acquitted. The Bishnoi Sabha, a community committed to protecting the blackbucks, has decided to appeal against other acquittals. Salman Khan was accused of killing two blackbucks in Bhagoda ki Dhani in Kankani village near Jodhpur on the intervening night of October 1-2, 1998, during the shooting of Hum Saath Saath Hain. In case you missed the updates, track it here.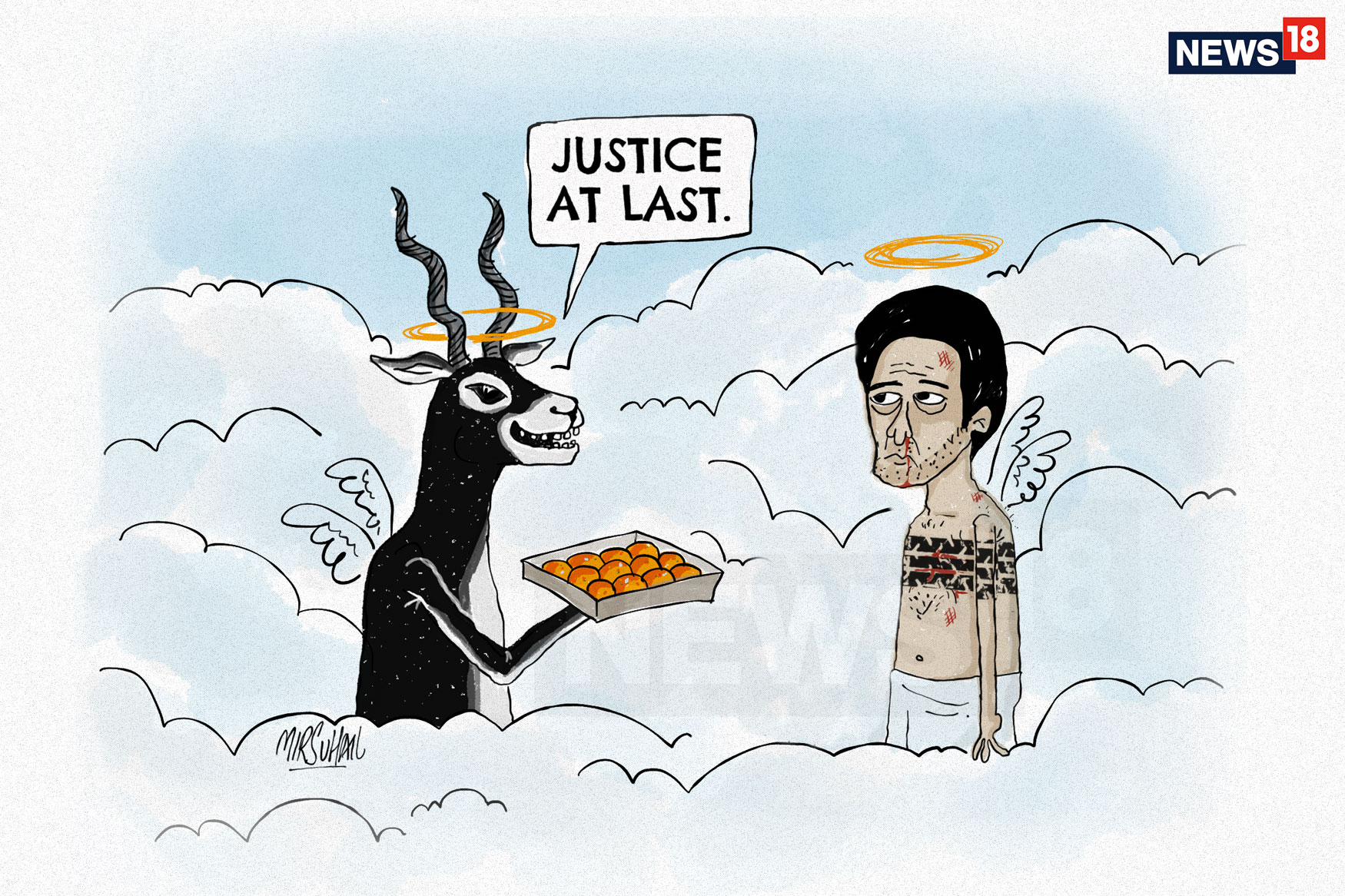 How did it all begin? Why was Salman Khan charged? Here's all you need to know about the Blackbuck poaching case.
As Salman Khan's bail plea will be heard by the Sessions Court at 10:30am on Friday morning, arrangements were been made to house the Dabangg actor in the Jodhpur jail, which houses several other high-profile convicts as well, including Asaram Bapu.
Trade analyst Komal Nahta said that there is not much involvement of money in Salman's Dabangg 3, Kick 2 and Bharat as they all are in pre-production stage and his team has only announced those projects, but Race 3 will definitely have to face the consequences with his conviction.
They came together to shoot – a film. They allegedly then went together to shoot - the blackbuck. But in the end, while Salman gets ready to spend a night in Jodhpur jail, the rest of the 'Hum Saath Saath Hain' team are hopping on to the next flight out of the town.
Take a look at Salman Khan's court appearances over the years.
In other news, Rajiv Kochhar, the brother-in-law of ICICI Bank MD & CEO Chanda Kochhar, was detained by immigration authorities at Mumbai airport when he was to leave for a Southeast Asian country and handed over to CBI sleuths, who questioned him in connection with the bank's dealing with Videocon Group.
Congress president Rahul Gandhi recalled a Bollywood hit 'Papa Kehtey Hai' to mock Madhya Pradesh Chief Minister Shivraj Singh Chouhan and poke fun at a group of 'babas' who had called off a protest after being given a ministerial status by the state government. "Baba used to say will do great work, will foil the Narmada scam, but now only 'Mama' (maternal uncle) knows what their final destination is. 'Qayamat se Qayamat tak' (doomsday) in Madhya Pradesh," he tweeted, twisting the lyrics of the song.
A Dalit girl who was allegedly raped for several months landed up at Superintendent of Police's office in Satna district of Madhya Pradesh with a six-month-old foetus wrapped in a plastic bag.
An open letter has been written by 33 opposition Members of Parliament to Union Minister of Human Resource Development Prakash Javadekar, alleging Jawaharlal Nehru University was violating the reservation policy in 2018-19 MPhil, MPhil/PhD admissions. This comes after the JNU Students' Union petitioned the Lok Sabha to intervene and "restore" the benefits awarded to students belonging to Schedule Castes, Schedule Tribes and Other Backward Castes in the university. Read the letter here.
With the Central government intensifying efforts to make yoga compulsory in schools and to present it as an inseparable part of Indian culture, the Syro-Malabar Doctrinal Commission has called for a relook into the role of yoga.The commission says the "theology of yoga does not go along with the belief of Christianity".
On Reel
50 years after Martin Luther King was assassinated, survivors recount the day. Watch it here.
https://www.youtube.com/watch?v=WK7u2QsXcy4
(Get a fresh dose of the news that matters, delivered directly to your inbox, every morning. The perfect way, to get you started and informed, for the day ahead. Subscribe to News18 Daybreak here.)
​
Get the best of News18 delivered to your inbox - subscribe to News18 Daybreak. Follow News18.com on Twitter, Instagram, Facebook, Telegram, TikTok and on YouTube, and stay in the know with what's happening in the world around you – in real time.
| Edited by: Ahona Sengupta
Read full article