News18 Daybreak | SC ex-staffer's Says She Has Right to Report in Sexual Harassment Case Against CJI and Other Stories You Need to Watch Out For
Get a fresh dose of the news that matters delivered directly to your inbox, every morning. The perfect way to get you started and informed for the day ahead.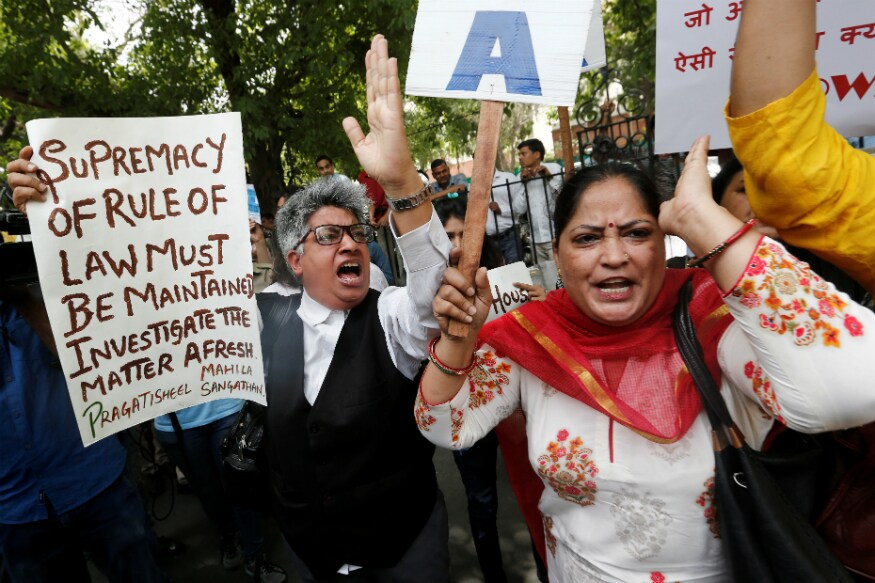 Activists and lawyers protest outside the Supreme Court against the clean chit to CJI Ranjan Gogoi. (Reuters)
Today's Big Stories
Ex-staffer who accused CJI of harassment says she has right to know why complaint was dismissed
A day after CJI Ranjan Gogoi was given a clean chit by the Supreme Court's in-house inquiry panel in the sexual harassment case, the complainant has demanded that she be given the report to know the basis on which her complaint was found to have "no substance".
"I have a right to know how, why and on what basis have your Lordships found my complaint to have 'no substance'," she wrote in her letter to the panel.
The woman's demands for transparency and a fair probe were echoed by many activists and lawyers, who gathered to protest outside the SC on Tuesday. Fifty-five of them were detained during the demonstration.
No 50% VVPAT-EVM verification as SC junks review petition by 21 opposition parties
In a hearing that lasted less than a minute, the SC dismissed a review petition by 21 opposition parties to increase the random matching of paper trail (VVPAT) with EVMs for the ongoing general elections. Andhra Pradesh Chief Minister N Chandrababu Naidu, who led the opposition party leaders in filing the review plea, said that he would not give up the fight for transparency in the election process.
In Other News
Government two names recommended for elevation as SC judges to collegium
According to sources, seniority and representation of regions have been cited as reasons behind the government's decision to disagree on the elevation of Jharkhand HC Chief Justice Aniruddha Bose, and Gauhati HC Chief Justice A S Bopanna
Two labourers dead after entering septic tank in Delhi, three injured
Five labourers fell unconscious after they entered the septic tank of an old house that was under renovation. A case has been registered and it is being ascertained whether the labourers were wearing any safety gear.
Reuters journalists jailed for reporting on Rohingya crisis freed from Myanmar prison
The two reporters, Wa Lone and Kyaw Soe Oo had been convicted under the Official Secrets Act in a case that raised questions about Myanmar's progress toward democracy. They had spent more than 500 days in jail.
ISIS-linked terror group behind Sri Lanka blasts has assets worth Rs 140 million in cash
The Criminal Investigation Department (CID) identified other assets worth over Rs 7 billion belonging to National Thowheed Jamaath (NTJ). The defence ministry also said that almost all suspects and plotters had either been arrested or were dead.
News18 Election Tracker
In a shocking incident, the convoy of BJP's Bengal unit president Dilip Ghosh and Assam Deputy Chief Minister Himanta Biswa Sarma was attacked at Khejuri in East Midnapore district on Tuesday allegedly by Trinamool Congress workers.
Meanwhile, hours after 200 Delhi University teachers issued a public statement condemning the PM for making "derogatory and untrue" remarks about Rajiv Gandhi, the EC gave a seventh clean chit to Narendra Modi for calling the former Prime Minister "corrupt no.1".
Tuesday wasn't as kind for the rival Congress camp as the army refuted its claims of having carried out six surgical strikes when the UPA government was in power.
Down south, a day after Telangana Chief Minister K Chandrashekhar Rao met his Kerala counterpart in Thiruvananthapuram, Pinarayi Vijayan said the meeting turned out to be 'extremely significant'.
On Our Specials
Tracing violence: Close on the heel of phase 5 of the LS polls in West Bengal's Barrackpore that saw violence involving BJP candidate Arjun Singh, Aniruddha Ghosal looks at the history of Hindu-Muslim relations in the constituency.
Hanging in balance: In West Singhbhum, Runjhun Sharma finds that a disrupted Internet connection often spells days of hunger for the resident tribals. In other times, they can only afford rice and salt.
Making sense: Nava Thakuria argues that strained relations between Sri Lanka's President Maithripala Sirisena and PM Ranil Wickremesinghe led to the government's failure to detect preemptive signs of the Easter Sunday bombings.
On Reel
In polluted Vietnam, three 17-year-old students have invented a device that can filter the air bicycle riders breathe as they ride on the smoke-ridden streets. Watch how the contraption works.
Get the best of News18 delivered to your inbox - subscribe to News18 Daybreak. Follow News18.com on Twitter, Instagram, Facebook, Telegram, TikTok and on YouTube, and stay in the know with what's happening in the world around you – in real time.
Read full article