News18 Daybreak | Stage Set for PM Modi's Second Swearing-in Ceremony Today and Other Stories You Need to Watch Out For
Get a fresh dose of the news that matters delivered directly to your inbox, every morning. The perfect way to get you started and informed for the day ahead.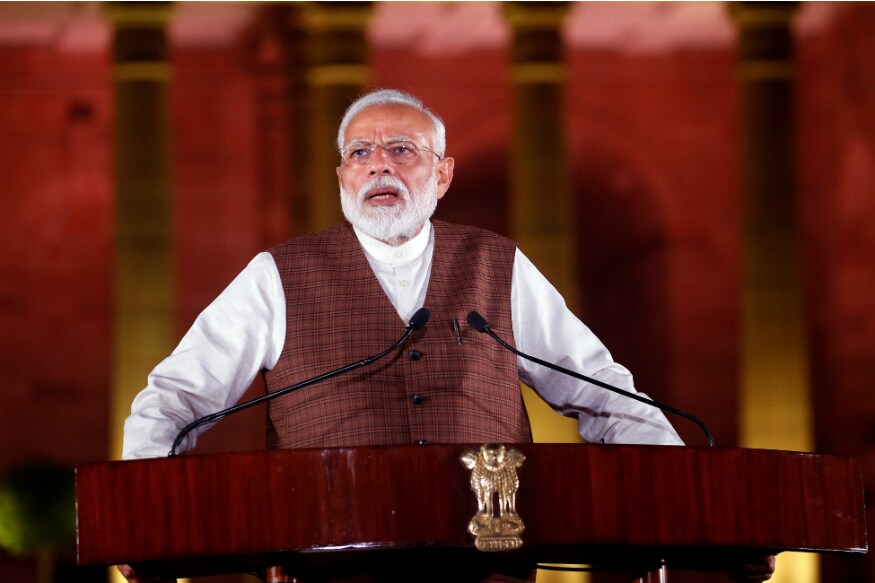 File photo of PM Narendra Modi. (Reuters)
Today's Big Story
With world leaders in attendance, stage set for PM Modi's second oath ceremony today
Prime Minister Narendra Modi will take oath along with a new Union council of ministers for a second term today after clinching a massive victory in the recently concluded Lok Sabha elections. 
The ceremony will be attended by top opposition leaders like Congress chief Rahul Gandhi and UPA chairman Sonia Gandhi. Several world leaders including those from BIMSTEC countries, Sri Lankan President Maithrapala Sirisena and Nepal's Prime Minister KP Sharma Oli are among the 8000 guests.
Keenly watched: All eyes will be on the allocation of portfolios, including whether former Finance Minister Arun Jaitley will get a ministerial berth despite his request that he be kept away from any responsibility due to health reasons.
Following the letter, the PM even met Jaitley at his residence in the national capital. It is, however, not known whether he acceded to BJP leader's request.
About turn: West Bengal CM Mamata Banerjee also struck controversy on Wednesday, when she pulled out from the swearing-in ceremony. Banerjee said that she was upset over the "untrue" claims of political violence in Bengal and the special invites to the families of BJP workers, who were killed during violence around election season.
The BJP, however, hit back at the CM saying that she was merely looking for excuses to not attend today's ceremony.
In Other News
Mumbai doctor was murdered, alleges lawyer after autopsy shows injury marks on her neck
The post-mortem report of doctor Payal Tadavi, who was found dead in her hostel room recently, has revealed evidence of a ligature mark around her neck. The report comes a day after the three senior doctors, accused of tormenting the 26-year-old with casteist slurs and abetting her suicide, were arrested
Trump government removes India from currency monitoring list; China, Japan stay
US's Trump administration has removed India from its currency monitoring list of major trading partners, citing certain developments and steps being taken by New Delhi which address some of its major concerns. The decision was made on the grounds that "India's circumstances had shifted markedly".
Heatwave intensifies, Chandrapur in Maharashtra sizzles at 48 degrees, Delhi at 43.1 degrees Celsius
A blistering heatwave swept through several parts of the country, including Rajasthan, where the mercury touched 47.3 degrees. The severe heat wave conditions are likely to continue over Vidarbha, parts of Madhya Pradesh, Telangana, Haryana, Chandigarh and Delhi and others over the next 2-3 days
ED opposes Robert Vadra's plea seeking permission to travel to UK for treatment for 'tumour'
The probe agency said that the investigation into the money laundering case against Robert Vadra is at a crucial stage. "He may flee," the ED said in its statement to a Delhi court and termed Vadra's plea for treatment as a mere pretext.
Sixth-seeded  Stefanos Tsitsipas battles into third round of French Open
Stefanos Tsitsipas dug deep to reach the French Open third round with a tense four-set victory over plucky Bolivian Hugo Dellien. The rising Greek star, expected to reach the latter stages at Roland Garros, fought back to win 4-6, 6-0, 6-3, 7-5 on Court Simonne Mathieu.
On Our Specials
A steady revival: The Lok Sabha election not only created inroads for the BJP in West Bengal, but it also breathed a new life into the CPI(M) that has been dormant here since the Trinamool Congress (TMC) wrested control in 2011. The Left party has started rebuilding and reopening its offices "on its own" after the ruling TMC's strength deteriorated in many gram panchayats across the state. Sujith Nath reports from Kolkata.
Cong conundrum: As expected after Congress's humiliating poll debacle, chief Rahul Gandhi took responsibility and offered to resign to make way for a non-Gandhi to take over his position. On cue, the members of the party's highest decision-making body unanimously rejected his offer and authorised him to restructure and overhaul the party organisation. And yet, with Rahul Gandhi insisting on stepping down as Congress president, there is a deep concern in the party on the way ahead. Anita Katyal calls it the "Paradox of Rahul Gandhi", explaining how Congress's biggest flaw is also its greatest strength.
On Reel
Salman Khan shaming his female co-stars isn't new. Priyanka Chopra is the latest in a long list of actresses who've faced the brunt of his entitlement​. He's had a history of behaviour that reeks of misogyny. Watch to know more.
Get the best of News18 delivered to your inbox - subscribe to News18 Daybreak. Follow News18.com on Twitter, Instagram, Facebook, Telegram, TikTok and on YouTube, and stay in the know with what's happening in the world around you – in real time.
Read full article