News18 Daybreak | Sushma Swaraj Won't Contest 2019 LS Polls, Chilli Powder Thrown at Delhi CM and Other Stories You May Have Missed
Get a fresh dose of the news that matters delivered directly to your inbox, every morning. The perfect way to get you started and informed for the day ahead.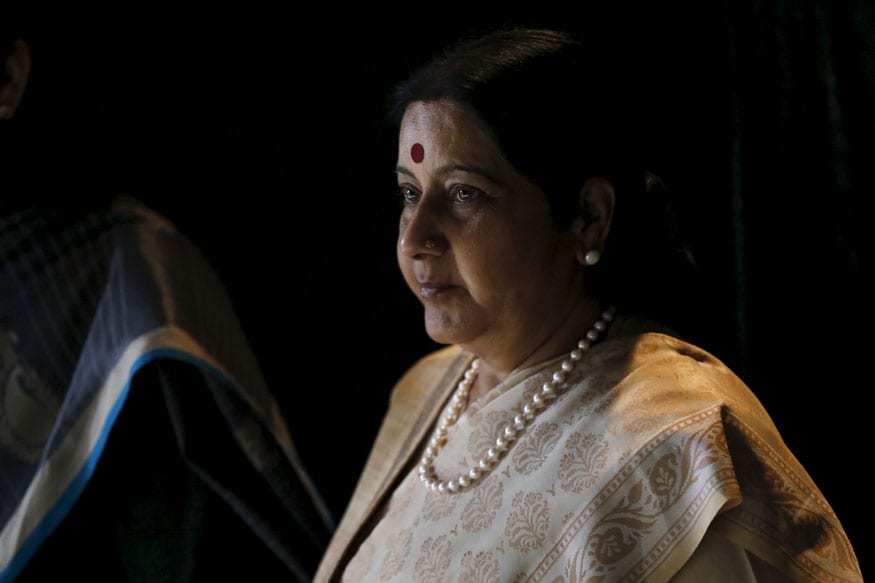 Foreign Minister Sushma Swaraj leaves after taking part in a ceremony in the Hall of Remembrance at the Yad Vashem Holocaust memorial in Jerusalem January 18, 2016. (REUTERS/Ammar Awad)
In case you missed it
Surprise exit: External Affairs Minister Sushma Swaraj announced that she will not contest the 2019 Lok Sabha elections citing health reasons. She is currently the Lok Sabha MP from Vidisha in Madhya Pradesh. The decision of Swaraj not to contest polls has fuelled speculations. A few months ago, 'missing posters' of Swaraj had popped up in the constituency and political observers say perhaps she was not sure she would get a ticket from Vidisha in 2019. However, contemporaries and well-wishers expressed their disappointment on social media.
Kejriwal attacked: Delhi Police on Tuesday night arrested a man for allegedly throwing chilli powder at chief minister Arvind Kejriwal, hours after suggesting that it may have fallen out of his hand and the attack may have been unintentional.
News18 Immersive: It was almost exactly 40 years ago that Gorakhpur saw the symptoms for the first time. High fever, convulsions, confusion, rigid limbs, nausea and finally death. The first patient was an eight-year-old boy, who went into a coma soon after being admitted and died the next day. Over 3,500 cases were reported that year and 1,100 died, as per records. Over the years, the situation has not improved much. Read the News18 Immersive on the origin of encephalitis in Gorakhpur and why it continues to be a threat to children and adults alike.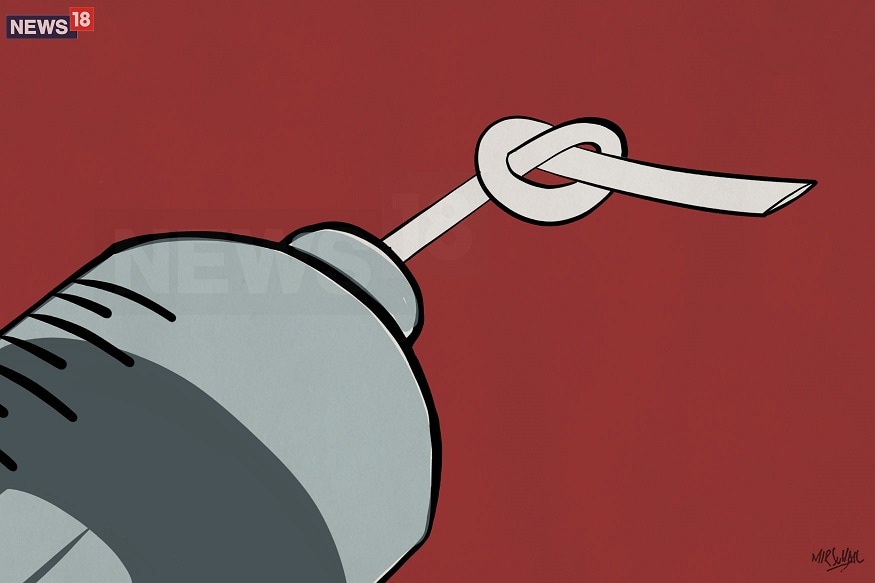 Tragic accident: At least 12 people were killed and 49 injured after a bus fell into the Mahanadi riverbed from a bridge near Jagatpur on the outskirts of the city Tuesday evening. The driver swerved because he was trying to save a buffalo.
Muzaffarpur scandal: Former Bihar minister Manju Verma, who had been evading arrest in an Arms Act case lodged in the course of investigations in the Muzaffarpur shelter home scandal, surrendered before a court here Tuesday.
Likely alliance: The PDP, Congress and the National Conference are in talks to form a popular government in Jammu and Kashmir to frustrate the BJP's efforts to poach legislators from Mehbooba Mufti's party and prop up a government headed by Sajjad Lone's People Conference, sources have said. Read full details on News18.
Agree or disagree?
"Smash Brahmanical Patriarchy" — this simple statement has recently made Twitter trolls and Brahmin savarnas go berserk on the micro-blogging site after its CEO Jack Dorsey appeared to endorse it in a photo-op during his recent visit to India. The man was trolled endlessly for a photograph in which he posed holding in his hands a placard with the aforementioned statement printed on it with many savaranas accusing him of spreading hate against a particular community. Many of his critics said that he could have smashed patriarchy in general and not Brahmanic patriarchy in particular. However, there are certain differences between the way both these terms are defined. Divya Kandukuri explains how outrage over the issue is proof that casteist souls cannot face reality. ​
On reel
They want to set up 'Baba ka Mandir' in Pakistan, they want you to use your muscle power to remove Babar's name from history, they want you to know that if you live in India, you have to say 'Vande Mataram' and if you are visiting a temple, they want you to dance 'kamar hilake.' Welcome to the world of desi pop stars who are on a mission to spread their words of wisdom through songs on Hinduism, nationalism and cow politics. But it's with a bit of a twist, the songs are accompanied by what they call 'DJ music'. Hindutva Pop's most celebrated artists include Laxmi Dubey, Akshara Singh, Ritesh Pandey, and Dinesh Lal.
https://www.youtube.com/watch?v=plzDlyPzs0A
(Get a fresh dose of the news that matters, delivered directly to your inbox, every morning. The perfect way, to get you started and informed, for the day ahead. Subscribe to News18 Daybreak here.)
Get the best of News18 delivered to your inbox - subscribe to News18 Daybreak. Follow News18.com on Twitter, Instagram, Facebook, Telegram, TikTok and on YouTube, and stay in the know with what's happening in the world around you – in real time.
| Edited by: Ahona Sengupta
Read full article