News18 Daybreak | Tension Simmers in Shillong and Other Stories You May Have Missed
Get a fresh dose of the news that matters, delivered directly to your inbox, every morning. The perfect way, to get you started and informed, for the day ahead.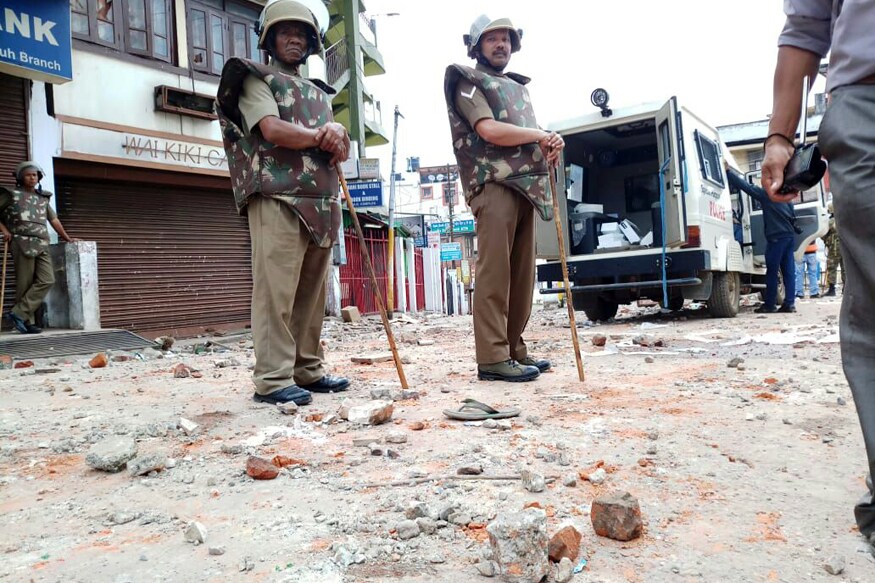 Security officials in Shillong after Thursday's clashes . (News18)
In case you missed it
An uneasy calm prevailed over Shillong on the fourth day since violent clashes broke out in the capital city of Meghalaya on Thursday. While the curfew has been relaxed, a palpable tension still remained on Sunday. The violence erupted after an altercation between some women and a driver of a Shillong Public Transport Service (SPTS) bus at Them Meteor, which led to the assault of three persons. Chief Minister Conrad Sangma said that the incident was pre-planned with a vicious intent while also mentioning the "use of money and alcohol" to lure the youth to carry out a disturbance in parts of Shillong. The clash has marked the return of tensions between the tribal and non-tribal populations in the areas and renewed the debate of rehabilitating the Punjabi Dalit community living in the picturesque town.
Madhya Pradesh Congress on Sunday launched a major attack against the ruling BJP government, accusing it of "electoral misconduct" by including the names of 60 lakh "fake voters" in the electoral roll. The opposition party urged the Election Commission (EC) to remove these names from the lists of 230 Assembly constituencies.
A VIP Embraer aircraft carrying Minister for External Affairs Sushma Swaraj to South Africa lost contact over Mauritius space for nearly 14 minutes on Saturday, according to the Airports Authority of India.
Nearly a week after the Director General of Military Operations (DGMOs) of India and Pakistan agreed to implement the ceasefire pact of 2003 in "letter and spirit", Pakistani Rangers resorted to unprovoked and indiscriminate firing along the IB on Sunday morning killing two BSF personnel. A policeman and a woman civilian were also reportedly injured in the cross-border firing.
In a case of bungling, the government transport office in Mathura issued driving licences to two dead persons, even as the ARTO claimed to have served a show cause notice to the clerk concerned.
Former media executive Indrani Mukerjea, a key accused in the murder of her daughter Sheena Bora, was admitted to the JJ Hospital on Friday night after she complained of chest pain.
Bollywood actor and filmmaker on Saturday confessed to placing bets on Indian Premier League (IPL) matches last year while being interrogated by Mumbai Police officers for five hours. Khan made the confession while recording his statement at Thane Police's Anti-Extortion Cell (AEC) in connection with the alleged IPL betting racket.
After a report highlighted instances of sexual exploitation at a home for girls in Muzaffarpur, the district administration has taken action and an FIR has been registered under POCSO. The government has shifted all the girls staying at the home to Madhubani and Patna. The district child protection unit has taken the building under its control on the direction of the Social Welfare Directorate, Patna.
The pass percentage in Delhi government schools has gone up to better that of the private schools. The AAP government believes it's because of some of the sweeping changes introduced since it came to power in 2015. Atishi Marlena, former adviser to the Delhi education minister, in an interview, talks about why education is a priority and how the state's Rs 14,000 crore budget for education is being utilised.
Agree or Disagree?
In the last six months, the AAP leadership has gone on a U-turn drive, apologising to one and all, and trying to make-up with rivals, including Union Finance Minister Arun Jaitley. The latest is the reported 'offer' made by the AAP leadership to the Congress to enter into some kind of an alliance in Delhi to take on the BJP in the 2019 Lok Sabha elections. Having unseated Congress chief minister Sheila Dikshit from power in 2013, it's truly ironic that Kejriwal is now reaching out to the same 'corrupt' Congress leader for an alliance, that too in less than five years.
The recent Thoothukudi police violence should not be seen in isolation as incidents that happened on May 22 and 23. Neither should the story be too firmly rooted in Thoothukudi as a location, or with Sterlite as the villain of the masterpiece. The Thoothukudi Syndrome is playing out at various locations across Tamil Nadu, where state and central governments have been pushing corporate agendas with no regard for law or public sentiment, and using police muscle, inducements and false assurances to contain dissent.
On reel
As a part of the #ClimateChangeArt series by CNN-News18, here is a profile of photographer Arka Dutta, who wants to spread awareness on environmental issues like global warming, water scarcity, floods and other natural disasters that people are facing due to climate change. Dutta is an award-winning photojournalist, whose work has been selected in London Photo Festival, and has featured in National Geographic, New York Times and Washington Post. His series on Mousuni floods, as well as his photographs of Jharia, Dhanbad, show alarming consequences of global warming and man's encroachment in natural space.
| Edited by: Puja Menon
Read full article