News18 Daybreak: The Big Modi Trump Meet
Get a fresh dose of the news that matters, delivered directly to your inbox, every morning. The perfect way, to get you started and informed, for the day ahead.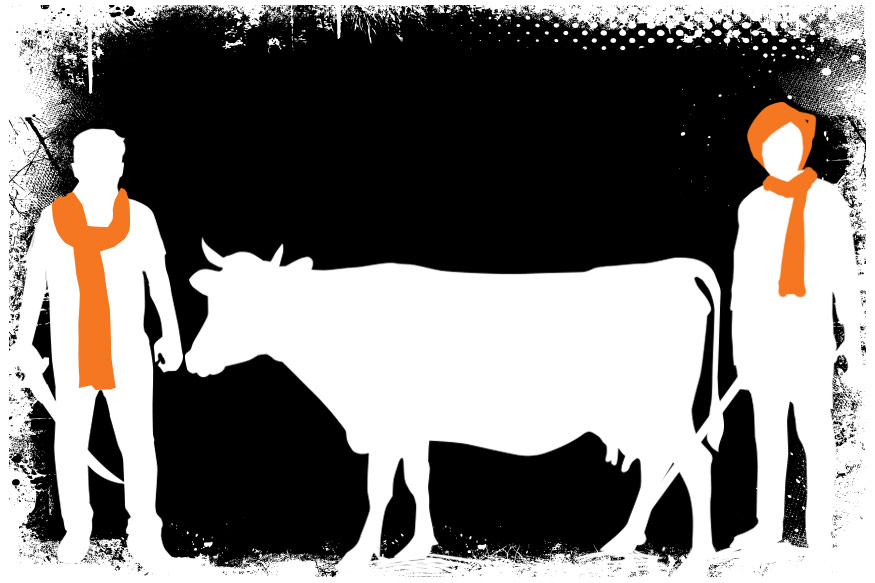 Gaurakshaks (Image: Network18 Creative)
In yet another incident where 'Gau rakshaks' turned into terror, a Muslim man was shot dead near the Rajasthan-Haryana border for transporting cows. Two days after the murder, no FIR in the case has been registered so far.
The wife of an Aligarh Muslim University professor has alleged that her husband pronounced triple-talaq to her on WhatsApp, months after the Supreme court of India struck down the practice calling it unconstitutional un-Islamic.
With the assembly elections in Himachal Pradesh now concluded, Amit Shah has turned his undivided gaze to Gujarat. So what's his strategy? He is planning to appoint BJP supporters across the state as the local "page pramukh". Never heard of this term before? The party workers hadn't either. Find out more about what it means and if it's a smart tactic. 
More women have voted in the Himachal Pradesh Assembly elections than men.
He has been in Bollywood for five years now. And he has delivered hits after hits. What's next for him? Varun Dhawan talks about his upcoming movies and his love for dance. 
Watch out for:
Prime Minister Narendra Modi and US President Donald Trump are meeting in Manila on Monday. What are they going to talk about? South Asia strategy Trump's views on his ongoing Asia trip, especially on China, bilateral issues — and Ivanka Trump's planned visit to India this month. We are wondering if they are going to secretly share knowledge on Twitter too.
Schools in Delhi are finally opening after being shut for five days following the rising air pollution levels. Gurgaon schools will stay shut. The "odd-even" rationing of cars, which was scheduled to begin today, was however deferred by the Delhi government after the National Green Tribunal ordered the withdrawal of exemptions given to women and two-wheelers under the scheme. Rohtak MP Deepender Singh Hooda has written to Prime Minister Narendra Modi, seeking to set up a committee headed by the PM himself, including Chief Ministers of north Indian States as members, with a defined mandate to propose and oversee implementation of long-term solutions to fight hazardous levels of air pollution. Hooda plans to bring bringing in a private members' bill called 'Right to Clean Air Bill' in the winter session of Parliament for which he has sought suggestions from all citizens via social media.
Agree or disagree?
Some need the temple of their ancestral god. Some are aspiring for different religious identities. Few want to live like Buddhists, while others want their identity as Ravidasi, Kabirpanthi and Shivanarayani. Why are we not conscious about the role of 'religion' in the construction of 'identity' in any social group? When political parties build their agenda on the identity of Dalits, tribals and marginalized groups, or make an attempt to understand it, they don't pay much attention to the religious feelings of these groups. Is it time to change that?
Why does Delhi turn into a gas chamber every year?  Krishna AchutaRao, an associate professor at Centre for Atmospheric Sciences, IIT Delhi has the answer. "Delhiites are cursed by geography to be prone to a meteorological phenomenon called inversion where warm air rests above the colder air closer to the ground, preventing it from mixing upwards thereby trapping all that we put into it – almost like a lid." How does it affect us? Read it here. 
On reel:
https://www.news18.com/news/ivideos/smog-2-0-are-you-really-concerned-1572183.html
(Get a fresh dose of the news that matters, delivered directly to your inbox, every morning. The perfect way, to get you started and informed, for the day ahead. Subscribe to News18 Daybreak)
Read full article
Countdown To
Elections Results
To Assembly Elections 2018 Results