INDIA
News18 Daybreak | UIDAI Debunks 'Aadhaar Software Hack', President's Rule in Telangana and Other Stories You May Have Missed
Get a fresh dose of the news that matters, delivered directly to your inbox, every morning. The perfect way, to get you started and informed, for the day ahead.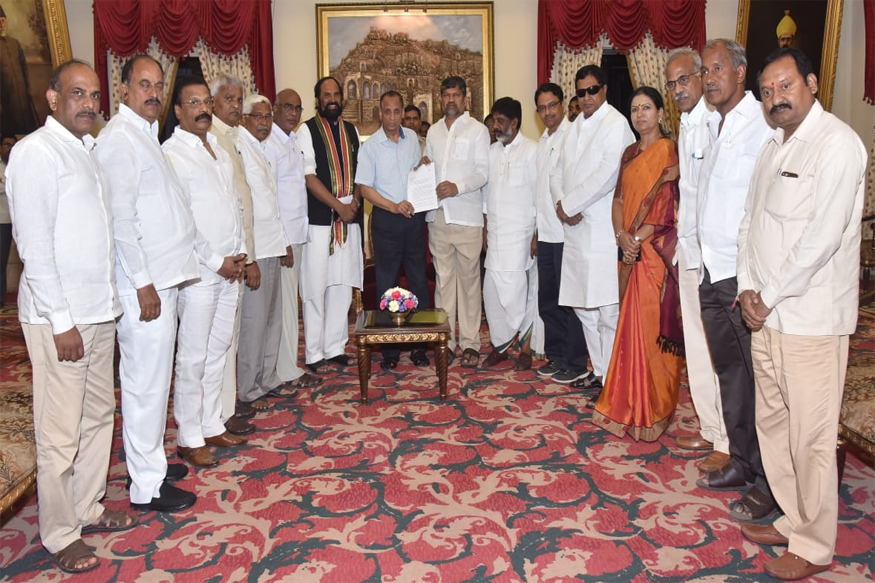 File photo of Congress, TDP and CPI leaders meeting the Telangana governor. (News18)
In case you missed it
Joining forces: The Congress, TDP and Left parties met Telangana governor ESL Narsimhan and urged him to take steps to ensure that President's rule was imposed in the state in the run-up to assembly polls. The three parties, which have reached an understanding on forming an electoral alliance to fight the upcoming assembly elections together, said KCR's "illegal" conduct was helping his own party TRS ahead of the polls.
Another lynching: In yet another incident of lynching, a 20-year-old man was battered to death by a mob on Tuesday after he allegedly tried to loot over Rs 24 lakh from railway employees on a busy road in Bihar's Rohtas district. In the past five days, six incidents of mob lynching have been reported in the state, raising question marks about the law and order machinery in the state.
Between faith and filth: The clock to clean Ganga is ticking fast. Can we save the holy river? Despite enormous amounts of money spent on its cleaning, Ganga continues to run polluted. Read the latest News18 Immersive on PM Modi's Rs 20,000 crore Namami Ganga project.
Govt laxity: A list of high profile cases related to banking frauds was sent to the Prime Minister's Office (PMO) for a coordinated action, said former RBI Governor Raghuram Rajan in a note to Parliamentary panel. In the note, Rajan said that the size of frauds in the public sector banking system has been increasing, though still small relative to the overall volume of NPAs.
UIDAI secure: The UIDAI said on Tuesday no operator can make or update Aadhaar unless an individual gives biometrics details, debunking reports that Aadhaar software was being purportedly hacked.
Tragic accident: An overcrowded state-run bus swerved off the road and hurtled down the hillside into a valley in Telangana's Jagtial district on Tuesday, killing 57 people and wounding around 30 others in one of the worst highway tragedies in the state, police said.
Agree or disagree?
The Congress is not the Gandhis. The Gandhis are not the Congress. That is one way of interpreting the position taken by the Congress on the AIADMK government's recommendation to release the killers of former prime minister Rajiv Gandhi. Party spokesperson Randeep Surjewala made it clear that there can be no compromise on terrorism and terrorists, and that the assassination was a well-plotted terrorist conspiracy. Read TS Sudhir's take on releasing Rajiv Gandhi's killers.
The BJP's tactical rhetoric at its National Executive pitched Lok Sabha 2019 as a Modi-centric BJP versus a Maoist-militant-aligned Congress. In BJP president Amit Shah's words, a "making India" vs "breaking India" agenda.
[http://the%20bjp%27s%20tactical%20rhetoric%20at%20its%20national%20executive%20pitched%20lok%20sabha%202019%20as%20a%20modi-centric%20bjp%20versus%20a%20maoist-militant-aligned%20congress.%20in%20bjp%20president%20amit%20shah%27s%20words%2C%20a%20%E2%80%9Cmaking%20india%E2%80%9D%20vs%20%E2%80%9Cbreaking%20india%E2%80%9D%20agenda./] Bhavdeep Kang writes how BJP's move to whip up terror against the Congress is a clever election tactic.
On Reel
Healthy eating is a rage in the current era and with a little twist and turns in your regular recipes, you could actually make your dishes healthy. Watch the video for some healthy recipes for the upcoming festive season.
https://youtu.be/O6EYia9824g
(Get a fresh dose of the news that matters, delivered directly to your inbox, every morning. The perfect way, to get you started and informed, for the day ahead. Subscribe to News18 Daybreak here.)
Support the daily wage earners who have been hit the hardest by the COVID-19 crisis. Click here to contribute to the cause. #IndiaGives
The daily News18 Coronavirus COVID-19 newsletter - Get your copy here.
Subscribe to News18 Daybreak. Follow us on Twitter, Instagram, Facebook, Telegram, TikTok and on YouTube
Read full article