News18 Daybreak | Violent Clashes Mar Amit Shah's Bengal Rally and Other Stories You Need to Watch Out For
Get a fresh dose of the news that matters delivered directly to your inbox, every morning. The perfect way to get you started and informed for the day ahead.
Today's Big Stories
TMC and BJP trade barb after ABVP supporters vandalise college near Amit Shah's Kolkata rally
BJP chief Amit Shah's roadshow on Tuesday ended in violence and arson after supporters of the saffron party clashed with student members of the Trinamool Congress Chhatra Parishad (TMCP).
The members of the Akhil Bharatiya Vidyarthi Parishad barged into the city's Vidyasagar College, set fire to motorcycles and vandalised the bust of luminary Ishwar Chandra Vidyasagar.
Violent clashes: The violence started around Tuesday evening after TMCP members shouted anti-BJP slogans at Shah's convoy as it was passing by.
Fifteen students were injured in the subsequent clashes while Police had to use batons to bring the crowd under control,
Verbal duel: While Shah called this an attempt to "strangulate democracy", CM Mamata Banerjee hit out at the BJP saying that they had brought in goons from outside Bengal.
"How little you know about Bengal, its rich history, its culture. Bengal will never forgive for what you did today," Banerjee said.
The rally with its saffron balloons, BJP flags and artistes dressed like Hanuman, dancing to the tune of "Jai Shri Ram" was a first-of-its-kind in the city.
Iran Foreign Minister to hold talks today with India amid tensions with US over oil exports
Days after India stopped its purchases of Iranian oil following renewed US sanctions, Iran's Foreign Minister Javad Zarif is all set to hold talks with New Delhi. India was Iran's top oil client after China, but halted imports after Washington reimposed sanctions and later withdrew waivers to eight nations, which had been allowed to import the Iranian oil. The sanctions have more than halved Iran's oil exports to 1 million barrels per day (bpd) or less, from a peak of 2.8 million bpd last year.
In Other News
Ailing Jet Airways' CEO Vinay Dube and two other senior executives resign
As lenders scramble to find a buyer, the airline on Tuesday announced the exit of its CEO Vinay Dube, his deputy Amit Agarwal and Company Secretary Kuldeep Sharma. A source said the carrier's Chief People Officer Rahul Taneja has also quit.
Donald Trump denies plan to send 1,20,000 troops to counter Iran threat
The US President denied a New York Times report about a plan to send up 1,20,000 troops to the Middle East to counter any attack or nuclear weapons acceleration by Iran. "I think it's fake news, OK?" he said.
Cracker of a deal: OnePlus 7 pro launched alongside OnePlus 7
The company launched the handsets at a special event in Bengaluru. While the focus was mainly on the Pro model, the OnePlus 7 was announced at a similar price point as the OnePlus 6T.
Larsen and Toubro acquires 1,168 shares of Mindtree from open market
The Infrastructure major has acquired 1,168 shares of Mindtree taking its overall holding in the mid-sized IT company to 25.94 per cent. Earlier this month, L&T had purchased a 20 per cent stake belonging to VG Siddhartha and Coffee Day.
News18 Election Tracker
The Supreme Court on Tuesday granted bail to BJP activist Priyanka Sharma who had shared a morphed photograph of Bengal CM Mamata Banerjee and asked her to submit a written apology immediately.
In Tamil Nadu, a day after meeting with Telangana Rashtra Samithi's K Chandrashekhar Rao, DMK's MK Stalin said there was no chance of a "non-BJP, non-Congress" front. The final decision will, however, be taken only after May 23.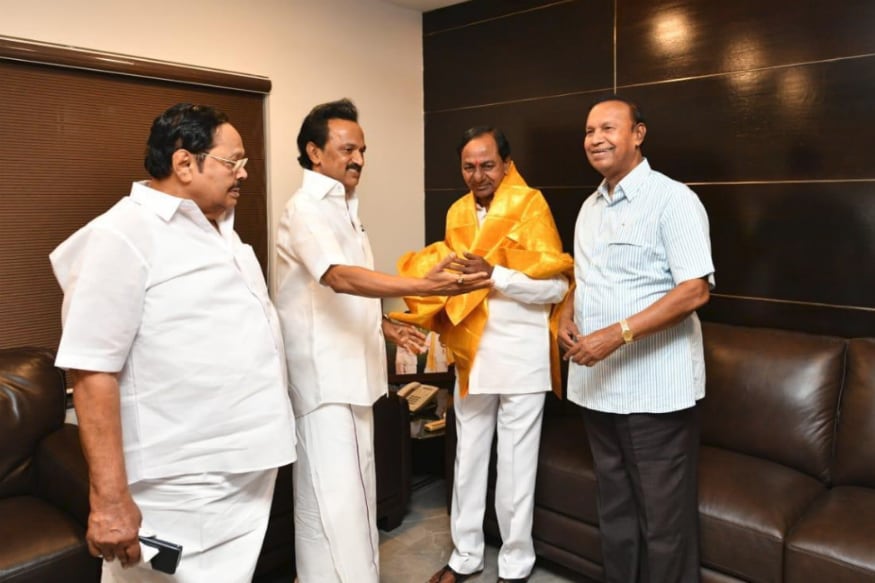 Meanwhile, Makkal Needhi Maiam has demanded the resignation of AIADMK leader Rajenthra Bhalaji for saying that actor-turned-politician Kamal Haasan's tongue should be cut off.
And finally: the Congress has condemned the remarks of its leader Mani Shankar Aiyar on Narendra Modi, but also accused the PM of using "downright insulting" and "abusive language" against his political opponents.
On Our Specials
The silent vote: From Jharkhand, which has increasingly seen tribals assert their rights, Suhas Munshi finds an ST community left seething over constitution amendments implemented during BJP's rule.
Hidden intentions: Pranshu Mishra analyses that the gangrape of the Dalit woman in Alwar, Rajasthan has now just become a tool for politicians to mobilise caste communities in the crucial state of Uttar Pradesh.
Uncanny semblance: Jashodhara Mukherjee writes about how the Simpsons in 2017 might just have predicted the conclusion of the latest instalment of the Game of Throne in 'The Serfsons' episode.
On Reel
For the people of Jharkhand's West Singhbhum district, elections have little meaning. CNN-News18's Runjhun Sharma finds out why.
Get the best of News18 delivered to your inbox - subscribe to News18 Daybreak. Follow News18.com on Twitter, Instagram, Facebook, Telegram, TikTok and on YouTube, and stay in the know with what's happening in the world around you – in real time.
Read full article