News18 Daybreak|Imran Khan On India-Pak Relations, Starvation Deaths and Other Stories You May Have Missed
Get a fresh dose of the news that matters, delivered directly to your inbox, every morning. The perfect way, to get you started and informed, for the day ahead.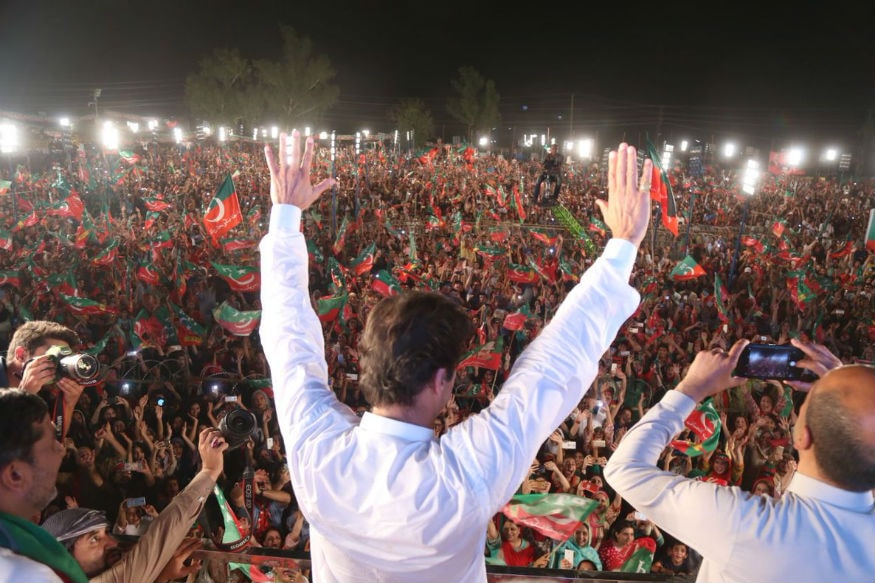 File photo of Pakistan PM and PTI chief Imran Khan addressing his supporters in Pakistan.
In case you missed it
Victory: Cricketer-turned-politician Imran Khan's Pakistan Tehreek-i-Insaf emerged as the single largest party on Thursday. In his first public address after leading his party to victory in the general elections held on Wednesday amid rival political parties' claim of "blatant" rigging in the counting, Imran said that Pakistan is ready to improve its ties with India and the blame game between the two neighbours, detrimental to the sub-continent, should come to a stop. Experts, however, have pointed out that there is very little possibility of any improvement in New Delhi's ties with Islamabad under Imran Khan as he has been "propped" by the Pakistani military.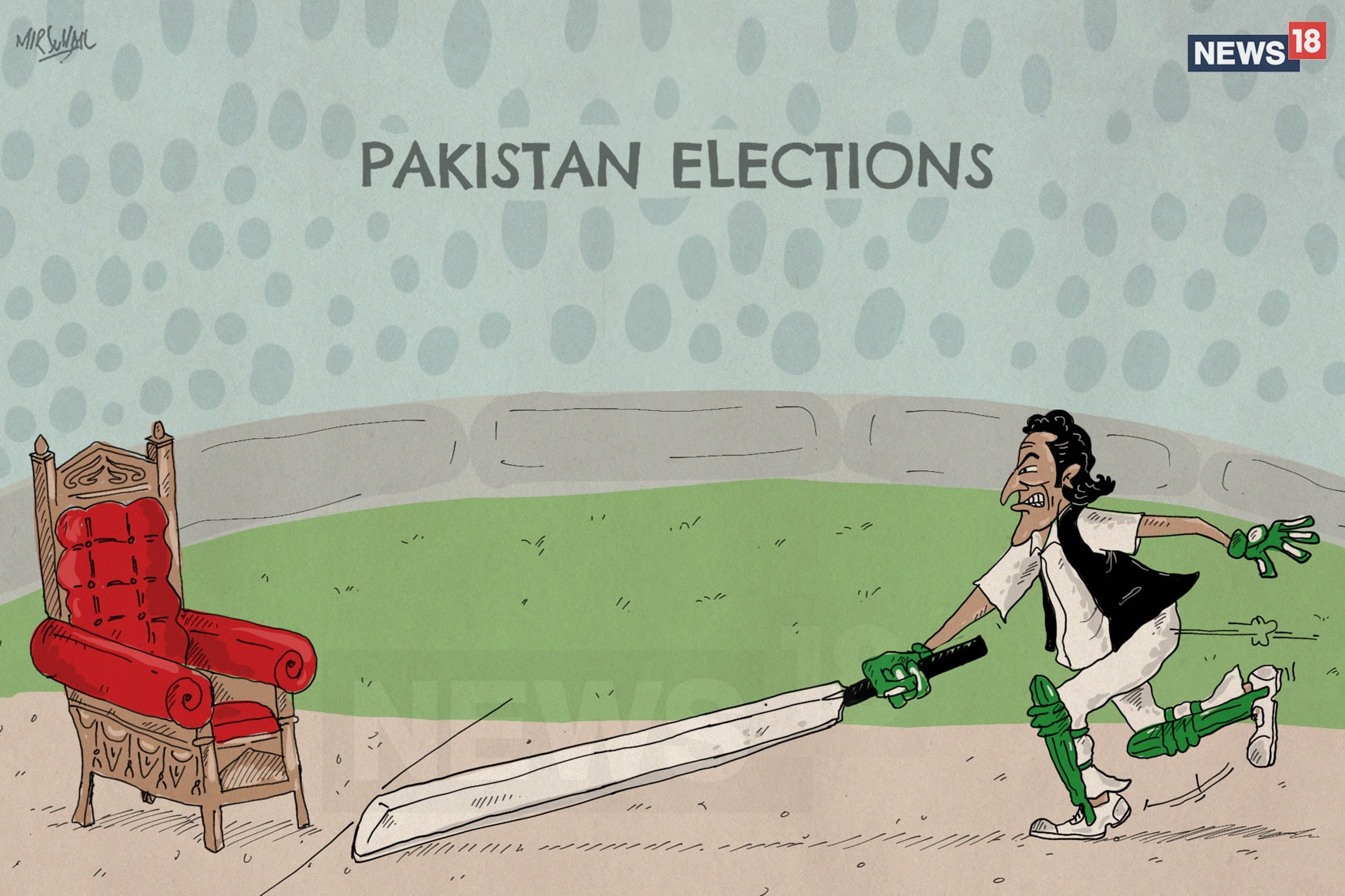 Deity rights: The Supreme Court was told on Thursday that it could not interfere with the practice of prohibiting women in the age group of 10 to 50 years from entering in the Sabarimala temple where the idol of Lord Ayyappa is in a state of "Naishtika Brahmacharya" as it was an essential part of temple customs. Naishtika Brahmacharya, the five judge constitution bench headed by Chief Justice Dipak Misra, was told requires the Brahmachari to observe the vow of celibacy without any room for departure and deity too has rights under Article 21 of the Constitution.
Starvation deaths: Beena, mother of the three children in Delhi's Mandavali who died on Tuesday because of starvation sits silently in the 8ft x 4ft room. This is the same room where her husband brought the family of five on Saturday. When she entered this room last week, she had her three daughters — all aged below 10 years — by her side along with her husband. Five days later, she has no one left with her. The three daughters allegedly died of starvation while the husband was missing. Two autopsies have failed to find any trace of food in the bodies of the three minor girls.
Public stunt: Back to active politics after a self-imposed exile of 15 years and marginalised within his own party, AICC general secretary Digvijaya Singh exhibited his political strength on Thursday as he courted arrest at a police station in Bhopal with his close aides and thousands of party workers by his side. Singh's political stunt was in response to MP chief minister Shivraj Singh Chouhan's recent remark at a rally where he said that the Congress leader often goes to meet families of slain terrorists and glorifies them, and even adds 'Ji' to their names.
Papal crimes: The Supreme Court on Thursday wondered why there was a sudden spurt in number of rape cases involving church priests. A bench of Justices AK Sikri and Ashok Bhushan had two separate cases, involving church priests from Kerala, listed before it on Thursday.
GST benefits: Items of common use like sanitary napkins, footwear and fridge may get cheaper with the GST rate cut on about 88 items coming into effect from Friday. The GST Council, chaired by Union Finance Minister Piyush Goyal, last week pruned the highest 28 per cent tax slab by moving some white goods to the 18 per cent tax bracket.
Brides for sale: In the last 12 years, Shabnam has had four husbands. But she has never been married. In the world of Haryana, where the female population is dwindling, Shabnam is known as 'Paro'. She was bought from Assam for Rs 30,000 to ensure 40-year-old Rahim's 'dynasty' doesn't end. Here are the tales of women who are bought, sold and re-sold by Haryana's men.
Shoot anti-nationals: Senior BJP MLA and former union minister Basanagouda Patil Yatnal courted controversy on Thursday with his remark that he would have ordered the police to shoot all intellectuals if he were the home minister of the state. Addressing a "Kargil Vijay Diwas" function in his Assembly constituency Vijayapura (formerly Bijapur), Yatnal dubbed liberals and intellectuals "anti-nationals".
Fishy incident: The images of Hanan Hamid, a third year BSc Chemistry student at Al Azhar College of Arts and Sciences in Thodupuzha in Idukki selling fish at the Palarivattom-Thammanam junction had gone viral on Wednesday. She got a lot of praise and several people extended support to her after local news reports showed her effort to make a living. However, on Thursday the girl came under attack on social media after a group of netizens suspected that it was all an act for the promotion of an upcoming movie of which she is a part.
PM museum: Home Minister Rajnath Singh on Thursday announced that a museum for all former prime ministers of the country would be built at the Teen Murti Bhavan complex, which currently houses the Jawaharlal Nehru Memorial, Nehru Memorial Museum and Library (NMML). The decision has of course irked the Congress, some of whose leaders were present at the NMML meeting that ended with the announcement.
Passed: Amid much debate, the Lok Sabha on Thursday passed the Trafficking of Persons (Prevention, Protection and Rehabilitation) Bill, 2018 in the Monsoon Session of Parliament. Speaking in favour of the decision, Nobel laureate Kailash Satyarthi stated that the 'victim-centric' bill will break the backbone of the industry.
News18 Profile: From the world of cricket to the rough terrain of Pakistani politics, Imran Khan has ensured that he appeals to the masses (quite evident from the votes) and also particularly the youth of Pakistan. From the current context, a picture of him holding the Cup along with then PM Nawaz Sharif could bring a sense of trepidation. Nawaz is now in jail and Imran is set to become PM. Read all about the PTI chief here.
Agree or disagree?
The entire world is said to be in the grip of populism. People have cited US President Donald Trump, Prime Minister Narendra Modi and Turkey President Erdogan as examples of this global trend. Common sense would suggest that PTI's entirely unexpected surge in Pakistan is keeping with this trend. However, Yasser Latif Hamdani writes that it is only a small part of the Imran's success.
"My encounters with Imran Khan have been entirely in his post-cricketing life. Interviews with him were an opportunity to explore the acumen that made him among the greatest captains in the modern game, to understand how he developed the innate ability to spot and nurture talent and at his pomp and bat & bowl with such flair and skill that he has a permanent place among the finest all-round cricketers to have played the game. As iconic figures go, he sits right amongst the very elite." Gaurav Kalra writes, that Khan's success as a political figure, that has now carried him to the doorstep of the highest office in his country, is a tad surprising.
On Reel
Two adjacent buildings collapsed on 17 July at around 9:30 PM. Nine people were buried in the building's rubble. Victim families talk to News18 about the harrowing process of claiming the bodies.
(Get a fresh dose of the news that matters, delivered directly to your inbox, every morning. The perfect way, to get you started and informed, for the day ahead. Subscribe to News18 Daybreak here)
Read full article