Nirav Modi and Mehul Choksi's Passports Cancelled for 4 Weeks, SBI Exposure 10% of Total Fraud
Now, Interpol diffusion notice has been issued against Nirav Modi, his wife Ami Modi, brother Nishal Modi and partner Mehul Choksi. Sources said that eight more senior officials have been suspended by Punjab National Bank.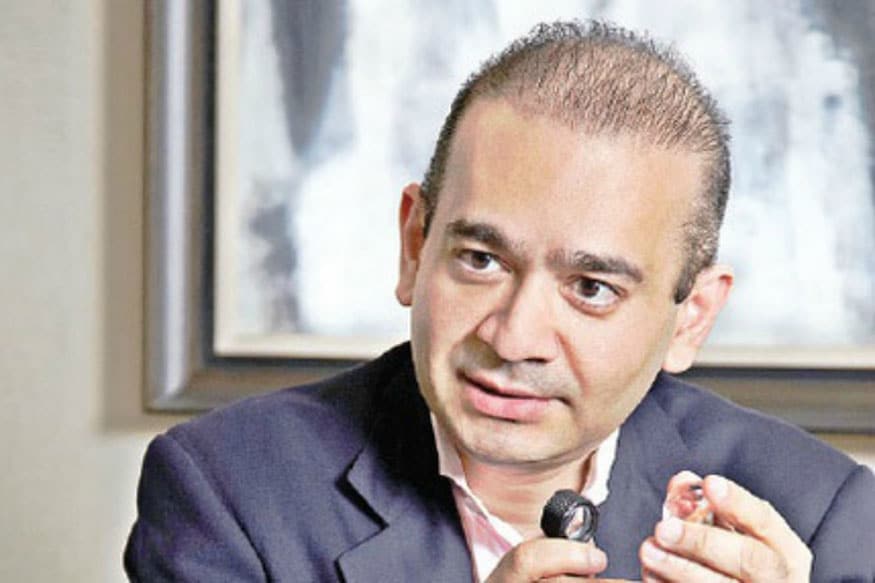 File photo of Nirav Modi.
With two CBI cases registered against him, the Enforcement Directorate (ED) seizing gold and diamond worth Rs 5,100 crore during searches and the Punjab National Bank (PNB) rejecting his "vague offers", Nirav Modi's case does not seem to get any better in the near future.
While three companies of Mehul Choksi-- Gitanjali Gems, Gili India and Nakshatra Brand Ltd -- have been named in the CBI FIR, Nirav Modi and Mehul Choksi's passports have now been cancelled for four weeks by the Ministry of External Affairs.
"On the advice of the Enforcement Directorate, the passport issuing authority in the Ministry of External Affairs has suspended the validity of passports of Mr. Nirav Deepak Modi and Mr. Mehul Chinubhai Choksi with immediate effect for a period of four weeks u/s 10(A) of the Passports Act 1967," said a press release by MEA.​
Meanwhile, Markets regulator Sebi has launched probe into trading, disclosure related issues in matter of PNB and Gitanjali Gems.
CBI has also reached former PNB Deputy Manager Gokulnath Shetty's residence in Malad. Shetty has been untraceable since few days.
A finance ministry official told CNBC-TV18 that they will start probe on 36 firms linked to Gitanjali Gems post-PNB scam.
The Enforcement Directorate (ED) has issued summons for appearance to billionaire diamond merchant Nirav Modi and his business partner Mehul Choksi in connection with its money laundering probe in the Rs 11,400 crore alleged fraud in Punjab National Bank.
They said both Modi and Choksi were summoned under the Prevention of Money Laundering Act (PMLA) and asked to depose within a week's time.
The notices were handed over to the directors of the firms of the two businessmen as they were not in the country.
On the other hand, the Central Bureau of Investigation (CBI) has registered an FIR against Mehul Choksi's Gitanjali Group of companies on the complaint of Punjab National Bank (PNB). CBI is conducting searches at locations of Gitanjali Group Companies at 20 places in six cities across the country.
Searches at locations belonging to Gitanjali group of Mehul Choksy,Other directors of the accused companies and other group factories also raided. Searches being conducted in Maharashtra(Mumbai and Pune), Gujarat(Surat), Raj(Jaipur), Telangana (Hyderabad) & TN (Coimbatore).
Punjab National Bank suspended eight more officials, the number of suspended employees now stands at 18, which also includes General Manager level officers. Internal investigation of the bank is still underway.
According to officials from the Ministry of Finance, recapitalisation of PNB will not be impacted by fraud case, the bank will get its recapitalisation share of Rs 5000 crore, as allocated earlier.
Interpol diffusion notice has also been issued against Nirav Modi, his wife Ami Modi, brother Nishal Modi and Mehul partner Choksi.
Latest Developments
In a multi agency probe initiated against Modi on Thursday, both, the CBI and ED have moved separate applications to the external affairs ministry seeking the revocation of passports of Modi and his maternal uncle Mehul Choksi, the promoter of Gitanjali jewellery chain, both accused in the fraud case, the officials said.
ED seized assets amounting to Rs 5,100 crore including diamond jewellery, gold and cash from Modi's offices, showrooms and diamond workshops in Mumbai, Surat (Gujarat) and New Delhi.
ED officials raided Firestar Diamond Pvt Ltd. head office in Bharat Diamond Bourse, in Bandra Kurla Complex, Modi's private office at Kohinoor City in Kurla West, his showroom and boutique at Itts House in Fort in south Mumbai and a workshop in Peninsula Business Park in Lower Parel.
Six diamond workshops were raided in Gujarat. Two diamond jewellery boutiques of Modi in New Delhi - in Chanakyapuri and Defence Colony - were also raided.
The ED has also written to the Income Tax department for sharing all documents seized by it during raids on January last year from premises linked to Modi and his associates.
The ED filed the case under the Prevention of Money Laundering Act (PMLA) after going through a CBI FIR registered on January 31. The agency also went through the PNB complaint that was made out against Nirav Modi and others.
The ED, they said, would probe if the allegedly defrauded bank funds were laundered and these proceeds of crime were subsequently used by the accused to create illegal assets and black money.
What is the Punjab National Bank saying?
PNB in its letter to the CBI stated that on 16 January the bank noticed a set of fraudulent Letter of Undertaking for and on behalf of Nirav Modi companies.
This came to light when these firms approached the bank with certain import documents and sought buyers' credit for making payment to overseas suppliers. Since there was no sanctioned limit mentioned, the bank asked them to furnish 100% cash margin. To this the Modi firms contested saying they have been receiving the same in the past as well. But the branch records didn't show any such detail. Then, it came to light that Gokulnath Shetty who retired in May 2017 and was working in the import section of Foreign exchange department from 2010 along with Manoj Kharat issued LOUs without taking due documents and did not make entries in the banking system to avoid getting detected.
Talking to the press on Thursday, PNB Chairman and Managing Director (CMD), Sunil Mehta, said Modi had written an official mail to the bank stating he would like to pay back the money but the offers were vague.
"We have asked him to come in person and present a definite plan as to how he wants to repay the money," said Mehta.
Meanwhile, ten PNB employees have also been suspended in relation to the fraud.
The CMD also assured that the bank also enough resources to make a swift recovery. In an attempt to pacify investors, Mehta said, "We will cater to all our bonafide customers. Just give us some breathing space."
"This cancer that's been going on since 2011, we have brought it out and we are resolving it...If the entire onus is on us, we will take responsibility," added Mehta.
Where is Nirav Modi?
Meanwhile, the prime accused Nirav Modi has left the country even before the CBI or the ED were informed about the fraudulent transactions.
Modi had left the country on January 1 much before the CBI received a complaint from Punjab National Bank on January 29 about a Rs 280-crore fraud.
His brother Nishal, a Belgian citizen, also crossed borders on January 1, while wife Ami, a US citizen, and business partner Mehul Choksi, the Indian promoter of Gitanjali jewellery chain, departed on January 6.
Agencies have issued a look out circular against all the four after registering the first FIR against them. The look out circular pertains to all exit and entry ports to inform them about the movement of an accused.
Sources said Nirav Modi is staying in a five-star hotel in New York, close to his luxurious Madison Avenue jewellery retail store.
Did stocks fall?
Punjab National Bank continued to feel the pinch in terms of its stock market, two days in a row. The state-lender fell nearly 13 per cent after it detected fraud worth Rs 11,360 crore.
The stock plunged a fresh 52-week low of Rs 125.55 and lost 20.6 percent in two consecutive sessions. With the steep plummet, investors lost Rs 8,077 crore of wealth in two days.
PSU Bank index also ended 1.1 percent lower.
Apart from PSU banks, jewellery company Gitanjali Gems also crashed 20 percent to close at 52-week low of Rs 46.90.
Political Reactions
The mega fraud was expected to draw political parties in the debate with the opposition and others alleging lack of governance on the part of the ruling party.
The Left and the Trinamool Congress asked the government to clarify how the accused was accused Nirav Modi present in a group photo of Indian CEOs with the Prime Minister in Davos during the World Economic Forum.
CPI(M) general secretary Sitaram Yechury questioned how billionaire jeweller Nirav Modi was allowed to flee the country.
Aam Aadmi Party leader and Delhi Chief Minister Arvind Kejriwal mounted an attack on the Centre and asked if Nirav Modi had left the country with the backing of the government. In another tweet, senior AAP leader Ashutosh said 42 FIRs against Modi had been sent to the PMO since July 26, 2016. Yet, he was seen with Prime Minister Modi in Davos at the World Economic Forum last month.
Retorting to allegations, Minister for law and IT, Ravi Shankar Prasad on Thursday said, this entire NPA mess is an inherited monster, no NPA loans have been given while this government has been in power.
"We have plenty of photographs of Congress leaders with Mehul Choksey but we don't want to stoop to that level," added the Bhartiya Janata Party leader.
Get the best of News18 delivered to your inbox - subscribe to News18 Daybreak. Follow News18.com on Twitter, Instagram, Facebook, TikTok and on YouTube, and stay in the know with what's happening in the world around you – in real time.
Subscribe to Moneycontrol Pro and gain access to curated markets data, trading recommendations, equity analysis, investment ideas, insights from market gurus and much more. Get Moneycontrol PRO for 1 year at price of 3 months. Use code FREEDOM.
| Edited by: Sumedha Kirti
Read full article