Top Medical Colleges in India NIRF Rankings 2018 list is out on the official website of National Institutional Ranking Framework (NIRF). Medical aspirants across the country work hard to get admissions at the Top Medical Colleges of India via National Eligibility cum Entrance Test, every year.
NIRF Rankings 2018 for Top Medical Colleges in India have been listed for the first time; as per which, the All India Institute of Medical Sciences (AIIMS), New Delhi bagged rank#1 with 90.7 score, followed by Post Graduate Institute of Medical Education and Research (PGIMER), Chandigarh at rank# 2 with 78.7 score and Christian Medical College, Tamil Nadu at #3 with 73.6 score.
The National Institutional Ranking Framework (NIRF) ranks the participating institutions on 5 Key parameters (that are further subdivided into various categories) viz:
1. Teaching Learning & Resources (TLR)
2. Research and Professional Practice (RPC)
3. Graduation Outcome (GO)
4. Outreach & Inclusivity (OI)
5. Perception
Here's the list of Top 10 Medical Colleges in India as per NIRF Rankings 2018 along with the detailed scores on each of the above parameters that differentiate these institutions of repute from each other.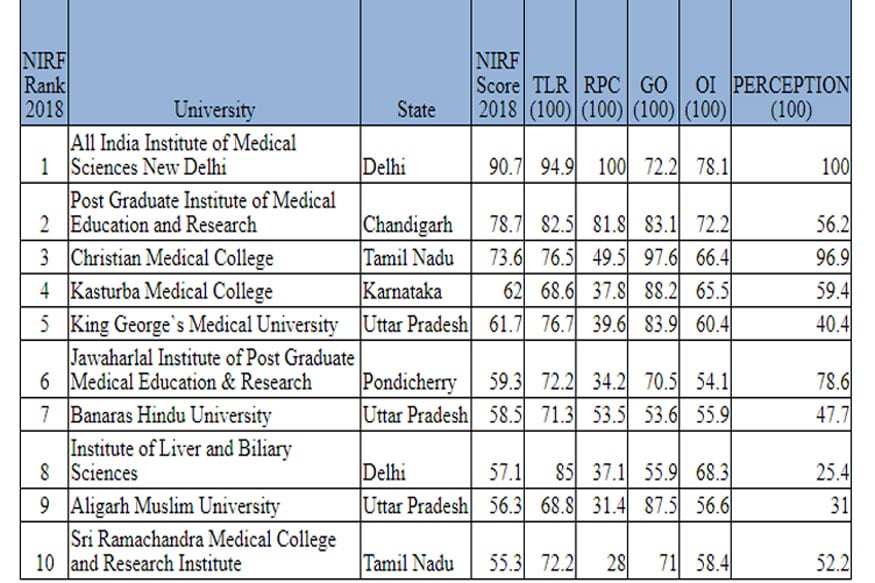 Candidates aspiring to be medical professionals can access the entire list of NIRF Rankings 2018 for Top Medical colleges in India at the below mentioned url: