No Goddess Durga Idol Immersion on Muharram, Says Mamata
The Chief Minister made the announcement after meeting with puja organizers and Muharram committee members in Kolkata on Wednesday.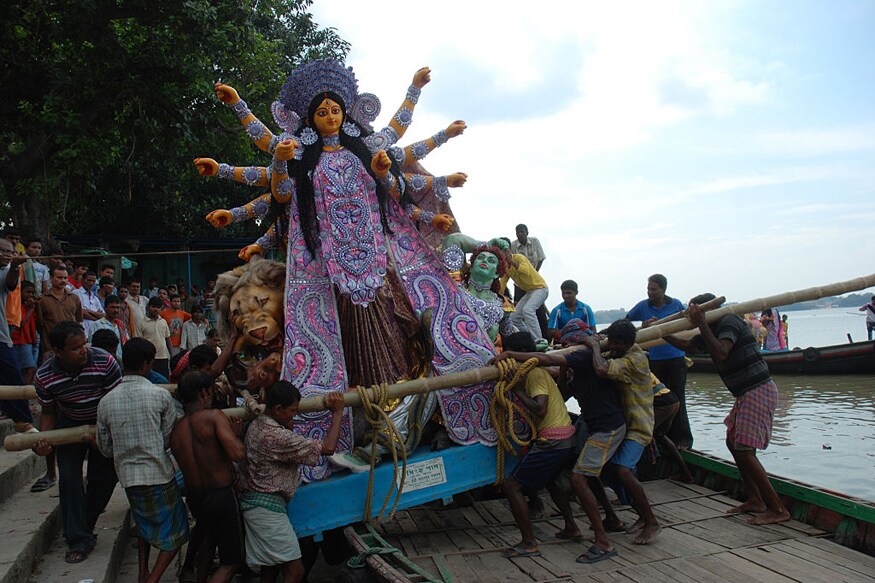 File photo of labours carrying the idol Durga in a boat in Kolkata. (Getty Images)
Kolkata: West Bengal Chief Minister Mamata Banerjee has announced that there will be no immersion of Goddess Durga idols on October 1 due to the Muharram procession.
The Chief Minister made the announcement after meeting with puja organizers and Muharram committee members in Kolkata on Wednesday.
"The decision was taken to maintain communal harmony and the law and order situation. There are people who may try to instigate people if we allow immersion on Muharram. They will try to disturb the communal harmony and we will not allow that to happen in Bengal," Mamata said.
"I would like to instruct all senior police officers to make necessary arrangements in order to ensure a peaceful festive season. If someone tries to post fake picture on social media, police will take stern action against them. This has become a menace. I would like to request all people in Bengal to be very cautious about such fake posts. I know there are people who will try to instigate others during Puja and I have given free hand to police to take necessary action," she said.
Mamata has asked all district administration to inform Durga Puja committees and Muharram committees that there will be no idol immersion on October 1 (due to Muharram). They were also asked to inform Muharram committees to maintain peace during the procession.
"On September 30 there will be Bijoya Dashami and on October 1, Muslim brothers will observe Muharram. Therefore, immersion will take place on October 2 and will continue till October 4. On October 5, all Puja organisers were asked to remove their pandals, posters, and banners," she said.
This is not the first time when immersion day was rescheduled due to Muharram in Bengal.
Last year, on October 6 — a single-member bench of Justice Dipankar Dutta said that there should not be any decision which could pit "one community against another", and that "intolerance would rise in the event of such arbitrary decision" of the government.
The court had said, "We live in difficult times and it would be dangerous to mix politics with religion. There has been a clear endeavour on the part of the state government to pamper and appease the minority section of the public at the cost of the majority section without there being any plausible justification. The reason, therefore, is not far to seek."
"In 2016, idol immersion fell on October 11 and the Muharram procession took place on October 12. Then, the government to appease the Muslims, rescheduled the immersion day. It is surprising that despite court's order, she once again restricted immersion due to Muharram. We condemn the announcement made by the government," BJP State Secretary, Sayantan Basu said.
Get the best of News18 delivered to your inbox - subscribe to News18 Daybreak. Follow News18.com on Twitter, Instagram, Facebook, Telegram, TikTok and on YouTube, and stay in the know with what's happening in the world around you – in real time.
| Edited by: Aditya Nair
Read full article