No Muslim Arrested for School Bus Attack: Gurugram Police Shoot Down Social Media Rumours
Posts on Facebook and Twitter had claimed that Muslim men named Saddam, Nadim, Firoz, Aamir and Ashraf were among those arrested.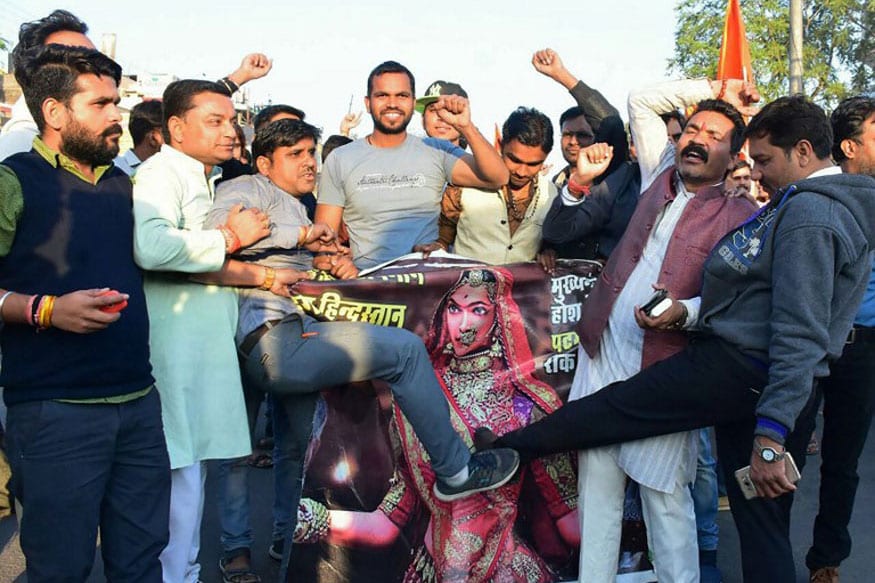 Protesters kicking the a film poster of Bollywood film 'Padmaavat' during a protest against the screening of the movie. (File photo: AFP)
New Delhi: Denying social media rumours, Gurugram Police issued a statement on Friday saying there were no Muslims among those detained for the attack on a school bus during protests against Padmaavat.
"It is to bring it to your kind notice that no member from the Muslim community has been detained/arrested by Gurugram police in connection with Bhondsi violence or anywhere else in Gurugram," a statement from Gurugram Police said.
"The situation in Gurugram is peaceful and fully under control. It is, therefore, requested please do not listen to any rumours," the statement added.
This is to clarify that no Muslims boys have been detained in relation to the recent acts of vandalism on a Haryana Roadways bus and a School bus in Gurugram.

— Gurugram Police (@gurgaonpolice) January 26, 2018
The bus carrying 24 students, five teachers and an attendant was attacked by a group of protesters, believed to be supporting a fringe group. The mob pelted rocks and shattered the vehicle's window panes, forcing the children and teachers to crouch on the vehicle's floor to avoid being injured.
Gurgaon Police PRO Ravinder Kumar had said that 31 protestors were arrested for violating prohibitory orders under Section 144, while 18 were charged with torching a Haryana roadways bus and pelting the school bus with stones.
Of the 18, 11 were sent to 14-day judicial custody, while seven minor will be produced in a juvenile court.
Certain posts and tweets on social media, however, claimed Muslim men named Saddam, Nadim, Firoz, Aamir and Ashraf were among those arrested.
Get the best of News18 delivered to your inbox - subscribe to News18 Daybreak. Follow News18.com on Twitter, Instagram, Facebook, Telegram, TikTok and on YouTube, and stay in the know with what's happening in the world around you – in real time.
| Edited by: Ananya Chakraborty
Read full article