No Permanent Residency Proof, Aspiring Engineer Denied Admission in Assam Institute
Kailash Singha was recently denied admission to the state engineering college for failing to submit proof of permanent residency in Assam.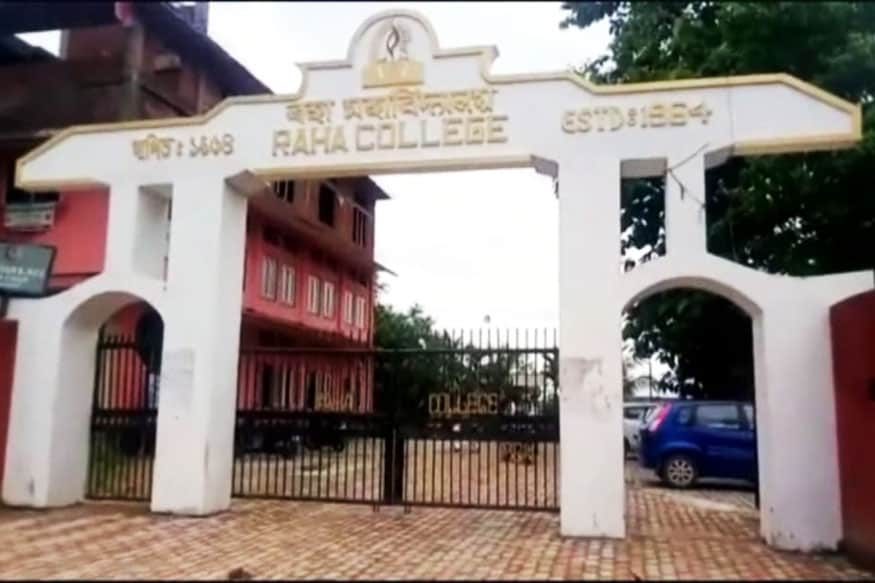 File photo of Raha Regional Junior College. (Image: News18)
Assam: With a boom microphone made out of cardboard perfected with the painted logo of a fictitious television channel, Kailash Singha would turn into a reporter, delivering the news of the day for the villagers of Bamunijan in Assam's Nagaon district.
Little did he know that he too would make the headlines someday.
Singha was recently denied admission to the state engineering college for failing to submit proof of permanent residency in Assam.
His father lives with a 'D' or Doubtful Voter tag, which his mother believes is the primary reason behind her son's rejection.
Unlike his mother and three uncles, Singha and his father did not make it to the first draft of the updated National Register of Citizens (NRC) published on December 31, 2017, that included 1.9 crore people.
When News18 contacted the additional district magistrate in Nagaon, it was learnt that only four applications for Permanent Resident Certificates had been rejected so far because of 'linkage failure' where applicants failed to prove their linkage with the person whose name appears on the Legacy Data.
"Being a D-Voter can't be a reason for rejection of permanent residence application. However, if one does face rejection, the reason is also mentioned. You are eligible for PRC if you have been residing in your state for 20 years at a stretch," said ADM Lachit Das, who is also the NRC nodal officer of Nagaon district.
Singha believes his name was left out of the NRC because of some 'anomaly' but he hopes to make it to an educational institute of his choice next year without facing the issue again. As of now, the 17-year-old has decided to enrol at a coaching institute in Guwahati to prepare for IIT-JEE next year.
"I am not broken. I think it's an anomaly that will be rectified in the final draft. My mother's name is included in the list. My father was born in 1970, and two of his elder brothers in 1959 and 1955. My grandfather's name features in the 1951 voter list. We are 'Khaati Asomiya' (pure Assamese)," he said.
Singha also failed to provide the OBC (non-creamy layer) certificate demanded during the Assam Combined Entrance Examination counselling held for the year at the Assam Engineering Institute, Guwahati.
"I cleared the Assam CEE this year and wished to pursue mechanical engineering. I want to be a research scholar. Last Saturday, I went for CEE counselling at the engineering institute to avail admission in Assam Engineering College. I did not have the required documents — PRC and OBC (NCL) certificate. I never knew what non-creamy layer implied, but I requested for an extension to submit the required documents. However, they refused. My father is a D-Voter and my mother says this is why I was dismissed," he said.
A bright student, Singha completed his matriculation from Bamunijan High School with a score of 82 per cent, and passed out of the Raha Regional Junior College with 84 per cent.
His father Neelkanta Singha is a daily wage labourer, while his mother is an LIC agent in their tiny village under Raha circle. Although his parents are ready to make sacrifices for their child's education, Singha feels he might not be able to complete his coaching because of financial constraints.
"I got into coaching because I didn't know what to do for a year. I was to pay a course fee of Rs 84,000, which is impossible for me. I requested the authorities at the coaching centre to consider my case, submitted my BPL ration card and somehow managed to convince them to allow me to pay Rs 50,000. I paid an advance of Rs 5,000. But I might forfeit my admission next month for not being able to pay any further," he said.
The youngster said he never thought his father's tag of a D-Voter would create such troubles.
"Our house was lost in fire once, and some of the documents got burnt. A part of our belongings was washed away in floods. My father was declared a D-Voter in 2011. But I won't give up," he said.
Though there is anxiety among the locals over the publication of NRC's final draft on July 30, an unperturbed Singha sits in a quiet corner, preparing for his engineering career.
| Edited by: Parth Sharma
Read full article
Countdown To
Elections Results
To Assembly Elections 2018 Results