nda:
Needmore seats to Win

Needmore seats to Win
upa:
North Campus at Night: Fear Prevails But Debate Continues
For anyone who studied in Delhi University, the sight of a deserted North Campus at 11:30 pm is an oddity. If students from across campus gather at the Delhi School of Economics for intense political debates, it is the tea shops of Vijaynagar and Hudson Lane where the action shifts to at night.
New Delhi:
For anyone who studied in Delhi University, the sight of a deserted North Campus at 11:30 pm is an oddity. If students from across campus gather at the Delhi School of Economics for intense political debates, it is the tea shops of Vijaynagar and Hudson Lane where the action shifts to at night. It is not uncommon to see students from across the political spectrum sitting huddled over cups of chai at their preferred addas. This week, however, there is an uneasy calm on campus. News 18 spent a night on North Campus to see whether the atmosphere of fear has had an impact on DU's late-night chai debates.
In Vijaynagar, outside a tea shop near Old Gupta Colony, three friends with sharply divided political views sit and talk about what happened on campus this past week. Mohammed Daniyal Khan and Shaurya Majumdar, who joined the protest against the ABVP last week, are chatting with their senior Piyush Manhar over a cup of tea. Manhar is a self-professed RSS-supporter, though he condemns the violence that broke out on campus.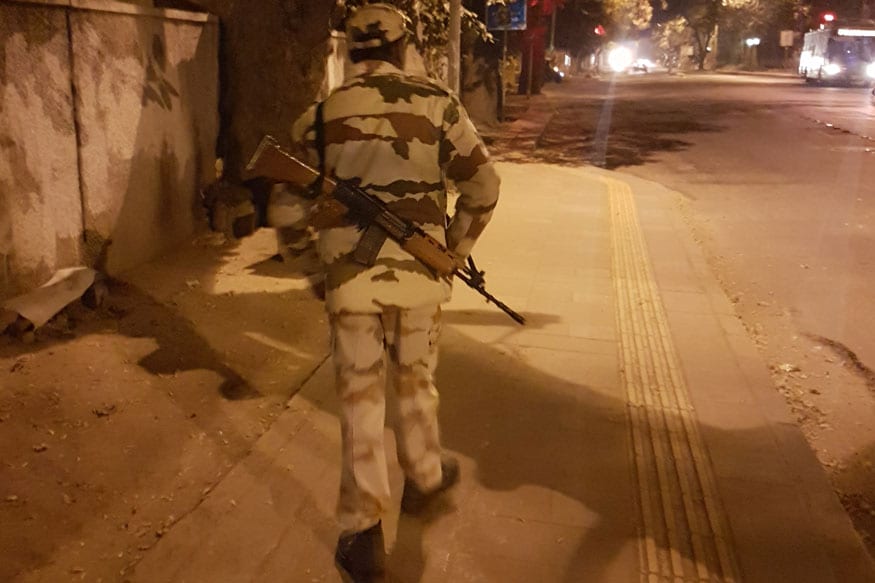 "A sense of normalcy is returning but slowly. For the first couple of days, we had to move out of campus and live with some friends. We were fearful of being identified and targeted. We heard horror stories of ABVP guys roaming the streets on motorcycles and raiding PG accommodations. There were rape threats being made against girls. It was a planned effort on part of the ABVP. When my injured friends went to Hindu Rao Hospital to get treated, ABVP goons were waiting for them there. Some of our friends said they were chased down the street. It was not safe to stay on campus in the aftermath of the violence," says Majumdar.
But why did they return? Khan answers, "Staying away for too long would mean we have surrendered our campus to goons. It is our campus. Why should we stay away?"
Delhi University's prestigious North Campus witnessed bloody scenes on Wednesday after a protest march against the RSS-linked Akhil Bhartiya Vidhyarthi Parishad (ABVP) turned ugly. The unrest on on Tuesday when Ramjas College cancelled a seminar titled 'Culture of protest'. This was done after ABVP activists protested against the participation of JNU research scholar Umar Khalid and former JNUSU vice-president Shehla Rashid. However, the protests began even before he could arrive. Khalid made the news last year when he was booked on charges of sedition alongside fellow research scholar Anirban Bhattacharya and then JNUSU president Kanhaiya Kumar. The trio was accused of shouting anti-India slogans on the JNU campus.
On Wednesday, a protest march was organized at 1 pm from Ramjas College to Maurice Nagar police station to protest against the ABVP's actions. The protests were met with violent resistence as the ABVP clashed with agitating students. Journalists covering the event were also manhandled during the chaos.
Has the violence and atmosphere of fear affected DU's debate addas? "There is a lot of rumor mongering happening on social media. The situation is not as bad as it is being made out to be. On the day of the clashes, I went out to drink juice near Patel Chest institute. There was no unrest. However, some of the younger students are unsettled by the presence of security personnel on campus. Kisko pasand hai ki campus pe riot-gear waali police ho? (Who likes to see police in riot-gear on campus?)"
Majumdar, however, feels that this is a deliberate attempt on part of the ABVP. "An attempt is being made by the ABVP to end these addas. However, the idea of a university is to openly discuss any and all issues. It is true that the Constitution calls for reasonable restrictions but who is the ABVP to impose these restrictions? Piyush Bhaiyya and I disagree on many things but he doesn't use violence against me. That is why we can discuss everything. I just wish others on the right-wing follow his example."
Khan adds, "I want to break the myth that it was a case of clashes between two student groups. We are not members of AISA and not a single stone was thrown from our side. I was hit by a stone in the ribs. Instead of throwing the stone back, I kept it as a memento."
A little later in the night, a similar gathering takes place inside a hostel room in Hindu College, just around 500 meters away from Ramjas. Ankit (name changed) is upset because discussions on campus have become "cautious" after last week. "Everyone is charged. Everyone has a polarizing opinion. We now have to be careful of what we say. We would ordinarily be having this conversation outside but now, we are forced to do so inside our hostel room with people we know. Anybody could be eavesdropping on us in public. The problem is that we are getting confined to our echo-chambers. Liberals are only talking to liberals and right-students are only talking to right-wing students. This is not real debate."
While Manhar claims that violence was largely perpetrated by "outsiders", a third-year undergraduate student admits to News 18, on the condition of anonymity, that he had pelted stones at fellow students. "I was standing with fellow ABVP activists near the Ramjas canteen when someone from the AISA side provoked us with a rude gesture. It made my blood boil and I instinctively picked up a stone and hurled it at him. I don't regret what I did. Integrity of our nation is non-negotiable. Anyone who tries to break the country will face the consequences," says the activist at a tea shop in Hudson Lane.
Despite their political differences, most students hold the campus close to their hearts. Do these students see a way forward? According to Manhar, the unrest is likely to continue. "This is an ideological war and it will not end. This is a battle to reclaim intellectual spaces where the left has hegemony. What we need to ensure, however, is that the campus does not became a warzone. My advice to ABVP is that they cannot reclaim intellectual spaces through violence. They need to attend Umar Khalid's talk, ask him unsettling question and expose his ideology instead of using violence."
Khan and Majumdar nod in agreement. They would, they say, welcome unsettling questions. "I have a dream for an ideal campus. In my dream campus, ABVP also shares space with us. I want them to prosper but without the use of violence," he says.
(Get detailed and live results of each and every seat in the Lok Sabha elections and state Assembly elections in Andhra Pradesh, Odisha, Arunachal Pradesh and Sikkim to know which candidate/party is leading or trailing and to know who has won and who has lost and by what margin. Our one-of-its-kind Election Analytics Centre lets you don a psephologist's hat and turn into an election expert. Know interesting facts and trivia about the elections and see our informative graphics. Elections = News18)
| Edited by: Ashish Yechury
Read full article
Countdown To
Elections Results
To Assembly Elections 2018 Results