Northeast's First Woman Sailor Took 254 Days, Crossed 3 Capes to Circumnavigate the Globe
Manipur CM congratulates Lt Vijaya Devi for making Northeast proud, welcomes home Team INSV Tarini.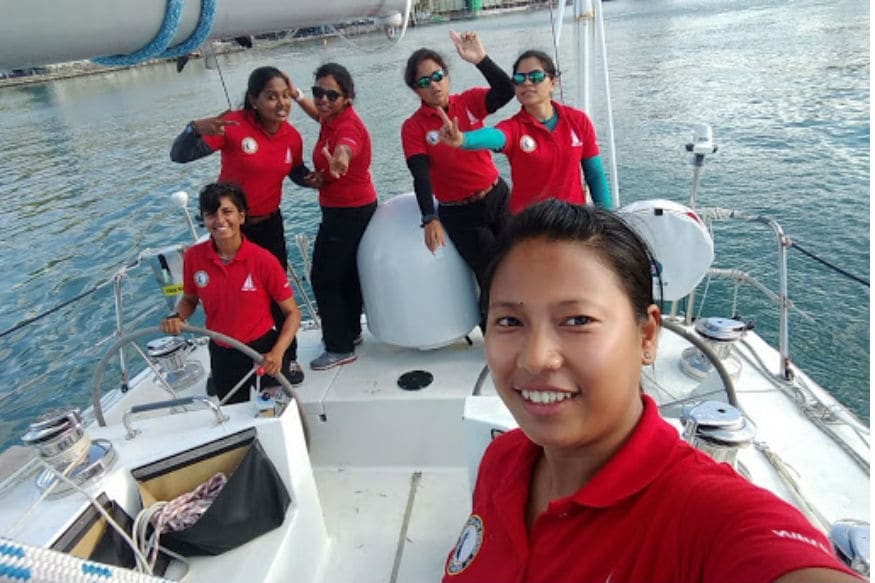 Lieutenant Shougrakpam Vijaya Devi and five other naval officers aboard INVS Tarini.
Guwahati: Clear blue skies in Goa welcomed the all-women crew of INSV Tarini on Monday after successful completion of their epic voyage at sea. Among the six brilliant naval officers is Northeast's first woman sailor from Manipur – Lieutenant Shougrakpam Vijaya Devi.
Manipur Chief Minister Nongthombam Biren Singh extended his greetings to the crew members of INSV Tarini, and especially congratulated Lt Vijaya on her performance.
"I wish to congratulate the entire team, and particularly Lt Vijaya on representing Manipur. I am so proud of her. Northeast is full of talent. Not only in sports, or art and culture, but we are excelling in every sphere. I believe Vijaya will now motivate many others from Northeast to join Navy," said N Biren.
The expedition 'Navika Sagar Parikrama' has been the first-ever attempt by an all-woman crew to circumnavigate the globe, covering more than 22,000 nautical miles. For 254 days starting September 10 last year, the team sailed across three 'Great Capes' of the continents in the Southern Ocean - Africa's Cape of Good Hope, Australia's Cape Leeuwin, and South America's Cape Horn. They crossed the Equator twice, drifting in the van-de-stadt designed Tonga 56 boat captained by Lieutenant Commander Vartika Joshi, with her crew comprising Lieutenant Commanders Pratibha Jamwal and P Swathi, and Lieutenants S Vijaya Devi, B Aishwarya and Payal Gupta.
The Journey to Indian Navy
From the dewy valleys and green hills of Manipur to the rough seas and distant lands - the journey wasn't quite easy for Lt Vijaya. She reveals that joining Indian Navy was a dream come true conditioned by destiny, hard work, and a subconscious desire to wear the white uniform.
"In the Northeast, the Army is more popular. We hardly see any naval officers in the region. Until I joined Indian Navy, my only exposure to bits of it was on television. I used to watch Doordarshan serials like Aarohan, Udaan and Sea Hawks. I never thought I would ever get to see the ocean," says Lt Vijaya.
Looking back at the voyage, Vijaya feels overwhelmed. Her family could not join her in Goa, but is eagerly waiting to welcome her in Manipur.
"I have mixed feelings upon reaching home. No doubt, I am excited and happy at the thought of seeing my family and loved ones, but at the same time, I am a bit sad that our voyage has come to an end. I will be missing those moments at sea, and will forever cherish these memories," says Lt Vijaya.
Vijaya was born into a family of five at Tera Khongshangbi Santhong Sabal in Bishnupur district of Manipur, 52km from Imphal. Her father, Sh Kunjakeshore Singh, had served in Manipur Rifles and her mother, Sh Binasakhi Devi, had been a school teacher before they shifted to Imphal for their children's education. Being the only daughter, her parents were initially reluctant to send her for further studies. After graduating from Dhanamanjuri College of Arts in Manipur, she pursued her Masters in English from Delhi University. She subsequently graduated with a BEd degree before being commissioned into the Indian Navy in December, 2012.
"She was like a tomboy, being brought up around four brothers, but a very bright student. We are proud of her," says her mother while flipping through an old family album.
Even as her parents had many a nervous moment hearing about cyclones and rough weather, Vijaya would regularly make video calls, send pictures and videos of her voyage from mid-sea to soothe their worries.
Aboard INSV Tarini
Lt Vijaya, 28, who has sailed for more than 30,000 nautical miles, recalls that it was her birthday celebration (December 21) on board Tarini in the middle of the Pacific that she would fondly remember from this incredible voyage.
She also recalled the experience of giant waves surging up right in front of her.
"We watched enormous waves break over the top of the boat and sweep across the deck. A blast of saltwater soaked me completely on one such occasion. I ducked as it fell on the ground. The water gushed inside our living space, soaking all our clothes in sea water. It was such a mess."
The six naval officers fought bravely – tearing through rough waves and powerful gusts of wind, they have conquered unexplored lands.
"Another day, on January 8, we were hit by a storm – it was scary to see very high waves, around 9-10 metres surging the boat at a wind speed of 60 knots. Though we were prepared for the storm, it was quite challenging for us.
Mountainous waves were surging from behind, pushing us forward. Luckily for us, we were sailing downwind. We took turns in steering the boat, three of us were doing the watch at a time while the other three rested. It was so cold that it was difficult to stand outside for more than an hour. The storm lasted for 15 hours," remarks Vijaya.
The task looked even more daunting for the fact that the vessel had to be manually
manoeuvred while on the move. The job of steering the wheel, sometimes for long hours, or adjusting a 100 kilo sail according to the direction of wind while constantly battling fatigue was a test of strength and endurance.
Built by Aquarius Shipyard at Goa, INSV Tarini was inducted into the Indian Navy on Feb 18, 2017. She runs solely on wind power, and is capable of enduring long durations at sea. All of 17.10 mtr in length and 5mtr breadth, the boat's basic and uncluttered design caters for a good amount of food and water storage. Tarini also has an onboard reverse osmosis plant that is capable of generating 30 litres of water per hour, an electronic chart plotter with GPS and Weather Radar, two smart pilot self-steering systems, wind indicators for directions and speed, satellite communication for internet usage, a diesel generator and an engine.
"Tarini will always be our second home. We divided our day into three watches - at all times, two officers had to be on watch, observing the change in weather conditions. One watch lasted for four hours followed by an eight-hours break when we would rest and carry out maintenance or repair work," explains Lt Vijaya, whose seamanship expertise was put to good use on the upper deck of the boat.
Vijaya appealed to the youth of Northeast to come forward and join the Navy.
"Being in a team of an all women crew to circumnavigate the globe is itself a wonderful feeling. It's my love for adventure which has got me here today, and I believe everyone is capable of doing it. Just that I did it - doesn't make much difference."
Retired naval officer Captain Dilip Dhonde, who undertook India's first solo around-the-world expedition in 2009-10 on board INSV Mhadei, mentored the crew before they set sail. The first Indian non-stop solo circumnavigation was undertaken by Commander Abhilash Tomy in 2012-13.
INSV Tarini's first port halt was at Fremantle, Australia, in October and the second at Lyttelton, New Zealand, in November last year. The vessel left Port Stanley on 4 February 2018 for onwards journey to Cape Town, South Africa. While returning from Cape Town, the team had a problem with their steering gear off Mauritius, for which they had to make an emergency stop and do the repairs. In the last leg of the journey, they set sail for Goa from Cape of Good Hope on March 15.
Vijaya read and knitted during her free time at sea, and also learned the Harmonica. "I now feel I have something to share with the world. At least, a story to tell our future generations," she says.
The officers will meet Prime Minister Narendra Modi on May 23.
Get the best of News18 delivered to your inbox - subscribe to News18 Daybreak. Follow News18.com on Twitter, Instagram, Facebook, TikTok and on YouTube, and stay in the know with what's happening in the world around you – in real time.
Subscribe to Moneycontrol Pro and gain access to curated markets data, trading recommendations, equity analysis, investment ideas, insights from market gurus and much more. Get Moneycontrol PRO for 1 year at price of 3 months. Use code FREEDOM.
| Edited by: Ashutosh Tripathi
Read full article