How a Football Match Brought Warmth in Kashmir Amid Untimely Snow
Real Kashmir Football Club made a stunning entry in the game after defeating Minerva Punjab FC in their own den a few days ago.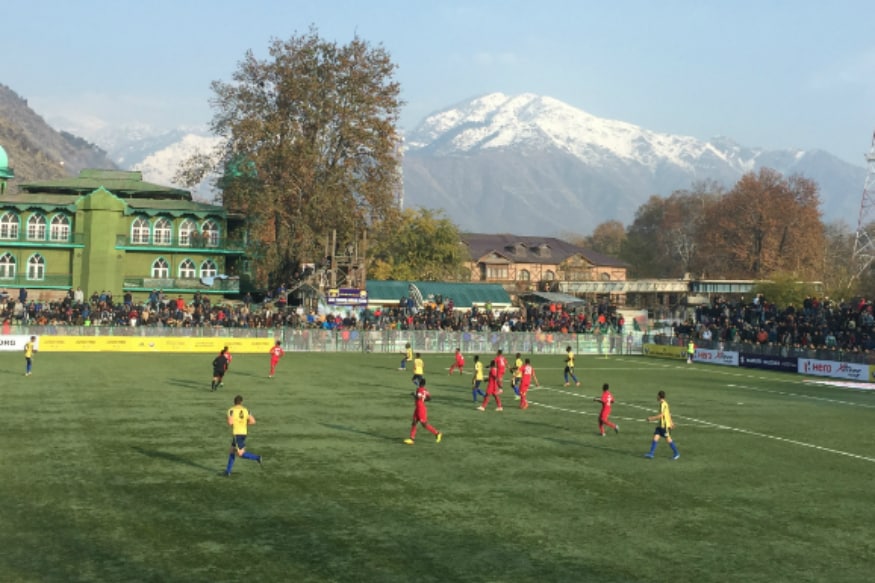 Surrounded by the mighty Chinar trees, the stadium turned fervent with each passing moment.
Three days after the first snow of the season, which disrupted power supplies and damaged tonnes of apples, warmth returned to Kashmir in form of a football match.
At the astroturf TRC ground, the only of its kind in the valley, a kilometer away from Dal Lake, thousands of people walked past a multi-layered security check to witness a football match. Many had come to witness this cultural event for the first time in their lives. And to rally behind their club - Real Kashmir.
In a few minutes a professional football club - Churchill brothers - that many of them had only heard of till then, was about to take on the recently found local Kashmiri football team in a league match of the Indian Super League or the I League, one of the top football leagues in the country.
Real Kashmir had announced its entry into professional football just a few days ago, surprising everyone by defeating the current champions, the Minerva Punjab, in their home ground.
Naturally Real Kashmir supporters had very good reasons to show their support. In a place marred by decacdes of bloody conflict, something very unexpected had begun taking shape.
Of course football enthusiasts knew that Real Kashmir was founded shortly after the devastating floods in 2014, and that it had begun playing professionally in September 2016 and marked a new beginning in July 2017 when it played 4 matches in Scotland, becoming the first club from the state to play on foreign soil.
Cheering and clapping for his friends, Mohammad Amin Wadoo turned emotional as the game started. Now in his early seventies, Wadoo is a football enthusiast from downtown, who has played the game for nearly two decades.
"I used to play in 60's. Those days the only thing I did was to play football," recalls Wadoo. Due to the lack of training and opportunity, he couldn't find future in the game and began working in his family business to earn the livelihood.
The sitting area in which he was watching the match had been named after famous footballer of his times, Late Farooq Khan. A large signboard over the stands bore his name. Two other stands had been named after other top footballers of those times — Mohmmad Yousuf Dar and Majeed Kakroo. Kakroo had once headed the national football team.
Much before the enthusism for cricket, Wadoo says, football was the most loved game in Kashmir.
"I think it was after the 1975 world cup that cricket became started gaining popularity in Kashmir," he says.
Wadoo was so passionate about the game that he wanted his son to become a football player.
"I supported him and wished him to play at international level. But when the situation turned restive in Kashmir my son took to business and has stuck to it since," says Wadoo.
But Tuesday's match was a treat to people like Wadoo who had seen their dreams shatter before their eyes when armed insurgency broke out in the valley.
"I see myself in these boys. I was delighted to know three of the players playing this time are from Kashmir," he told News18.
The team consists of the local Kashmiri players besides players from some other parts of the country. Some international footballers are also members of this team. All of them were being egged, as the game started, by the supporters loudly cheering and holding placards to show their support. Cheering for his team from the stands also was the former Chief Minister of the state, Omar Abdullah.
The match was being telecast live and people sitting in their homes across the valley had their eyes glued to their TV sets. There were aggressive attempts by both sides to score a goal. Crowd was baying for a goal, standing at the edge of their seats as Real Kashmir footballers came close to the nets of Churchill brothers, and subsiding back into their seats each time such attempts failed.
Another enthusiastic football lover in the audience was Ishfaq Ahmad, a Kashmiri footballer who is currently the assistant coach for the Jamshedpur in the Indian Super League. He had come to the stadium straight from the airport.
"I am excited. We must appreciate them," Ishfaq told News18. "We will have to support these events in future as well," hopeful and optimistic about the revival of the professional football, Ishfaq added.
Real Kashmir Football Club is coached by David Alexander Robertson, a former football prayer of Scotland. He said that he was trying to get local players out to focus on the game and forget everything else. Eventually, the match concluded in a draw.
"The crowed was chanting players' names. It was very special," he said. "It is great that Kashmiri people have pulled themselves together to watch us and Churchill brothers play."
Real Kashmir striker Danish, a local Kashmir, was awarded man of the match title. Excited and proud, he said that the game on Tuesday was as a "historical" moment.
"It is a proud and a historical moment to play amid such a huge crowed," said Danish whose the first coach in the game was his father who was also a football player.
"I have faced many challenges. My father was a football player and I am continuing father's mission," Danish said in post-match press conference.
In the previous match he had felt a bit anxious, Danish said.
"We were very much excited. It is a great opportunity for us. Now we have to continue working hard. I assure you we will do our best," said Danish. He added that he couldn't believe that he would play on a professional level, in Kashmir one day, "It is a dream come true".
He feels it is a proud moment that people watched their match in huge numbers, something he had not expected. "More young people are coming out to support and play football. They realize it has a good future," he said.
Talking about the game, Churchill Brothers Romanian coach Petre Gigiu said, "We tried to build an attack. It is very difficult to resist. For us, it was good today. Had it been snow or had there been some water on the ground, it would have been difficult."
Gigiu said that his team didn't venture around much in the city because of the snowfall.
| Edited by: Sana Fazili
Read full article