Not All Crackers Cause Pollution, People Might Object to Diyas Next: RSS
RSS general secretary Suresh Bhaiyyaji Joshi has called for a 'balanced view' on the issue of firecrackers.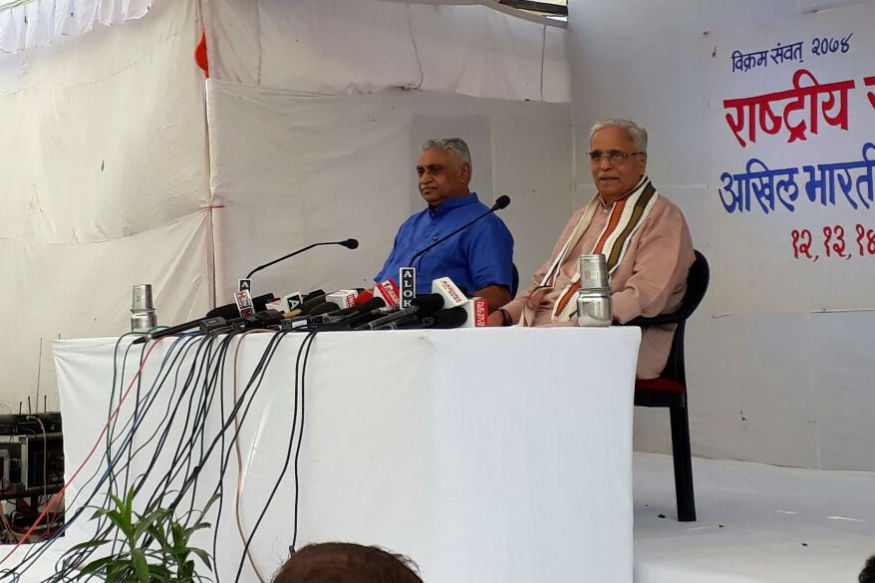 RSS general secretary Suresh Bhaiyyaji Joshi (right) at the meeting of Akhil Bharatiya Karyakarini Mandal in Bhopal.
New Delhi: A day after Supreme Court judges said they were pained to hear that some people were trying to give communal colour to the order banning sale of firecrackers in National Capital Region, Rashtriya Swayamsevak Sangh has called for a 'balanced view' on the issue.
"Not all firecrackers cause pollution… tomorrow someone might object to lighting diyas on Diwali," RSS general secretary Suresh Bhaiyyaji Joshi told reporters at the end of three-day meeting of Akhil Bharatiya Karyakarini Mandal in Bhopal.
When asked about the issue of Rohingya refugees, where Supreme Court has said that a balance between national security and human rights should be there, Joshi said, India will have to see why Rohingya were being driven out of Myanmar.
Raising questions on Rohingya refugees settling in Jammu and Hyderabad, he said, "It sometimes appears a part of conspiracy… background of those who have come and those who are supporting them should be checked… ultimately the refugees will have to go back."
Referring to international norms, Joshi said that normally asylum seekers are settled near international borders and are returned in time-bound manner.
When asked about allegations of government interference in government functioning, he said that there are people in the BJP who share ideological similarities but this can't be dubbed as meddling in government's affairs.
On caste-based reservation, he reiterated Sangh's old stance, saying that it's up to those who avail benefits of reservation to decide how long they require reservation. He said he agrees with Baba Saheb Ambedkar's views that every downtrodden section should be extended benefits of reservation, but the benefits should exist only as long as society needs them.
Joshi said a condolence note was mentioned on Gauri Lankesh, a senior journalist who was shot dead near her house in Bengaluru last month. In 2015, when rationalist MM Kalburgi was killed in a similar manner, RSS had condoled the death.
On preparations for Ram Temple in Ayodhya, Joshi said that such big projects require long-term planning. He said that organisations have been working on it from 1991-92, barring some disruption in between. "It's up to the government to clear hurdles in the way of construction of Ram temple and organisations like Vishwa Hindu Parishad are also of the same view."
Get the best of News18 delivered to your inbox - subscribe to News18 Daybreak. Follow News18.com on Twitter, Instagram, Facebook, Telegram, TikTok and on YouTube, and stay in the know with what's happening in the world around you – in real time.
| Edited by: Nitya Thirumalai
Read full article