Not as Tall as Statue of Unity but Andhra Pradesh Will Have NTR Statue in Amravati
The NT Rama Rao memorial project is expected to cost around Rs 406 crore, most of which would be collected through donations.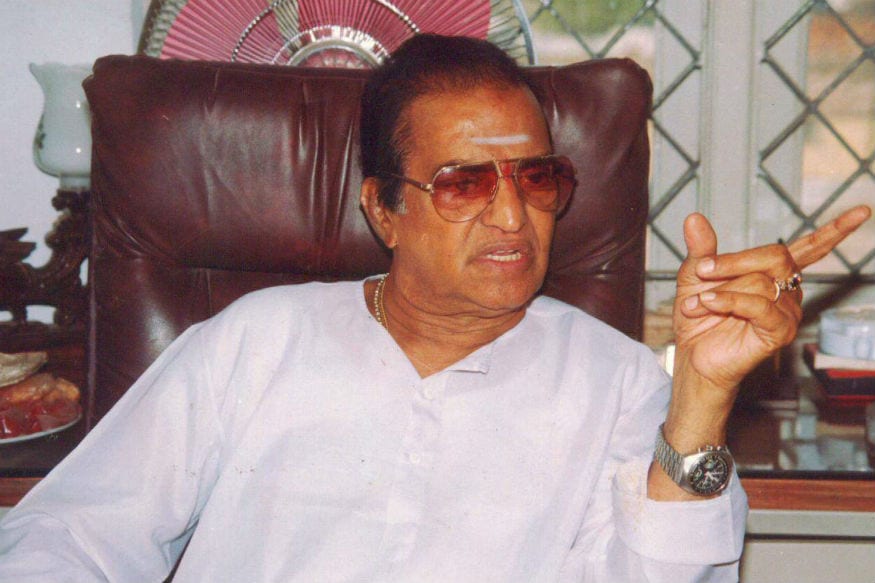 File photo of the late Andhra Pradesh CM NT Rama Rao.
Taking its cue from Gujarat, Andhra Pradesh is set to have a 32-meter tall statue of the legendary actor and politician NT Rama Rao in Amravati city.
The NT Rama Rao memorial project is expected to cost around Rs 406 crore, most of which would be collected through donations.
Though not as tall as the "Statue of Unity" in Ahmedabad, NT Rama Rao's statue in the capital city Amravati is expected to be constructed in similar fashion. There would be lifts inside the statue to take people to the top for an aerial view of the city. A museum, a water front, an amphitheater, auditorium, which are part of the entire project will also be constructed in and around the statue.
Earlier this week, Andhra Pradesh Chief Minister Chandrababu Naidu also conducted a meeting to finalise the structure of the project, according to the chief minister's office.
The statue would cost about Rs 155 crore and the rest of it is the cost of other attractions in the project.
Calling it India's Singapore, CM Naidu has been claiming about making Amaravati the best capital, with planning and infrastructure similar to that of Singapore. The smart city, of 217 square kilometers, is expected to cost about Rs 45,000 crore. Another set of estimates by the Andhra Pradesh Capital Region Development Authority (APCRDA ) peg the expenditure to be over Rs 1 lakh crore.
At a time when there is a monetary crunch and paucity of funds, the proposal of the statue has been criticised by the opposition.
"They criticised Statue of Unity and now they're doing the same. There are a lot of other issues which need focus. Farmers whose lands have been taken still need to get compensation, there is drought in a few areas and a few of the other areas have recently been hit by a cyclone," YSRCP MLA Srikanth Reddy told News18, adding that these issues need attention.
The chief minister advised the development authorities that the NTR project should not just be a key tourism place but also be a key source of revenue.
"NTR has been a pride for the Telugu people. The state government felt that it is time to pay a tribute to him," Dinakar Lanka, TDP spokesperson told News18.
NT Rama Rao was the chief minister of erstwhile Andhra Pradesh for seven years over three terms. NTR was also the founder of the Telugu Desam Party, which is now headed by Naidu.
Read full article