Not Just Constitution and Laws, Religion and Scriptures Also Recognise Privacy, Says SC
Justice S A Bobde, the second senior-most judge on the bench, highlighted how religious and mythological scriptures recognized privacy as a crucial right since time immemorial.
(Image: Network18 Creatives)
New Delhi: It was not only the interpretation of the Indian Constitution and the international laws that prompted the nine-judge bench of the Supreme Court to elevate privacy as a fundamental right, inhering in every aspect of life and liberty.
Justice S A Bobde, the second senior-most judge on the bench, highlighted how religious and mythological scriptures recognized privacy as a crucial right since time immemorial. Striking a distinct chord, the judge referred to Ramayana, Arthashashtra, Hadith and Christianity to assert the value of this right.
"Even in the ancient and religious texts of India, a well-developed sense of privacy is evident. A woman ought not to be seen by a male stranger seems to be a well-established rule in the Ramayana," said Justice Bobde, adding the Arthashastra prohibits entry into another's house without the owner's consent.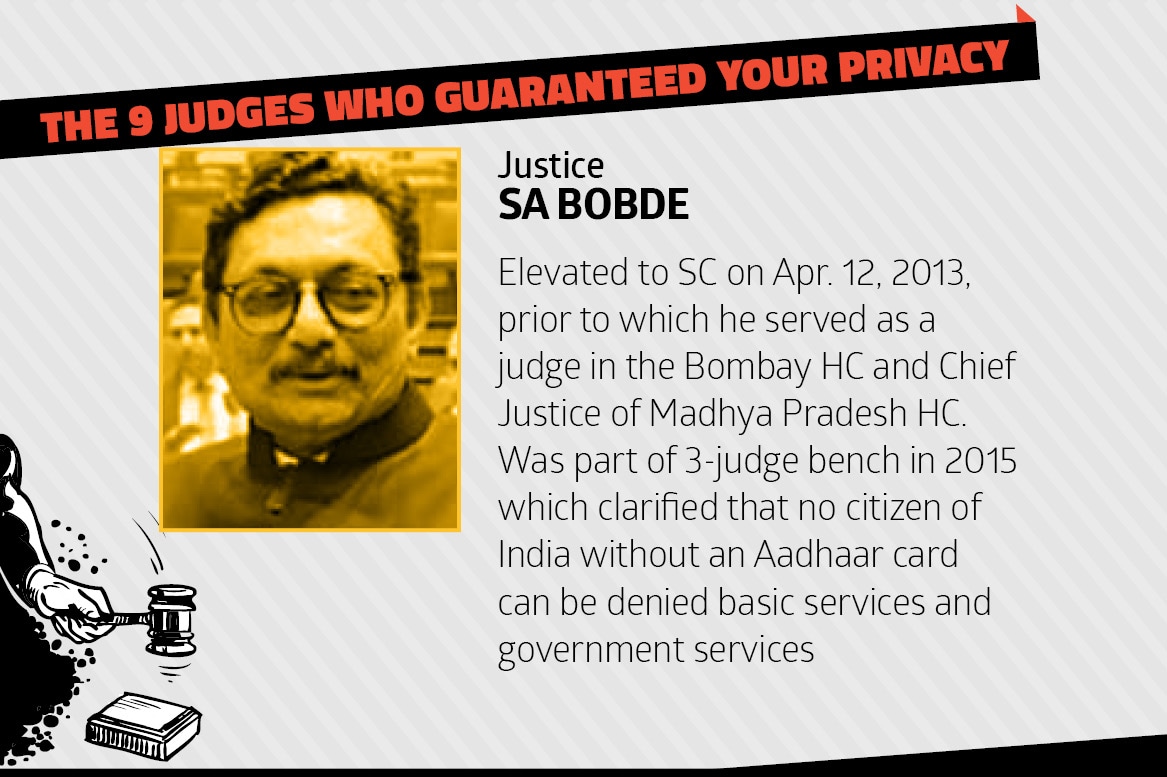 Grihya Sutras, he said, prescribe the manner in which individual should build one's house so as to protect the privacy of its inmates and preserve its sanctity during the performance of religious rites, or when studying the Vedas or taking meals.
Justice Bobde pointed out there is still a community, Ramanuj Sampradaya, in southern India, members of which continue to observe the practice of not eating and drinking in the presence of anyone else.
"Similarly in Islam, peeping into others' houses is strictly prohibited," said the judge. He drew a parallel between the United States Fourth Amendment that guarantees privacy in one's papers and personal effects and the Hadith (discretions of Prophet Muhammad as described by his followers) which makes it reprehensible to read correspondence between others.
In a separately authored judgment, Justice Bobde said: "In Christianity, we find the aspiration to live without interfering in the affairs of others in the text of the Bible. Confession of one's sins is a private act."
The judge emphasized that religious and social customs affirming privacy also find acknowledgment in our laws. "For example, in the Civil Procedure Code's exemption of a pardanashin lady's appearance in Court," he underlined.
According to Justice Bobde, privacy os a basic pre-requisite for exercising the liberty and the freedom to perform a desired activity and that the "inability to create a condition of selective seclusion" will deny an individual the freedom to exercise that particular liberty or freedom necessary to do that activity.
He underscored that privacy is about 'the right to be let alone' and it pre-supposes a condition to have the power to seclude oneself and keep others from intruding it in any way. "These intrusions may be physical or visual, and may take any of several forms including peeping over one's shoulder to eavesdropping directly or through instruments, devices or technological aids," added the judge.
The right and the need to privacy, Justice Bobde said, is not lost even in a public space. "In fact, a conglomeration of individuals in a space to which the rights of admission are reserved – as in a hotel or a cinema hall –must be regarded as private. Nor is the right to privacy lost when a person moves about in public," he said.
Get the best of News18 delivered to your inbox - subscribe to News18 Daybreak. Follow News18.com on Twitter, Instagram, Facebook, Telegram, TikTok and on YouTube, and stay in the know with what's happening in the world around you – in real time.
| Edited by: Puja Menon
Read full article