November Snow in Kashmir, a First in Nine Years, Rains Misery on Apple Growers
It was after nine years that Kashmir received snow in the month of November.The early onset of snow brought great relief to the local tourism but it has been catastrophic for Kashmir's apple industry - the backbone of the state's economy.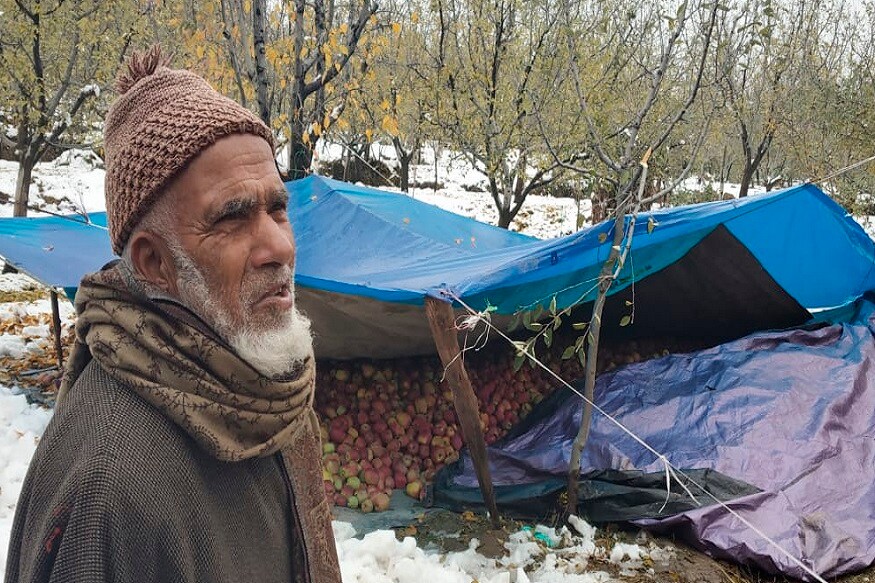 Abdul Gani Mir, a 70-year-old farmer from Pulwama says half the trees in his orchard were damaged. (Photo: Qayoom Khan)
Srinagar: A video of a Kashmiri farmer frantically digging his crop blanketed by snow with his hands while crying helplessly has been doing rounds on social media for the past two days. His plight is like that of the countless farmers in the valley.
On Saturday, the valley was covered by a layer of snow. It was after nine years that Kashmir received snow in the month of November. The early onset of snow has brought great relief to the local tourism industry that has been suffering for the last two years due to the continuing unrest. Early snow means glaciers get replenished faster and the distinctive icy winter of Kashmir can be experienced for longer, by more people.
But early spells of heavy snow have also been catastrophic for Kashmir's apple industry - the backbone of the state's economy. The farmer in the video is seen sobbing frantically while clearing the snow with his bare hands. His harvest was completely lost.
Through the day today, News 18 crew tried to look for the young farmer who reflected sheer helplessness in the face of adverse weather.
"The video is a sad depiction of how apple growers are coping with the Saturday snow fury," Abdul Gani Mir, a 70 year old farmer from Qasbayar village in Pulwama said.
"The apple growers are devastated," he said. Mir took the correspondent around his orchard and showed the freshly plucked apple stock that lie under a huge blue tarpaulin. He said if the fruit is not lifted in few days, the lower layer will decay and it will not be fit for consumption.
He has a bigger worry at hand. Almost half, 40 of the 80 trees in his orchards are damaged. Some have cracks in the middle of the stumps and others have shorn off their branches that are still laden with red apples.
Qasbayar is an apple rich plateau and touches Central Kashmir district of Budgam on left. On its right lies Shopian - an area fabled for producing the tasty delicious variety, also known as king of apples.
Over the years, farmers in Shopian first and later in Pulwama and Kulgam, have converted their vast chunks of paddy lands into apple orchards - partly because it requires less hard-work and party because returns are manifold.
High density apple plantation introduced a few years back have prompted many farmers to replace the traditional orchards with imported better yielding saplings from Holland and Italy.
The apple growers, he says, were not ''unprepared'' but he blames the ''freak'' weather for the loss. ''It generally snows after the harvest period. We had an early snowfall,'' he says.
The damage caused to the trees in the middle of autumn is colossal. He says trees as old as 15 to 25 years have cracked up in the middle or lost their branches. ''It takes lot of care and oils to turn a sapling into a tree. A traditional tree fruits in seven years. It will take another generation to make a good orchard. All is lost,'' he rues.
Around 7 lakh families, comprising around 33 lakh people, are directly or indirectly associated with horticulture. This makes up for about 26 percent of the state's total population and nearly 50 percent of the population of the Kashmir valley where apples are grown.
On an average, the production of apple is 17 lakh metric tons. As per the economic survey of 2017, apples worth Rs 6500 crore were exported. This year, the production of apple was more than normal.
"We had a bumper crop this year. Between 80 to 90 thousand metric tons of additional crop was recorded," Manzoor Ahmad Lone, Secretary of states' horticulture department told News18. However, he said, the quality had been impacted.
At the time of snowfall, Lone said, 11 lakh metric tons of apple was exported from the state already.
"However, five percent of the crop that was still on the trees has been damaged completely," he said. Besides that, five thousand metric tons of crop in different Mandis across Kashmir, has also suffered damage.
"After the snowfall, 5000 trucks laden with apple were stranded on the Srinagar-Jammu. On an average a truck carries 9 metric tons of apples," Lone said.
The government has started damage-assessment, which might take a few more days. However, Kashmir Chamber of Commerce and Industries (KCCI) claimed that the fruit industry has already incurred Rs 500 crore losses due to the early snowfall.
"The damage is huge. Areas of south Kashmir are the worst affected," Secretary of states' horticulture department said. "Roughly 20-25 per cent damage was is in south Kashmir and around 10-15 per cent in north Kashmir," he added.
This is not the only worry. The snowfall has blocked the Srinagar-Jammu national highway for days and apples could not be ferried. Around 5000 fruit trucks are stranded on highway and farmers fear there is every possibility that a good chunk of fruit may even rot if trucks are not cleared quickly.
Fruit growers say the loss has pushed the industry back by years.
"We have suffered huge losses. It is a disaster. Almost 50 percent of the apple trees are damaged," said Mohammad Amin, president of Fruit Association Shopian, the district which is main supplier of apples and has suffered the most damage. Amin has an apple orchard spread on 10 acres of land.
"One feet snow has accumulated on the trees. Half of my apple trees are damaged permanently," he says. Most damage was incurred to the newly raised orchards and high-density trees.
Amin says the apple growers are under huge debt and if they are not compensated for the loss, they won't be able to make it to the next year.
"A number of growers have taken bank loans. For now, loans should be weaved and compensation should be provided. While half of the apple trees have been completely damaged ue to the accumulation of snow, the buds have also been destroyed. It is going to affect the crop of coming years as well," says Mohammad Iqbal Bhat, a fruit grower in Kehribal area of Anantnag.
Most of the apple farmers in Kashmir do not insure their crops. This is because there is hardly any government scheme which gives them a good cover to meet their potential losses.
For now, political leaders in the state, including former Chief Minister Omar Abdullah, have appealed the governor to provide compensation to the farmers who have incurred losses.
"The government should offer succour to the farmers and orchardists as they form the backbone of the state's economy and have always been suffering on account of weather vagaries," Omar said.
The government has assured the compensation will be given to the farmers. On Monday, Jammu and Kashmir Governor Satya Pal Malik said farmers who suffered losses due to recent snowfall would be compensated. He said an assessment is being done and that the farmers would be compensated when they receive the loss report in the coming few days.
| Edited by: Padmaja Venkataraman
Read full article
Countdown To
Elections Results
To Assembly Elections 2018 Results