Bengaluru:
When Bengaluru-based tech entrepreneurs Prashant and Niti decided to tie the knot, they knew they wanted to do something unique that their friends would remember for a long time. So, when the invited guests were scrambling for gifting ideas for the techie couple, the groom and bride chose to make it easier for them and asked for gifts in Bitcoins!
While the couple has themselves invested in the unregulated cryptocurrency, they showed their friends an easy and unique gifting option, much to the latter's relief.
"Most of our friends attending the wedding were people from the technology sector, start-ups, investors and the likes, so we thought why not do something that is innovative, has some technology in it and is also the future, and that's where bitcoin fits perfectly," said Prashant.
The couple realized that this would be a great opportunity to create awareness about the technology behind bitcoin, i.e., Blockchain. Prashant and Niti then partnered with Zebpay, an Indian cryptocurrency exchange platform to make the process easier.
When they sent out their wedding invite, it was nothing like a traditional wedding card. Instead, the card had a QR Code with "powered by Zebpay" printed at the bottom.
It also came with a post script that read, "Help us define a new standard for wedding gifting, we believe gifting hasn't been disrupted and if you are thinking about conveying your best wishes through gifts, why not ride the new age tech wave for this start-up wedding."
The back of the card had further instructions for the guests who were being introduced to the world of cryptocurrency with this invite, on how to own their first bitcoin.
"We had a Coinbase account, which is a San Francisco-based exchange. To make it easier for our guests, we decided to tie up with Zebpay. Now even our parents who live in Patna and Jamshedpur, have come to know about this new age technology and were excited to gift us in bitcoin," Niti said.
"On the day of the wedding, i.e., December 9, at least 95% of the 200 guests in attendance chose to gift us in bitcoin. We just received 10 odd traditional gifts," Prashant boasted.
Meanwhile, the "cryto" theme wasn't just restricted to gifts as the bar at the wedding, too, had a cryto currency-based theme. The different drinks were named after various virtual currencies like Etherium, Ripple, Dash etc. Not just that, the venue also had quirky posters that read "showing our love with a gift that grows" or "I am Satoshi Nakamoto", Satoshi Nakamoto is the unknown inventor of bitcoin.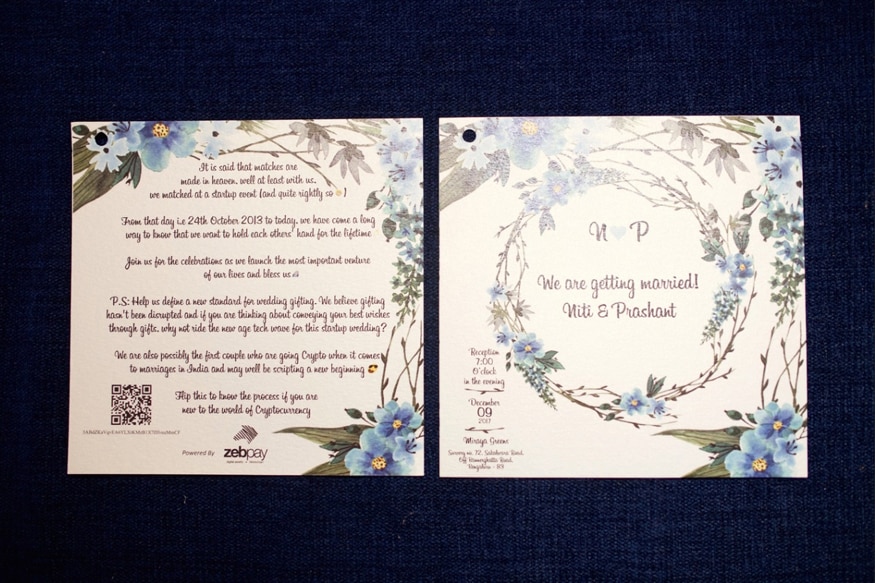 The wedding invite that was sent out by Prashant and Niti with a Zebpay logo on it. (Image: News18)
However, with the Reserve Bank of India raising a red flag against the sudden growth of the virtual currency, this party may not be long lived. But Prashant and Niti have no qualms about that just yet.
"It is not like the government can ban bitcoin over night, they will have to come up with a policy, which will take time. For now, we do not want to miss the bus and regret it later," the couple said.
While people are scrambling to get a piece of the bitcoin pie, this Bengaluru-based couple quiet literally got to cut the cake and ate it too.