Noida:
Nouman Akhtar, Adil Rashid and Ehsaan Alam just need a piece of ground where they can gather as a community, spread their prayer mats and offer Friday congregational prayers in peace.
They had been doing the same every Friday for over five years at a public park in Sector 58, Noida, until district authority and Noida police put a stop to it. "We don't want to fight with anyone; we just want to pray peacefully," Akhtar said.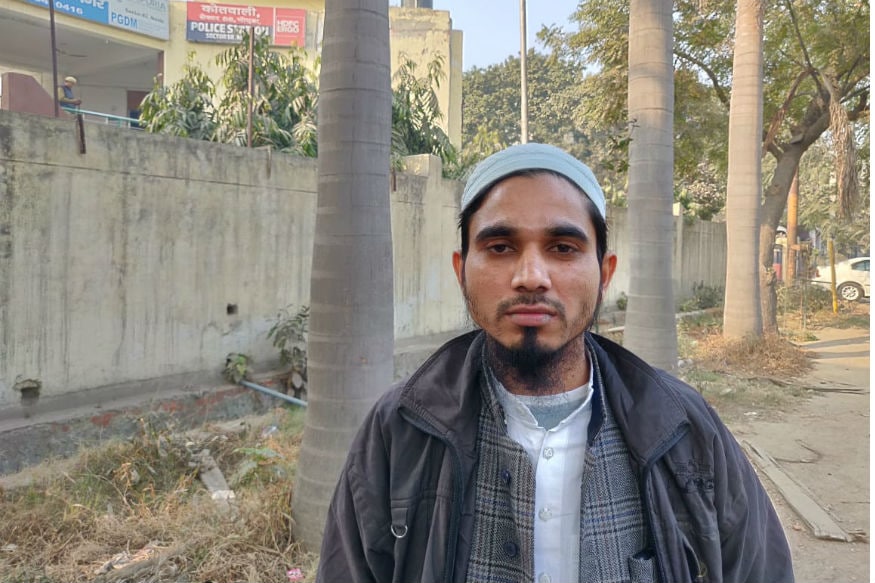 (Nauman Akhtar, the imam who presided over the Namaaz offering)
He is the imam who has presided over Friday prayers at the park in question since February 2013. But after the District Magistrate denied permission to offer namaaz at the park earlier this month and the sector 58 police station subsequently issued a directive prohibiting the practice on Monday, Muslims who live and work in Sectors 57, 58, 59 and 60 are now left without a place to pray.
"There is no mosque in a five-kilometre radius; the park was the only place for us. Now where do we go?" asked Alam. He works at a garment factory in Sector 58 and has been praying at the park for five years.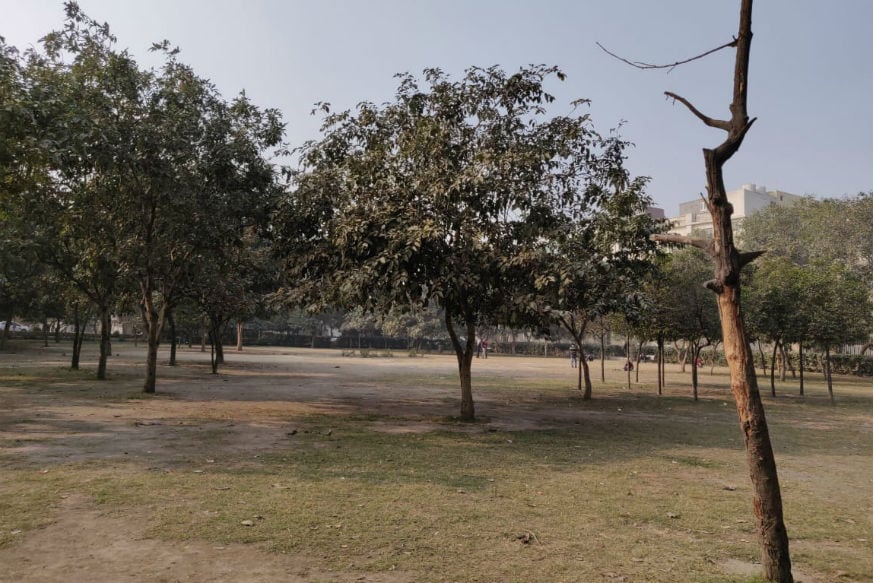 (The Noida Authority park in Sector 58 where Muslims gathered every Friday to pray)
The park is surrounded by tech firms and garment factories. All employees in nearby factories and businesses get a half an hour break at 1 PM every day. Every Friday, Muslim workers, most of whom are employed in garment export businesses in nearby Sectors get an additional 15 minutes to offer Friday prayers.
Sector 58 police station sent a notice to these factories and other firms in Sector 58 and adjoining localities on Monday, advising them to deter their employees from any religious activity at the District Authority park, including Muslim employees praying at the park, or be held liable.
Alam doesn't know where the hundreds of Muslims who peacefully gathered at the park must go now.
"Hamare office mein bhi notice bhej di. Ab hum kya kahin bhi namaaz na padhein ( They even sent a notice to our offices. Can we not pray anywhere now?" asked Alam.
What started as a gathering of a half a dozen Muslims looking for a place to sit together and offer namaaz, the congregation now has over a thousand Muslims who meet every Friday at the park during their break from work. "We are all mostly labourers from different parts of Uttar Pradesh, Bihar and West Bengal. Since this park was the only available open space in the area, it became our place to pray every Friday and the community grew," Alam said.
According to Rashid, the organiser of the prayer group christened as the Mohammadiya Trust, even Muslim policemen from the area came and offered prayers with them.
District Authority and police, however, insist that the group did not have requisite permission to congregate and pray at the public park. The District Magistrate and Senior Superintendent of Police addressed the matter at a press conference at the DM residence in Sector 27 on Tuesday.
"For permission, you must first see whose land is it. The park is a Noida Authority land and the request for permission did not have an NoC from the Noida Authority," DM Brajesh Narayan Singh said.
The Magistrate's office had denied the group permission to pray earlier this month. Singh also sought to downplay the matter which is now under spotlight, with many calling it a case of religious discrimination. "This is a small localised incident related to law and order. We have only taken lawful steps in line with previous Supreme Court judgment," Singh said.
Referring to a 2009 Supreme Court order that had prohibited religious activities without the requisite go-ahead, Singh said the directive was not designed for one community. "This is applicable for all religions. This is not a mala fide directive; this is a bona fide process," Singh said. "If they had permission from police and authority, they would be allowed to continue such activity," he added.
The directive that was drafted by the SHO at Sector 58 police station has also left businesses in a fix, the people from prayer group said. The notice had said if the directive was flouted, the employers of Muslim workers would be held liable. Ajay Pal Sharma, SSP, Noida Police, said the missive to companies was just meant to inform. "The notice to companies is just for information so the people can know that there is no permission at the park (to offer prayers)," Sharma said at the press conference.
DM Singh also sought to clarify that the companies in the area did not have any liability in the matter, and he would hold talks with the firms to allay any fears about the notice. He, however, went on to say that the concerned officer, Sector 58 SHO Pankaj Rai, had taken 'appropriate action'.
Curiously, the District Authority and local police have sprung into action only recently after an unknown man had allegedly threatened Akhtar and others at the park, demanding them to stop praying at the spot.
"We have been praying for over five years and there was no problem up till now," Akhtar, the Imam said.
Trouble started on December 7, a Friday, when a man came up to the prayer group in the park and said they could not pray there any longer. "He started recording our video on the phone and threatened us, saying that if we continued to pray at the park, we would have problems," Alam, who was present at the park at the time, said. According to him and the imam, the person refused to identify himself and only said he was a resident of Bishanpura in Noida.
According to Rashid, the man claimed he had shut down Islamic activities in other areas of Noida as well. "He said he had stopped namaaz in Sector 16 and he had gotten the loudspeakers taken down from Medina Masjid in Khoda colony as well. He made a video of us and said he would make it viral. He was trying to show us in a bad light," Rashid said.
Bhan Singh Dami, a security guard at Techcraft, an IT services firm across the road from the park, said the man who objected to Muslims praying at place was from the Bajrang Dal. "He told me he was from the Bajrang Dal. But he didn't give out his name," Dami said.
After the alleged incident, Rashid and Akhtar, wrote to the DM office and Noida police seeking permission to pray and for security.
On December 14, when they came to the park to pray, they saw police waiting for them. "We thought they had come to provide us protection, but instead they told us to stop praying," Alam said.
Police allowed them to pray that day, but said they were not allowed to gather at the park for namaaz henceforth. Akhtar and Rashid were also detained by Sector 58 police personnel after they were called for a discussion at the station on 18 December.
A disagreement between authorities and Rashid led to their arrest under Section 151 of the Indian Penal Code for continuing an assembly of five or more persons after it has been commanded to disperse. They were later granted bail on December 22.
Sector 58 police and the Magistrate's office said they had received complaints about the Friday prayers from the area. The District Magistrate also said there was a law and order aspect to the issue as well as the spot was a public park meant for public purposes. "People want to use the park as a park," Singh said.
Rai, SHO of Sector 58 police station, said that in addition to workers from nearby companies, Muslims from other areas were coming to pray at the park as well. "There were complaints from the area. If there was no complaint why would we go and check?" Rai said. "The directive is for all religions. But since Namaaz was going on, we mentioned it in the notice. If a Hindu group was gathering there, we would stop them too," Rai added.
Rashid, however, believes it to be a case of discrimination and said there were communal forces behind the move to stop them from praying. "This started when that man came and threatened us. He had a big teeka on his forehead. With no place to go for prayer, Rashid said he will prepare a new application for the Magistrate's office, requesting a space to offer prayers.
The DM agreed that the absence of a mosque in the area poses an issue for the community, but called it a separate problem that needed a separate solution. "Everyone is free to practise their religion. If a new application comes it will be considered," he said.