INDIA
Olympics review: A disgraceful show by hockey
"Our hockey is dead." When you have Leslie Claudius saying it, its got to be serious.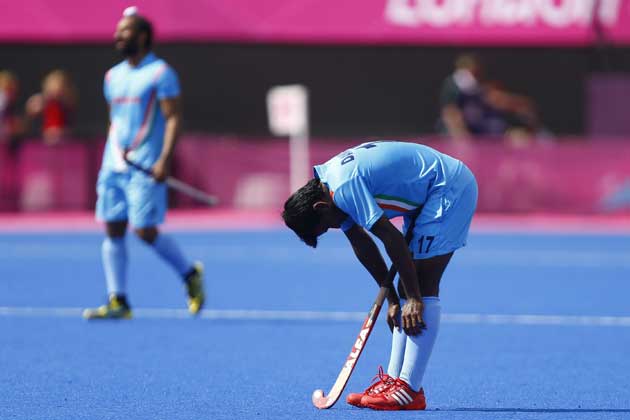 "Our hockey is dead." When you have Leslie Claudius saying it, its got to be serious.
"Our hockey is dead." When you have Leslie Claudius saying it, its got to be serious.
Leslie was there during the Indian team's Olympics send-off ceremony. With his arm around Bharat Chetri, who helped Leslie off the dais, the legend asked for a promise from the Indian skipper: a medal around his neck when the team returns from London.
But that was then. There was hope - hope to end hockey's 32-year medal draught in London, where hockey gold in 1948 scripted independent India's first sporting success. But nobody knew that 1986 will repeat itself, not 1948.
It would have scared the demons out of an Indian hockey fan if he were told India would finish last in London, like they did at the 1986 World Cup in the British capital. But after six matches, six defeats, zero points and three goals conceded in every match, that's exactly what unfolded. A 12th-place finish at London 2012 is the harsh reality that Indian hockey stares at today.
This Indian team isn't this bad. It certainly wasn't the case in the Olympic qualifiers in February, at the Sultan Azlan Shah Cup or on tours of France and Spain. And quite surely wasn't the case in the first match in London against the Netherlands, where they came from behind to level the game at 2-2 before losing it 2-3 in the dying minutes.
That gave hope, that even if the team didn't enter the semis, it surely will be difficult to keep them out of top eight in the 12-team competition. But the hope never swelled into conviction; instead it dwindled into oblivion.
The team - with 14 of its 16 members making their Olympics debut - seemed upstaged and overawed by the magnitude of the occasion. If anything, the players' inexperience and mental fragility surfaced on the blue pitch. India appeared a distant second-best even against the likes of Belgium, who mercilessly drove in the final nail into India's coffin in Pool B to ensure that the eight-time gold medalists ended last, pointless and with no room left to claw back.
It was quite evident that most teams blocked India's right wing - the team's strength of late. With moves cut in half on the right and the left wing buckling under the pressure to deliver, India's famed striking trio of Tushar Khandker, Shivender Singh and SV Sunil drew a blank.
Even the elementary skills of trapping the ball went scrappy, resulting in missed chances and schoolboy finishing. Michael Nobbs surely would have had his head in his hands after every much with nothing coming off. The Australian flayed the team, saying players "want to secure their future by just becoming Olympians."
And a toothless defence broke India's back.
Sandeep Singh was regularly and easily dodged, proving that his defensive skills have failed to improve. VR Raghunath seemed a bull who just wants to ram his opponents down instead of tackling with his stick. The saving grace was veteran Ignace Tirkey, but forced out of his regular position at the half-line and with incompetent co-defenders at the back, he was handicapped.
To add to Nobbs' headache, Sandeep the ace drag-flicker became India's version of 'Lost in Translation.' Forget about beating the goalkeeper, there were at least two instances where he mis-flicked. When your forwards are not scoring and penalty corners are being wasted, the only way you go is down.
Sardar Singh was Nobbs' only go-to man in London. But it's easy for the rivals to mark your key man when the other 10 are not taking care of themselves. Everytime Sardar was allowed some space, he was at his best, though Indian forwards still couldn't make it count. The rest of the times he was marked tightly, which made India even more penetrable.
But is this India's worst showing at the Olympics - worse than missing the Games in 2008? No, certainly not. As one of the tweets on this question read: "You got to be in it to win it". Not that this 12th-place finish isn't disgraceful, but missing qualification is a dead end. At least we could gauge in London where the team stands, even if it's last in the queue.
The question is where from here.
There are quite a few check boxes that Nobbs and Hockey India need to tick; namely, kick out non-performers, hire a full-time sports psychologist and schedule foreign tours against the top hockey nations to give young players more exposure. Nobbs has time and again reiterated that playing more often against the top teams will help the most. It's time to implement that.
India have two years before they participate in the Asian Games, Commonwealth Games and the World Cup. That should be the target. The team's self-belief, fitness and confidence will improve only by playing against stronger teams. On the fitness front, physio David John has done a great job, but it's an ongoing process. The team is much fitter but it's got to be the fittest. The team can also no longer ignore the need of a sports psychologist, with mental toughness as important as physical fitness these days.
But having said that, nothing will come to fruition if the game's administration doesn't get its house in order. Reality requires no witness. And if this disgrace in London doesn't jolt Indian hockey, nothing ever will.
Support the daily wage earners who have been hit the hardest by the COVID-19 crisis. Click here to contribute to the cause. #IndiaGives
The daily News18 Coronavirus COVID-19 newsletter - Get your copy here.
Subscribe to News18 Daybreak. Follow us on Twitter, Instagram, Facebook, Telegram, TikTok and on YouTube
Read full article