On the Road with Oorali: Helping Kids Deal with Trauma, One Song, Story At a Time
The four men form the band, Oorali. They have been going from camp to camp, school to school, engaging with young children mostly via their music, which they call the Oorali Experience.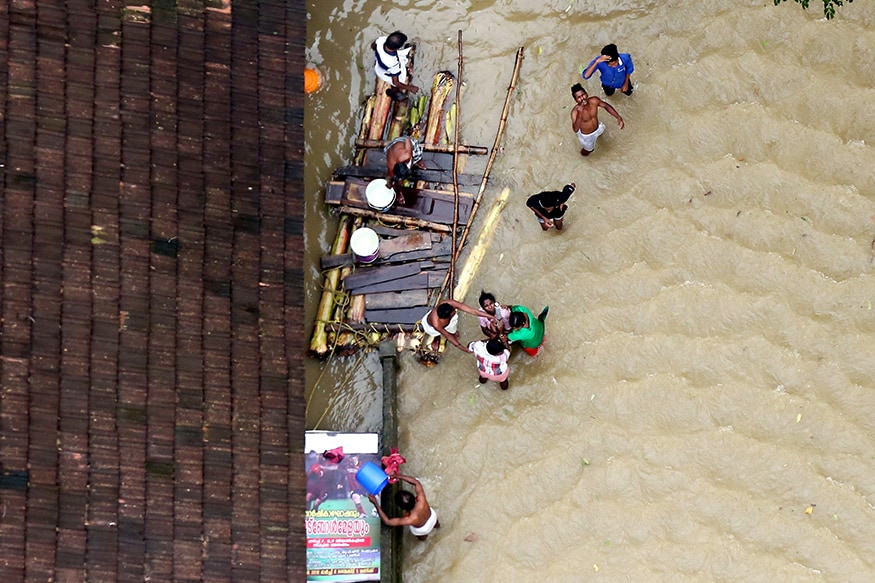 Aerial photos of Kerala floods. (Reuters)
Pathanamthitta: Martin and Saji took a long hard look at the building in front of them. It was around 7pm on a Friday evening at an auditorium in Pathanamthitta. The men were waiting for the power supplies to be restored. "Let's just light some candles and start," Saji said.
Martin smiled and within half an hour, children from the area were lighting candles inside the auditorium. Saji, Martin, along with JJ and Sudheesh, set the stage for what was going to be their 10th interaction with survivors of the floods that ravaged Kerala.
Without waiting for their speakers to be powered up or for their bass guitar to be armed with its amplifier, as soon as the candles lit up the auditorium, Martin took the mike and started performing.
The four men form the band, Oorali, an offshoot of the Sadhana Centre for Creative Practice. They have been on the road for almost a month, going from camp to camp, school to school, engaging with young children mostly via their music, which they call the Oorali Experience.
The group doesn't prefer being called a band. Oorali is a character which has origins in Padayani, a person who goes about talking about the wrongs in the society. The character is the very foundation of the band. The Experience, as they call it, involves music, art and theatre. They improvise based on what their audience is. Every song that Martin sings is accompanied by a short story and a lesson for the audience. The lessons range from social issues, environmental problems to wildlife protection.
Inside the auditorium, Martin started with lessons on environmental conservation, relating it to the floods that ravaged the state. "Use everything judiciously," he said. He moved on to unity and togetherness, irrespective of caste, creed and gender. "We always call God when we are in trouble. And those who come to help us are Godsend, always remember, including the fishermen who came to our rescue" he went on.
Children listened to him, awestruck. Further, the group let the children become part of the music. The children were given a few instruments and were encouraged to use them as per their liking, while Martin sang. The children felt welcome and happy, which is what the group aimed for.
"We were already helping with volunteering when a friend from NIMHANS told us that we should help children to deal with trauma. Music, she told us, always helped. So, we started going to camps with whatever material we had," said Saji. And it worked.
As they started going from place to place, they caught the administration's eye. Now, there is a set plan in place, a go-to structure for anyone who wants to do what they are doing-help children through art, music and theatre.
The administration has been reaching out to the group, seeking help for children who witnessed the nature's fury. This is a big shift for the group, which earlier raised voice against police brutality. With the current situation in the flood ravaged state, the men have had a safe run with the authorities.
"We want to work with the government and see what it is like. We've never done that and so far, it's been good," Saji added.
The lesson before a song is not all they have in their kitty. A few hours before standing at the blacked-out auditorium, the men were at a school in the same district. Armed with crayons, paper, pencil and eraser, the men walked to almost every student and asked them to draw their hearts out.
"You all know your names right? You can write that too. It's art," Martin said to the children.
The interaction is a good experience for the children, said Darly, one of the teachers present.
"Nobody talks about the trauma they are going through and it is not easy to get them to talk. Such a fun filled experience, with music, art and stories is something they will hold on to as the come to terms with what their own tragedies," she said.
The experience also involves their mode of transportation. Their bus, which has been modified so that a part of it opens up as a stage, is legally allowed to park anywhere in the state and perform. "That keeps us out of the usual logistics of actually having a concert, etc. We are pretty equipped in the bus, so we stay out of the politics of anything. And that's the best part. It increases our reach and we love that," Saji said.
The kids love it too, Martin added. Ask them for how long they intend to do this, the men have no answer. "We have already missed out on a lot of gigs. But we don't regret it. We have run out of our supplies and our friends are helping us with crayons, paper etc. As far as how long we'll continue to do it, I'd say as long as possible and touch as many lives as possible," Saji said.
| Edited by: Sana Fazili
Read full article