'Once a Reputable Job, It's Unsafe Now': How Families of Kashmir Cops Live Between Hate & Fear
The battle between the local police and militants is turning ugly because the families of militants allege that police harass them regularly. Also, the attacks on the policemen are increasing because of the pro-active role of Jammu and Kashmir police in counter-militancy operations.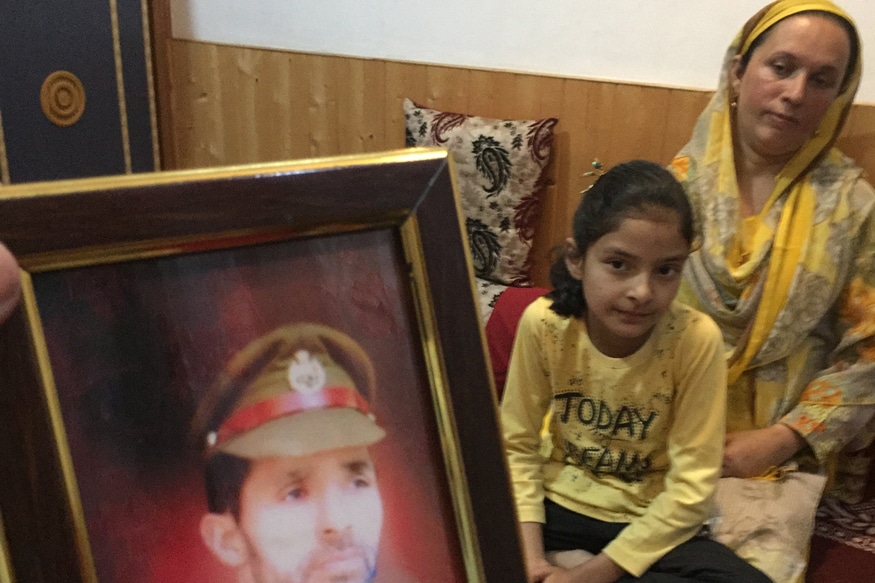 Zohra and her mother Naseema with a picture of her assistant sub-inspector father, who was killed in a militant attack in south Kashmir's Anantnag district last year. (News18)
When a neighbour recently returned from Hajj—an annual Islamic pilgrimage to Mecca—Zohra asked her mother: 'When will papa return?' Eight-year-old is waiting for her father.
Abdul Rasheed Shah, Zohra's father, was an assistant sub-inspector (ASI) of Jammu and Kashmir police. He was killed in a militant attack in south Kashmir's Anantnag district on August 28 last year.
She was in her classroom when her brother suddenly appeared and took her along to her father's wreath-laying ceremony.
Looking at the dead body of her father, as his colleagues saluted the coffin, Zohra was sobbing. Her naive face clinched, she was wiping tears with her hands, colored with henna. In her school uniform, she stood there helpless. Her poignant pictures went viral on social media. People expressed sympathies with her and some announced help.
As Zohra was inconsolable, she was told that her father has gone to Hajj. Her mother, Naseema Akhter, has told her, he is posted there and it is a far-off place. She has been convinced her father will return one day.
Naseema Akhter, 45, was married to Abdul Rasheed Shah at a very young age, over thirty years ago. As the lives of policemen in Kashmir are turning miserable, her journey as a wife of Kashmiri policeman explains the change of the ground.
Rasheed hails from Panzath village of south Kashmir's Qazigund area and was posted in Ganderbal when he developed friendly relations with the family of Naseema, then fifteen. Rasheed's relation with her family, living in Khanyar, in the downtown Srinagar, grew gradually. One day when the family went for a picnic to the majestic Mughal Gardens at Shalimar, on the Banks of Dal lake, Rasheed was also accompanying.
Rasheed fell in love with Naseema and proposed her. She blushed and complained to her father.
"My father was not angry. When we returned home he said Rasheed is working in police and it is a respectable job. He was happy to marry me with him despite the fact that I was young and my elder sister was yet to get married," recalls Naseema.
Naseema says she was happy with the job of her husband. Back then the situation was "very different."
"He was being considered as a government employee and respected by the society," she says.
Beyond that, she has a surprising story to tell.
"When my husband used to be at home, sometimes, militants would appear in the village. Once my husband returned from the mosque and told me that he met Riyaz, his childhood friend who was an active militant," she tells News18.
She says the militants who would appear in the village would be mostly locals and knew he was in the police but they never considered him as an enemy.
While Rasheed was alive his two sons, Irshad and Faisal, also joined police forces as Special Police Officers (SPO).
However, after Rasheed was killed, his younger son Irshad stayed at home. "Since then I didn't join my duty," says Irshad, who is now perusing BA degree through distance mode. After the killing of policemen recently by militants and kidnapping of family members of eleven police personnel, Faisal also announced his resignation in a local mosque after Friday prayers.
Naseema says when militant attacks on policeman increased, she had asked her husband to resign from the services.
"He was thinking to take voluntary retirement after a year," she says, "but was waiting for a promotion to get the higher pension."
Irshad worked as SPO for one and a half years and Faisal for more than two years.
"I was broken after my father was killed. When he was alive, he would tell me to continue my studies and look for other jobs. He was not happy that we are working as SPOs," says Irshad.
However, he says that he is studying and will apply for a higher post.
"Maybe, if I will get selected as a sub-inspector, I will join police again," says Irshad. But Naseema is not with him on this decision.
"I don't want my sons to be in the police. My husband was a good human being. He was killed because of the uniform. I will not allow my sons to wear the (police) uniform," she says.
In Kashmir, local policemen are being targeted by the militants. In this year alone, at least 30 policemen have been killed to this date. Even the militants have barged into the house of the policemen and kidnapped their family members.
The battle between the local police and militants is turning ugly because the families of militants allege that police harass them regularly.
Also, the attacks on the policemen are increasing because of the pro-active role of Jammu and Kashmir police in counter-militancy operations.
In Kashmir, local police have a bad image and it started mostly after the 2008 civilian protests. Later, in 2010 and 2016 unrests, police was accused of killing civilians during protests and being more violent than the central forces.
While working as SPO for over a year, Irshad says, most of the local policemen are good and don't want to harm people.
"Whenever there is highhandedness by police, the lower rank is not responsible. They are directed by their higher-ups and if an SPO will not do the same he will lose his job," Irshad says.
But he believes that the way some of the SPOs have been recruited is the problem. Appointment of uneducated people as SPOs, he says, creates the problem. "They don't know what policing is and when they have to face any situation they commit atrocities," he says.
How Social Relations of Policemen Have Been Affected
At this time families of the policemen are feeling miserable and unsafe. Following the recent attacks, the cops who live in south Kashmir have been directed not to visit their families.
"Our job has affected our social relations badly," said Sameer Ahmad (name changed), a Jammu and Kashmir police constable from a Pulwama village. Sameer is the lone breadwinner of his eight-member family and says leaving the job is not an option for him. "I hardly visit my home these days. I don't know how my relatives are. My work has disconnected me with the social affairs," he says.
Sameer says police will have to change the way of working.
"Our officers can afford to move their families and live safely but we cannot. The hate for us among the people is because of the behaviour of the police," he says.
Asiq Bhat* (45) is another policeman from a south Kashmir who is serving in Special Operations Group (SOG), the counter-militancy wing of Jammu and Kashmir police. He has left his village and is living with his three children and wife in Srinagar.
Fareeda*, his wife, says she doesn't want to live in the city. "I don't feel comfortable living here. The lifestyle in a village is different. We have a house there but here we have to manage in two-room flat," she says.
"It is like as if we have done some crime and are not allowed to visit our home," she says. When they moved to Srinagar they enrolled their kids in a school in City.
"I had to pay huge fees to get them enrolled in school," says Asiq—"Now I am looking sell my house in the village and settle here."
However, Fareeda doesn't want to live in the city and she disagrees with her husband.
"We often quarrel on this thing. My husband wants to live here and I don't want that. It has affected our relation badly," says Fareeda with a sigh—"I wish my husband would have been doing some other job."
(Aakash Hassan is a Kashmir based freelance journalist)
| Edited by: Sumedha Kirti
Read full article
Countdown To
Elections Results
To Assembly Elections 2018 Results