One Killed, Over 250 Injured as MP Villagers Pelt Stones at Each Other in Name of Tradition
The violent tradition goes back 300 years and leads to deaths and injuries almost every year but the administration has filed to ban it.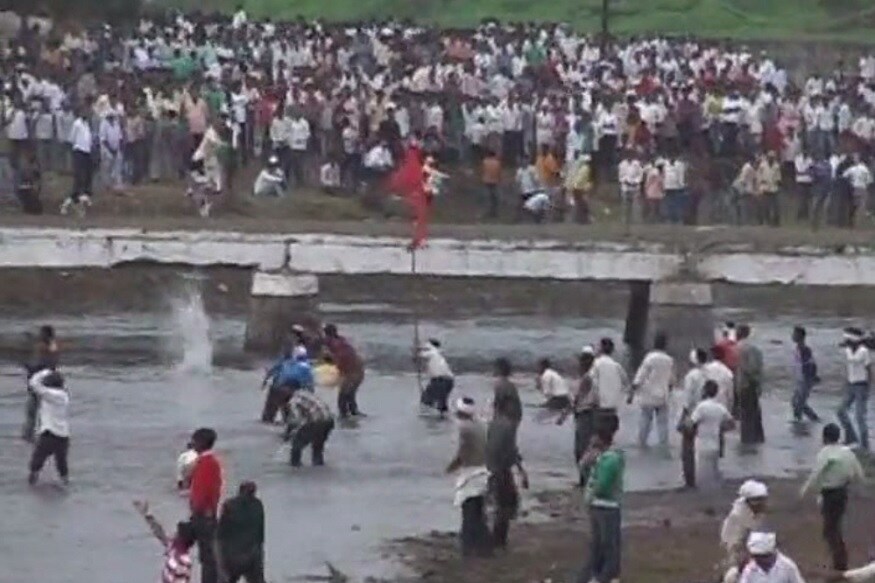 People of Sawargaon and Pandhurna gather on either side of the Jaam river and throw stones at each other. (Photo: News18)
Chhindwara: Villagers in Pandhurna and Sawargaon areas of Madhya Pradesh on Monday leading to the death of at least one person and injuries to over 250 others.
But the chaotic scenes witnessed here were not part of the Bharat Bandh, the people here were taking party in the age-old festival of Gotmaar, which is considered to be one of the bloodiest traditional fairs in the country. The identity of the deceased is yet to be ascertained, police said.
The administration had set up four makeshift clinics at the fair site to attend to those injured in the 'friendly' attacks. A dozen ambulances were also stationed at the 'war field' to ferry those injured seriously to nearby hospitals.
In last few years, 13 people have lost their lives to the festival and hundreds have suffered horrific injuries, including the loss of eyesight, but the administration has failed to ban this lethal event.
In the fair, people of Sawargaon and Pandhurna gather on either side of the Jaam river. A tree, with a flag atop, is put in the midst of the river before the battle gets underway.
Both the sides run towards the tree to remove the flag by pelting stones at each other. And those who grab the flag first are declared winners.
The local legend goes that the ritual started some 300 years ago after a boy of Pandhurna, then a village, went to Swargaon and kidnapped a girl.
When he was returning home wading through the river water, the Sawargaon villagers spotted him and threw stones at him. On seeing their village boy under attack, the people of Pandhurna also hurled stones at the other side.
The boy, along with the girl, reached his home safely. To keep the legend alive, the villagers celebrate the tradition with the violent event every year.
Generally, the administration intervenes in the evening and unanimously the flag is brought down from the tree and is offered at the Chandi Devi temple and the fair culminates with prayers being offered in front of the goddess.
| Edited by: Aakarshuk Sarna
Read full article
Countdown To
Elections Results
To Assembly Elections 2018 Results