One-of-its-kind Drone Racing Competition Held at Bengaluru Tech Summit
The competition featured 30 pilots from India maneuvering their drones weighing about 300 grams.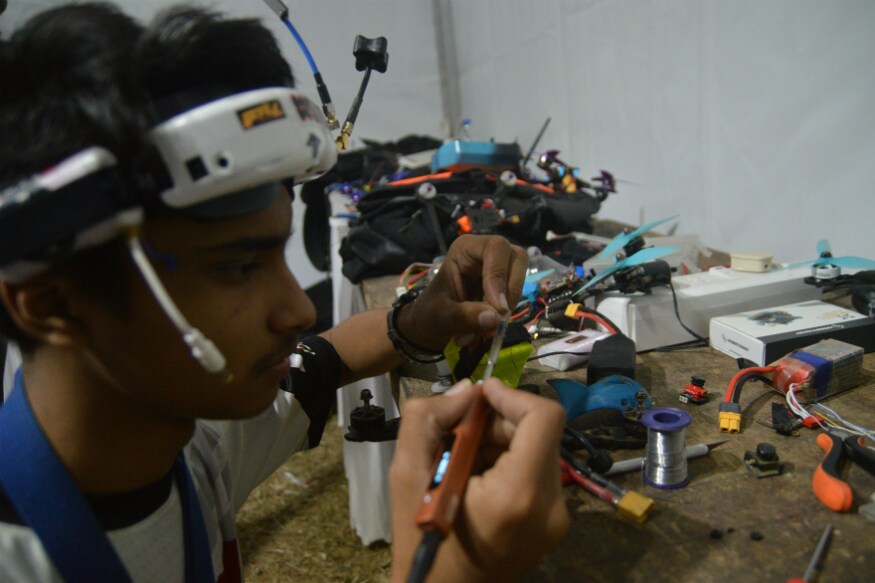 The 3-day Bengaluru Tech Summit held at Palace ground in Bengaluru.
Bengaluru: The big draw of the three-day Bengaluru Tech Summit as it entered its second day was the unique drone racing competition, an event which saw drone pilots from across the country compete for the first time.
The competition featured 30 pilots from India maneuvering their drones weighing about 300 grams.
The event which was held at Bengaluru's Palace Grounds was organised by the Indian Drone Racing League (IDRL) who are a community of 1,200 drone pilot enthusiast.
Although, drone racing is a new phenomenon in India, it is well established abroad. This new gaming entertainment saw 3 pilots at a time, go head to head, trying to complete the obstacle course at the fastest. The pilots were judged over 3 rounds.
Karan Kamdar, founder and president of IDRL said that he wanted to make drone racing a more common and popular event.
"This is the first time we are seeing a night drone race, we are very proud of and thank the Karnataka government for encouraging such innovations at the summit" he said.
The race track is designed in a way to match the layout of the location. "We used google maps to check the distance we wanted to allot for the track, accordingly we plotted different 3D structures and converted them to life and implemented it on this track" Kamdar added.
The price pool for this event was Rs 2 lakh, the first place winner would be awarded Rs 1 lakh, the 2nd and 3rd place winners would get Rs 50,000 and Rs 25,000 respectively. The remaining Rs 25,000 would be used as travel reimbursements for the participants from outside Bengaluru.
The IDRL in the past has organised similar events for college festivals across India, as it was an idea that germinated from IIT Gandhinagar back in August 2016. After being recognized by the government of Karnataka, IDRL hopes it will get the necessary push to become more mainstream.
Get the best of News18 delivered to your inbox - subscribe to News18 Daybreak. Follow News18.com on Twitter, Instagram, Facebook, Telegram, TikTok and on YouTube, and stay in the know with what's happening in the world around you – in real time.
| Edited by: Anu Parthiban
Read full article