Bumper Onion Crop in Poll-bound MP May Prove to be Bane of Shivraj Singh Chouhan Govt
In Madhya Pradesh's Dewas, farmers are selling small onions at a wholesale price of 50 paise/kg or even less and they have no choice but to sell their harvest at this paltry amount.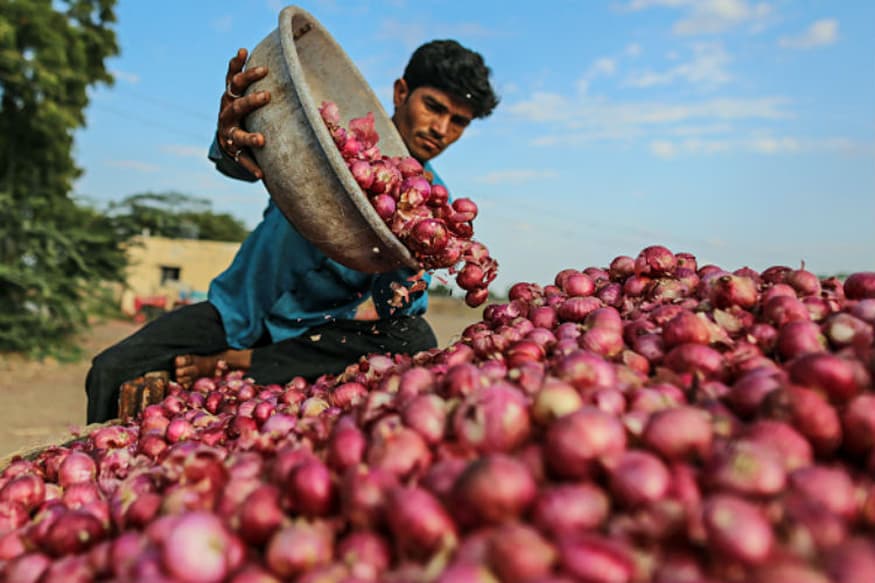 Image for representation.
Bhopal: Onion has played quite the tear-jerker in Indian politics with its power to make and mar governments at both the Centre and states. With its ever-changing price range often deciding the fates of governments, it is bound to have an impact on the upcoming elections in Madhya Pradesh, where wholesale prices have dropped to an appalling 50 paise/kg.
According to the Shivraj government's Bhavantar Bhugtan Yojana, the government has estimated a wholesale selling price for a few crops, for onion it is Rs 8/kg. In case, a farmer fails to get the said amount, the government promises to reimburse the balance amount to the farmer.
Onion hoarding is an age-old trick politicians across parties often resort to, particularly to embarrass the governments in Delhi, Rajasthan, Maharashtra and Madhya Pradesh, most of whom depend on supplies from other states.
Today, the situation is quite the opposite. Like 2016 and 2017, there is a glut this year as well.
In Madhya Pradesh's Dewas, farmers are selling small onions at a wholesale price of 50 paise/kg or even less and they have no choice but to sell their harvest at this paltry amount.
Madhya Pradesh is the second largest producer of onions after Maharashtra. In MP, onion is primarily grown in the Malwa, Nimar Sagar and Damoh regions. The area under cultivation is 111,000 hectare while the yield is 24 tonne a hectare.
The barns, mandis, tractors and even the houses these days are filled with onions because of a surplus production. Onions from here are usually supplied to Delhi and NCR in this season where the crop is being sold at a retail price of Rs 20/kg.
With only a few months left for the Assembly elections, the bulb has caused some serious worries in the ruling party.
In MP, onion is being sold at Re. 0.5-5/kg at the local mandis with retail prices varying between Rs 10 and 15.
Sameer Chaudhary, a wholesale trader and farmer from Neemuch, says, "Depending upon the quality of the produce, it sells at a rate of Re. 0.5 to Rs 5/kg."
After adding up the costs of transportation, weighing, porter and others factors, the farmers are often left with nothing and they end up abandoning their hard-produced crop at the mandis, Chaudhary says.
Umarao Singh Gurjar, a big-time farmer and the PCC member from Neemuch, explains the mad rush to sell onions at the mandis. He says, during summer months, farmers can't store onions and are forced to sell their harvest at any rate they are offered. "On contrary, traders equipped with warehouses and modern storage, hoard it and sell at multiplied rates later."
Gurjar adds that this time again the state has witnessed a bumper onion crop.
"This season, farmers have produced a bumper onion crop which is why onion is selling at Rs 1.5-2/kg at the wholesale market," says Bhanu Wagre from Sendhwa in Barwani. He adds, "I have absolutely no idea what would happen to the onions under the Bhavantar scheme," adding that traders in Bhavantar registered as farmers are making heavy procurements.
Farmers' leaders are blaming CM Shivraj Singh Chouhan's botched-up procurement policy for the crisis.
"Over the last two years, it was complete chaos during the state government's procurement of onions at Rs 6 and Rs 8," Jasvindar Singh, head of MP Kisan Sabha tells News18.
"Mostly, traders took advantage of the scheme thanks to the vicious cycle of purchase, sale and re-purchase," he said, adding that last year, MP recorded 32 lakh tonnes of onion produce while the government-run agencies procured a whopping 80 lakh tonnes.
This time, too, the rate for onion has been fixed at Rs 8 under the Bhavantar Bhugtan Yojana, which means the state government would pay the balance amount of the proposed procurement cost, which is Rs 8/kg.
With Bhavantar Yojana being one of the most criticised schemes of CM Shivraj, farmers can ill-afford to sit back and relax after selling their produce at throwaway prices.
| Edited by: Sanchari Chatterjee
Read full article