GET Stock

Quotes

Rajasthan
Poll in 1 seat deferred
Opinion | Great Expectations: Indo-Israeli Defence Deals
Prime Minister Modi's visit to Israel is expected to witness the signing of a number of defence deals as New Delhi attempts to close the ever increasing military capability gap vis-à-vis China and Pakistan.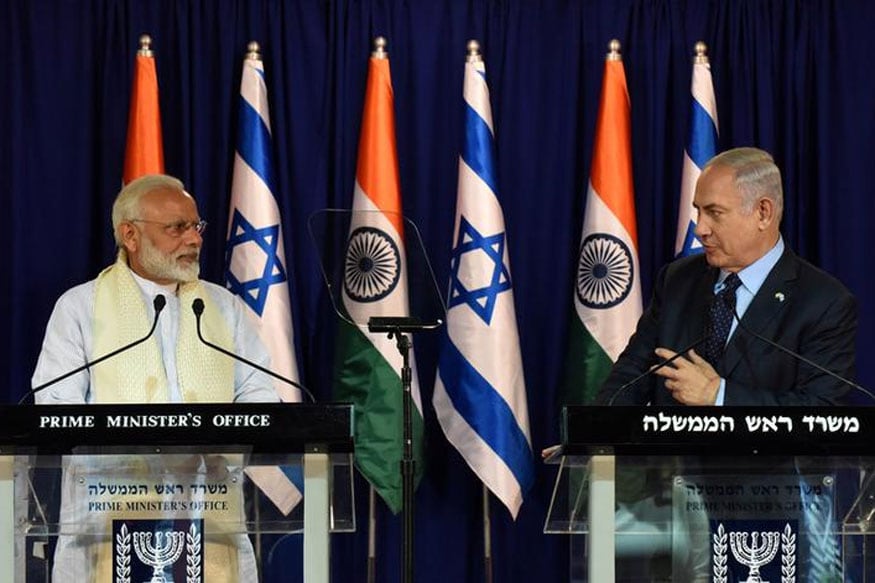 Indian Prime Minister Narendra Modi (L) stands next to his Israeli counterpart Benjamin Netanyahu as they deliver joint statements during their meeting in Jerusalem July 4, 2017. (Photo: Reuters)
Prime Minister Modi's visit to Israel is expected to witness the signing of a number of defence deals as New Delhi attempts to close the ever increasing military capability gap vis-à-vis China and Pakistan. The recent defence deals relating to the joint Indo-Israeli development of the Barak-8 air defence missile systems is reflective of India's efforts towards indigenous modernization and fits in with Modi's "Make in India" initiative. The likely highlight of these deals will likely be India's purchase of armed drones in the form of the Heron TP for their perceived utility by the India media in conducting "surgical strikes".
Some of the likely deals that could be signed during the Prime Minister's visit also includes the purchase of 8,000 Spike anti-tank missiles, worth about $500 million for the Army and two Phalcon early warning, command and control systems for about a $1 billion for the Indian Air Force. The acquisition of these weapons systems hold the potential to address significant capability gabs in the Indian military.
India has been importing from Israel various weapons systems, missiles and unmanned aerial vehicles over the last few years, making India one of Israel's largest buyers of military hardware. The value of defence deals signed in recent months have exceeded $2 billion.
The Barak 8 surface to air missile capable of shooting down aircraft, drones or missiles upto a range of 70 kilometers has been developed by Israeli Aerospace Industries and India's Defense Research and Development Organization in collaboration with a number of other Indian and Israeli companies and vendors.
The Barak 8 being acquired for all the three services will reduce the number of types of air defence systems operated by the Indian armed forces. It will improve affordability by reducing acquisition, operating, integration, and training costs. More importantly, it vastly improves India's ground based air defence capability to defend its airspace from intrusions by the China or Pakistan when in the future it is paired with the longer range Russian-made S-400 Triumf advanced air defense systems. Given the IAF's claimed deficiencies in fighter airframes which would affect traditional roles like air defence and policing, air defence systems line the Barak-8 will play a critical role in defending Indian airspace.
The much vaunted Heron TPs are one of Israel Aerospace Industries's more advanced UAVs with an endurance upwards of 30 hours, maximum takeoff weight of 5,300 kg and a potential weapons/mission payload of upto 1,000 kgs. They can be used for both surveillance as well as combat and support roles, and can carry air-to-ground missiles to take out hostile targets.
The use of UAV's will permit Indian policymakers to exercise the use of force while substantially lowering the risk to military personnel and act as force multipliers in enhancing surveillance capabilities. In India's case, the Indian military hopes that armed UAV's will give it the capability to conduct symbolic retaliatory attack against Pakistan based terrorists in while limiting the violation of Pakistani sovereignty and hoping to avoid any escalatory spiral. The emphasis in the media the acquisition of the armed Heron TP for 'Surgical strikes' is indicative of how the ill-defined term has become the leading public and military understanding of military options available to India in responding to terrorism emanating Pakistan occupied Kashmir (PoK).
While there advanced technologies from Israel especially drones have captured the imagination of the military and public discourse offering the possibility of increasing India's offensive military capability, it is the technologically less complex system like the anti-tank missile in the form of the Spike that will transform the capabilities of the Indian infantry man who is the spear of a manpower intensive land based defence of two fronts.
So far, budgetary constraints have meant that the Indian armed forces have not been able to quickly invest in technologically advanced platforms to leapfrog their war fighting capabilities. India's burgeoning defence relationship with Israel provides New Delhi the opportunity to build some foundational military capabilities where Indian defence public sector companies have not succeed in delivering even basic military platforms and systems.
(Pushan Das is a researcher at the Observer Research Foundation) Views expressed are personal.
(Get detailed and live results of each and every seat of the state Assemblies in Madhya Pradesh, Rajasthan, Telangana, Chhattisgarh and Mizoram to know which candidate/party is leading or trailing and to know who has won and who has lost and by what margin. Our one-of-its-kind Election Analytics Centre lets you put on the psephologist's hat. Know interesting facts and trivia about the elections. Elections = News18)
| Edited by: Swati Sharma
Read full article
Countdown To
Elections Results
To Assembly Elections 2018 Results